Why do celebrities choose to get breast explants? Perhaps they encountered health complications, or maybe they want to replace their old implants with even bigger ones.
Whatever the reason, it's never an easy decision.
Celebrities who get implants in the first place are rarely thinking that they will have to remove them at some point.
Most women are unaware of the natural alternatives to breast implants and fall victim to bad boob jobs—which is why these celebrities chose to have their implants removed.
1. Ashley Tisdale/French
The High School Musical actor got her breast implants removed because they were negatively impacting her health.
Ashley Tisdale shared on her Instagram that she got her implants because she felt insecure, and the decision to remove them was a part of her journey of self-love and acceptance
She also shared that she developed food sensitivities and gastrointestinal issues that she believed were being caused by the implants.
Her personal experience with implants, among other things, led her to start a health and wellness site called Frenshe. The site explores non-toxic living and invites people to be vulnerable, honest, and love themselves more.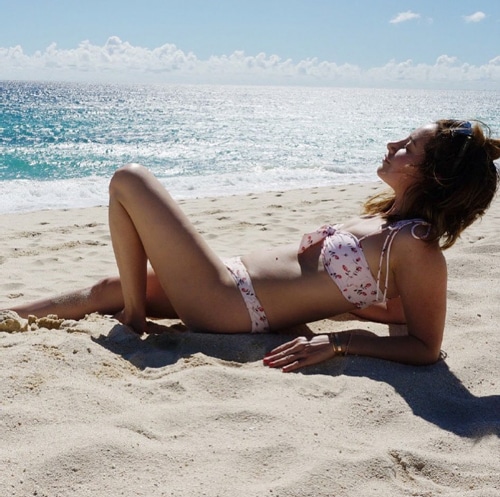 2. Chrissy Teigen
Chrissy Teigen, a social media influencer, was vocal about getting her breast explant. She posted a picture of a card from her daughter Luna on Instagram with the words "Have fun pulling your boobies out."
She then shared with her followers that she was tired of her implants and missed laying on her belly comfortably.
She wrote, "I'm getting my boobs out! They've been great to me for many years but I'm just over it. I'd like to be able to zip a dress in my size, lay on my belly with pure comfort. No biggie. So don't worry about me. All good. I'll still have boobs, they'll just be pure fat. Which is all a tit is in the first place. A dumb, miraculous bag of fat."
Teigen's implants were 10 years old, close to their expiration, so her explant was perfectly timed.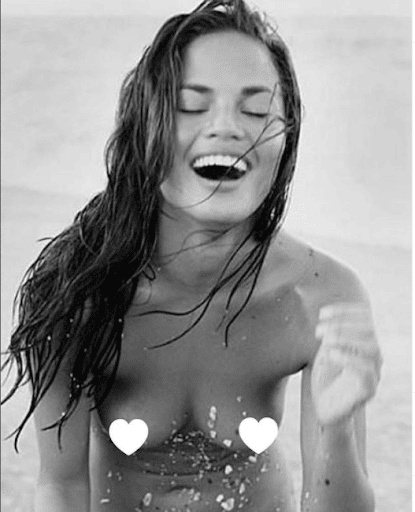 3. Ayesha Curry
A food network star and the wife of NBA player Stephen Curry has also joined the bandwagon of celebrities who have had a breast explant. Her reason was that the implants made her sick.
She was also supportive of Chrissy Teigen's decision to get a breast explant, saying, "… it is a life-changing decision."
In an interview with Working Mother, Curry shared with the public that she never intended on getting implants; she just wanted to lift her breasts. But she ended up with a botched job which made her feel even worse about her body.
During an appearance on Ellen, Curry brought her breast implants out when the show host asked for 'something you never want to see again.'
When asked to explain, Curry said, "These are my old implants, and I've been waiting for the perfect moment to have, like, a going-away party for them because they weren't good to me, they didn't work for me. They work for some people, but they've got to go. And I don't ever want to see them again."
4. Yolanda Hadid/Foster
The Real Housewives of Beverly Hills star had a breast explant after she realized that her implants were leaking.
She posted a selfie on her Instagram with the caption, "Your health is your wealth so please make educated decisions, research the partial information you're given by our broken system before putting anything foreign in your body."
She shared a lot more about her relationship with beauty and age on the Instagram post, admitting that the toxicity of breast implants, botox, and fillers almost killed her.
The implants ruptured and left silicone floating in her body.
Her explant was featured in her show The Real Housewives of Beverly Hills. It was a painful and tear-jerking process for Hadid who feared that she might not make it out alive.
At the time of removal, her implants were 20 years old. She admits that she was also fighting Lyme disease at the time, and the implants were hurting her health.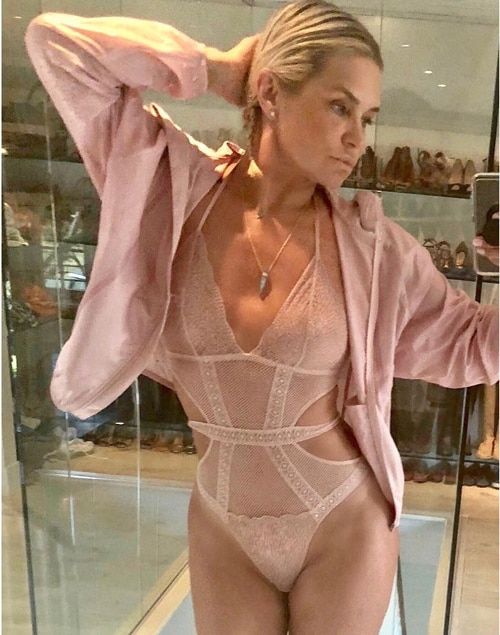 5. Victoria Beckham
Victoria Beckham, a former member of the Spice Girls, has never really revealed her reason for getting a breast explant.
In an interview with Allure, she said she didn't remove the implants because they hurt her, leaving us with more questions about why she chose to have the explant.
However, she has confessed her regret about getting implants in the first place.
In a letter penned to her 18-year-old self, Beckham advised herself to "not mess with her boobs and celebrate what she got."
Victoria denied having had any implants for the longest time, which is not unusual behavior from celebrities.
Many women in the limelight have been sneaky and evasive when asked about breast implants. These same women, however, have been loud about removing their implants—to the point of doing interviews or showing their explant process on TV.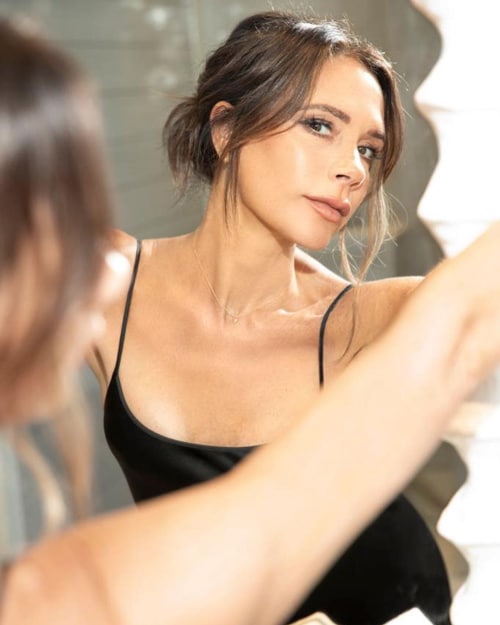 6. Michelle Visage
Michelle Visage, a judge on RuPaul's Drag Race, has also gone under the knife to get her breast implants removed.
She made a documentary titled Explant: My Break-Up With Breast Implants that revealed her journey with breast implants and the dangers they posed to her health.
The celebrity says her obsession with bigger breasts began with the women she saw in Playboy. She wanted to be just as sexy, but her dream did not materialize as she'd hoped.
She reveals in the documentary that she got breast implants three times over, and each time, they made her sicker.
Visage had to have an explant after she was diagnosed with an autoimmune disease that affected her thyroid gland.
She suspected that her diagnosis might be connected to her breast implants, but this suspicion has never been validated by her doctors.
Visage says she feels healthier and stronger in her body after the explant.
Why Celebrities Choose to Get Breast Explants
Considering the cost and risks of breast implant removal, it's shocking that these celebrities choose to have explants at all.
Some of the more common complications associated with breast explants are:
Infection
Scarring
Loose skin and sagging breasts
Psychological issues
But even with all these possibilities, a lot of celebrities still decide to get rid of their implants, for various reasons:
Bad Boob Job
Like in the case of Yolanda Hadid, a bad breast implant can rupture and leak inside your body. It's also possible for implants to get infected, immediately calling for an explant. There are several ways this can happen:
Damage by a medical instrument
Excess compression
Closed capsulotomy
Capsular contracture
Too much saline in the implant
Medical professionals may fail to give their patients comprehensive information before a breast explant, causing complications for them later on.
Some women, for instance, get implants that are too big for their body and develop back and neck problems as a result.
But not all celebrities remove their implants because of health issues.
Personal Choice
Some implants are removed because people aren't happy with the results.
Ayesha Curry was just hoping for a lift, but she ended up with bad breast implants instead.
Celebrities who can afford it choose to reverse the process if they don't like the size or shape of their implants.
Bodily changes also can alter the appearance of breast implants, so it's common for women to remove their implants after gaining weight or getting pregnant.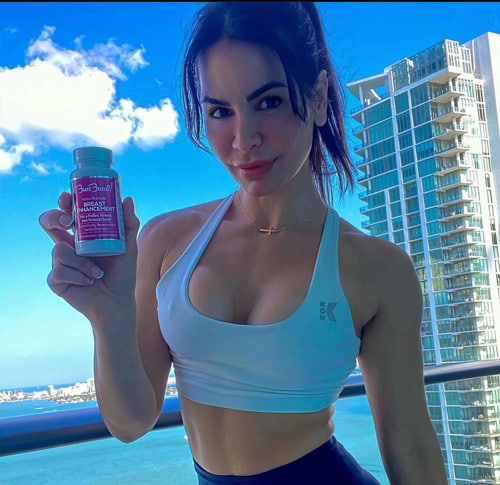 Expired Implants
All breast implants have an expiry date. Most have a lifespan of between 12–35 years after which an explant becomes mandatory.
Signs of expired implants include:
Change in shape
Hardening of implants
Change in position of implants
Because of the risks involved, it's important to take good care of your body after removing your implants.
The good news is that it's possible to restore the appearance of your breasts after an explant. You can gain your health and your confidence back with Bust Bunny Breast Enhancement supplement.
I totally love this product. Within the first month, I could tell a change in roundness and firmness. I am very, very impressed with this product. I wanted to try this as a safer alternative to breast implants. I can't wait to see the results next month!

Steph, United States
Our FDA-compliant formula accelerates breast tissue formation using the all-natural ingredients listed in the table below:
| | | |
| --- | --- | --- |
| Ingredient | Effect on Breasts | Other Effects |
| Fenugreek | Breast milk-producing herb that can increase your bust size | Helps to soothe digestive issues |
| Fennel Seed | Enhances breast size | Relieves menstrual cramps |
| Flaxseed | Contains dietary estrogen that increases breast tissue growth | Helps to obstruct the growth of breast cancer tumors |
| Wild Yam | Promotes healthy breast tissue | TEXT |
| Motherwort | Strengthens muscles and tissues, allowing breasts to grow larger | Can ease moderate pain |
| Chasteberry | Hormonal herb that regulates breast pain | Lighter menstrual flow |
| Red Clover | A catalyst that promotes breast enlargement | Boosts immune system |
| Dong Quai | Promotes natural and healthy breast growth | Regulates estrogen levels |
| Watercress | Contains vitamin E that supports breast development | Helps in breast cancer prevention |
| Black Cohosh | Helps in estrogen production which supports breast growth | Aids in menopausal and menstrual health |
| Blessed Thistle | Helps with lactation and increases breast size | Relieves PMS symptoms |
| Hops | Promotes healthy breast growth | Relieves menopausal symptoms |
I enjoy this product for giving me a healthier, larger cup size, and also for balancing my hormones. I had adult cystic acne and dizzy spells from hormone issues, and taking this product has helped improve my health greatly. I've been taking Bust Bunny for a year now, and will continue to do so because the results seem to be still increasing in benefit!

Hannah, United States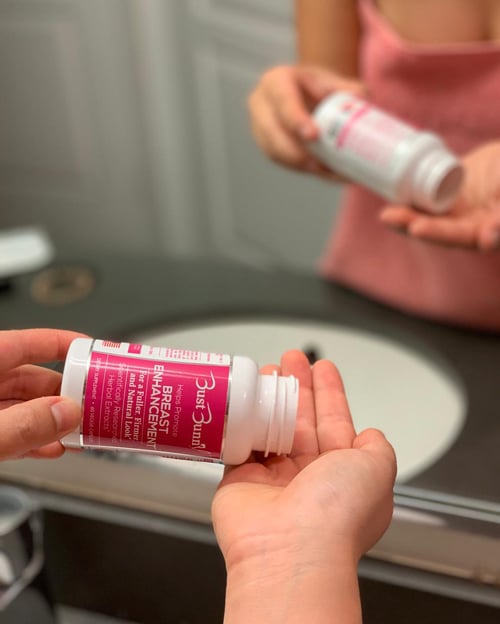 Do It Naturally With Bust Bunny
One thing is clear after reading different breast explant stories from multiple celebrities—breast implants can cause a lot of health complications.
It's possible to have perkier, fuller, and bigger breasts naturally without the use of breast implants.
Our customer Tina attests to the power of Bust Bunny Breast Enhancement, stating that she had to buy new bras to celebrate the difference in her breast size after just one month.
Celebrities who have had to go back on their breast implant decision all admit to feeling healthier without them.
If you are unhappy with your breast size, the good news is that there's a natural way to enhance your breast health and growth, even after you have just had a breast explant.
Bust Bunny is here to help you feel like yourself again.
Share on Instagram: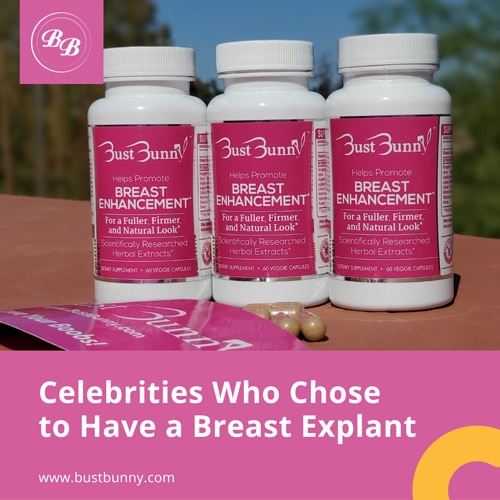 Share on Facebook: