Birth control pills do more than just prevent pregnancy.
They work a little like our Hormonal Balance supplement to ease symptoms caused by PMS.
And, just like you would expect from most hormonal pills, birth control pills can make your breasts bigger.
But is the increase in bust size permanent, and is it safe for these pills to create all these changes in your body?
The Many Side Effects of Birth Control Pills
Birth control pills can indeed make your boobs larger. Unfortunately, that's not all they can do to your body. Some common side effects include:
Changes in your mood when you first start using them
Headaches
Nausea
Sore breasts
Bleeding or spotting between periods
These effects vary depending on the brand of birth control pills you buy.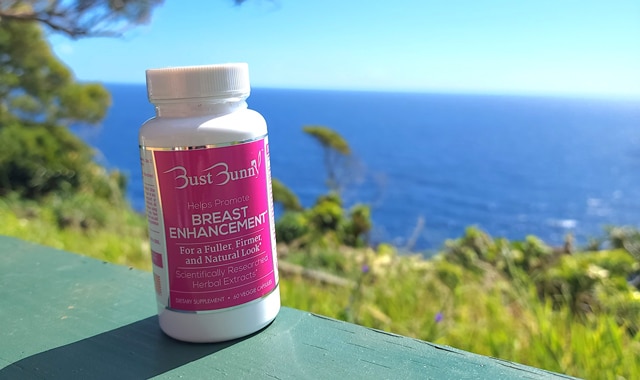 Effect on Breasts
Most birth control pills are combination pills. This means they contain a mix of two hormones, progestin and estrogen, both of which are man-made. These hormones lower your chances of pregnancy by preventing your body from ovulating. They can also increase your breast size by:
Making your body retain fluid that often collects in your breasts
Causing the growth of breast tissue
There are birth control pills that contain only progestin, the synthetic version of the naturally-occurring progesterone hormone.
Often called minipills, progestin-only pills prevent pregnancy by thinning the uterine lining and thickening the cervical mucus. This way, sperm can't reach the egg.
Progestin increases breast size by stimulating the development of milk-producing cells.
Minipills are just as effective as combination pills in preventing pregnancy. They are prescribed to people who are breastfeeding and to those who are sensitive to estrogen.
Here is a table of the common types of birth control pills and the effects they can have on breasts:
| | | | |
| --- | --- | --- | --- |
| Birth Control Pill | Effectiveness in Preventing Pregnancy | Effect on Breasts | Other Effects |
| Combination pills (contain estrogen and progestin) | 99% effective when taken as intended | Causes breast tenderness and fluid retention that causes larger breasts | Higher risk of blood clots |
| Minipills (progestin-only) | 99% with perfect use | Causes breast tenderness, and growth in milk-producing cells which leads to bigger breasts | Headaches and spotting between periods |
| Morning-after pill (levonorgestrel emergency contraceptive) | Effective up to 72 hours after unprotected intercourse | Tender breasts | Tiredness, abdominal pain, and nausea |
| Morning-after pill (ulipristal emergency contraceptive) | Effective within five days of unprotected intercourse | Breast tenderness | Tiredness, abdominal pain, and nausea |
Can You Use Birth Control Pills Solely for Breast Enlargement?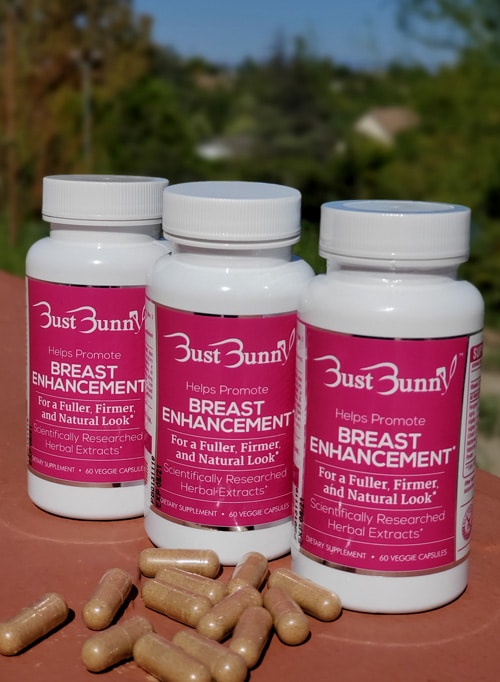 Although birth control pills can increase your breast size, the changes will not be permanent. Your breasts will return to normal after taking the pills for a few weeks or months.
Birth control pills also come with a lot of unpleasant side effects.
You'll endure headaches, acne, and mood swings for a slight breast enlargement that may or may not happen. And even when your breasts do grow, they won't stay that way forever.
Is it worth it? We don't think so.
There are easier and healthier ways to permanently increase your bust size. And we are not talking about breast implants.
The Bust Bunny Breast Enhancement Supplement is an all-natural option that can have your breasts looking fuller and rounder.
GUYS I'M SHOCKED! I SEE RESULTS! I've been taking this product for about a month now since 4/02/20. To give you a perspective, I'm a size 34B (almost filling up the cup), 5'5" tall, 145 lb, and I've always wanted bigger breasts without surgery.

Since taking these pills my breasts are looking more plump and there is fullness. My breasts almost fill my B-size bra and it's only been a month.

I'm very happy with what I'm seeing thus far and I will definitely keep taking these for another 2 months. I hope to give an updated review for the end results to share for everyone who's on the fence about getting these. — Judy, United States.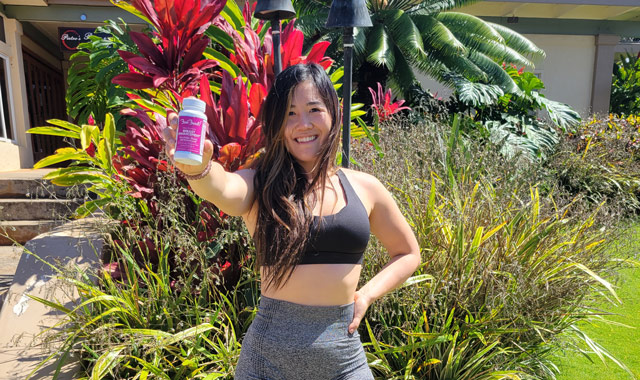 Here are some other ways to naturally increase your breast size:
Exercise and Yoga
Strength training that targets the pectoral muscles in the chest can increase your bust size. Yoga improves blood flow to the chest area, helping to make your breasts firmer. Push-ups, chest presses, and arm circles are some of the exercises you can do to get bigger boobs.
Breast Enhancing Foods
Eating foods that are high in dietary estrogen, prolactin, and progesterone can give you bigger breasts.
Nuts, soybeans, milk, and seafood are rich in minerals that can help stimulate blood flow and grow your breast tissue.
Green leafy vegetables are also great for tissue growth and regeneration around the chest area.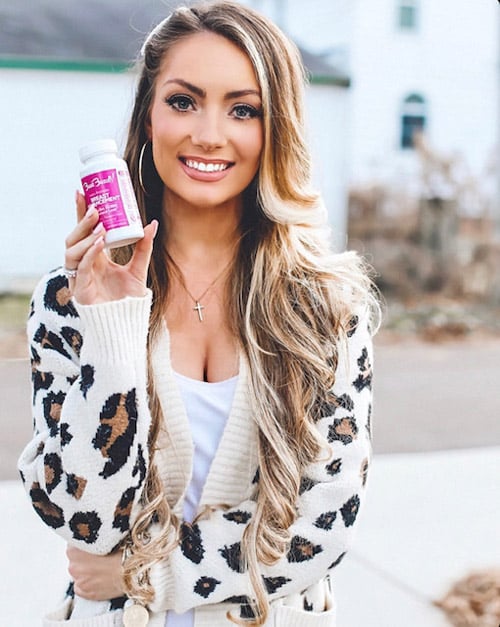 Do All Birth Control Methods Make Your Breasts Bigger?
Not all birth control methods are hormonal, so not all of them will make your boobs grow bigger. Only hormonal methods will increase your bust size. These include:
Birth control pills
Hormonal IUDs
Birth control shots
Vaginal rings
Skin patches
Non-hormonal birth control methods that will not affect your breast size include:
Barrier methods like the use of condoms, diaphragm, and cervical caps
Copper IUDs
Sponges
Spermicides
The Bust Bunny Alternative
At Bust Bunny, we understand the confidence that comes with having bigger and healthier boobs. This is why we have been working to help women naturally increase their bust size since 1999.
Our methods put your health first, giving you fuller and firmer breasts without the risks associated with implants.
We carefully source our ingredients from nature and blend them into a superior formula that accelerates breast tissue formation.
We value our customers, and strive to provide the best customer service possible.
After trying our FDA-compliant Breast Enhancement Supplement, here is what Christin had to say.
At first, I was skeptical about buying this…

At first, I was skeptical to buy this but I decided to give it a shot and I'm so glad I did! I work out a lot and felt like my breast size was decreasing so I tried these.

At first, my breast felt extra sensitive but I didn't mind because I just figured it was working. I'm so glad I stuck it out because just after a few weeks, they were no longer so sensitive and they looked and felt so much fuller.

My husband has definitely noticed! — Christin Shumway, United States
Birth control pills have a lot of undesired side effects, and they only make your boobs larger temporarily.
We have a natural solution that can help you get your desired bust size without impacting your health.
Give Bust Bunny a try.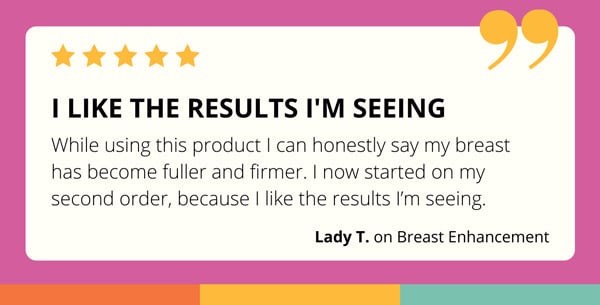 Frequently Asked Questions
Do birth control pills permanently increase your bust size?
No. The effects of hormonal contraceptive pills on breast size are slight and temporary. Your breasts will return to their normal size after a few weeks or months of use, or once you stop taking the pills.
Do birth control pills increase your risk of breast cancer?
Yes. Research shows that there is a slight (7%) increase in the risk of breast cancer in women who have used oral contraceptives. There is also an increased risk of cervical cancer associated with prolonged use of oral contraceptives.
However, the same study suggests that taking the pill also reduces your risk of endometrial, colorectal, and ovarian cancers.
It's best to consult your doctor if you are thinking about going on the pill.
Can birth control pills make you gain weight?
Yes. Hormonal changes cause the body to retain fluid. This may lead to a slight weight gain. However, it's common for the fluid to be retained in the breasts, causing a temporary increase in bust size.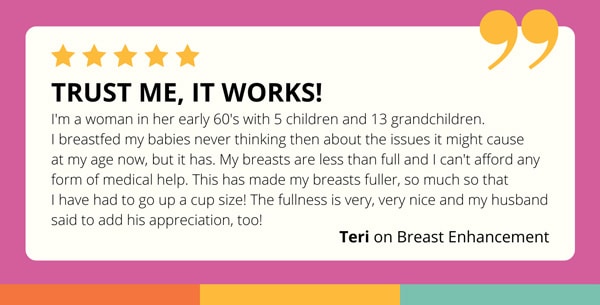 Share on Instagram: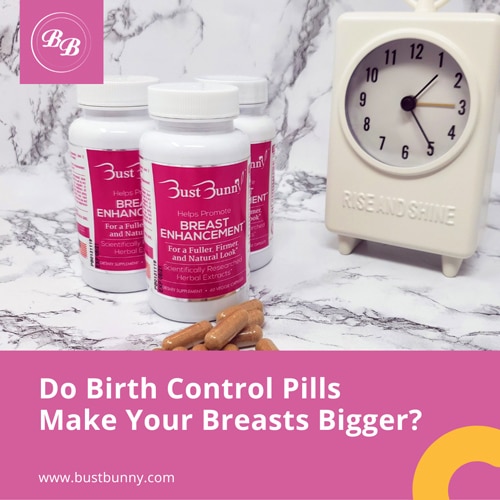 Share on Facebook: