You've heard happy testimonials from friends and strangers who've used breast enhancement pills to successfully increase their breast size.
You want to jump on the bandwagon and get yourself the first bottle of Breast Enhancement supplements, but you still have some doubts.
Do they really work? Which one should you choose from the hundreds of brands available on the market?
Before making a choice, it's important to understand how they work and what to look out for to choose the safest and most effective breast enhancement supplements.
We'll answer three frequently asked questions about breast enhancement pills' constituents, efficacy, and safety to help you make an informed decision.
1 – What Are Breast Enhancement Pills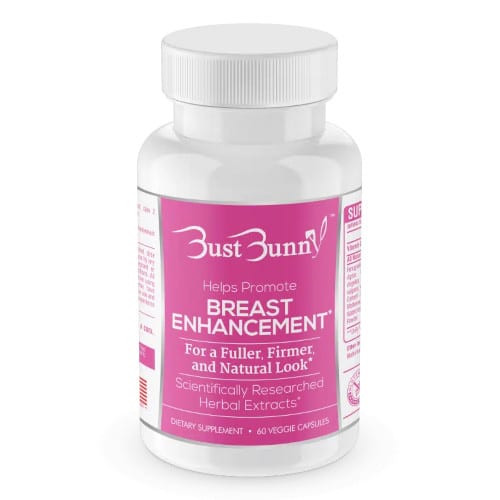 Breast enhancement pills are herbal supplements made from ingredients that contain plant-derived chemicals called phytoestrogens. These chemicals are structurally similar to female estrogen hormones and, when ingested, help to accelerate breast tissue growth, giving you bigger breasts.
Let's break this down a bit so you can understand how they work.
Your breasts start to become visible during puberty when your ovaries produce estrogen, which causes fat to collect in your breasts, making them bigger. They continue to enlarge as more fat accumulates in the breast tissue and your mammary glands grow, until menopause.
Some women may have low estrogen levels, which slows down their reproductive systems and leads to underdeveloped breasts. In addition, since estrogen levels drop as you age, your once firm and supple boobs may lose their elasticity and become wrinkled and saggy. Apart from small dehydrated breasts, low estrogen may cause you to experience nasty symptoms such as:
Hot flashes and night sweats
Mood changes, depression, and fatigue
Irregular menstrual cycles
Vaginal dryness and painful sex
Headaches and migraines
Since phytoestrogens mimic naturally-produced hormones, taking herbal supplements helps to stimulate breast tissue growth for bigger, firmer boobs while balancing your hormones to promote your general reproductive health and wellbeing.
2 – Which Are the Best Breast Enhancement Pills?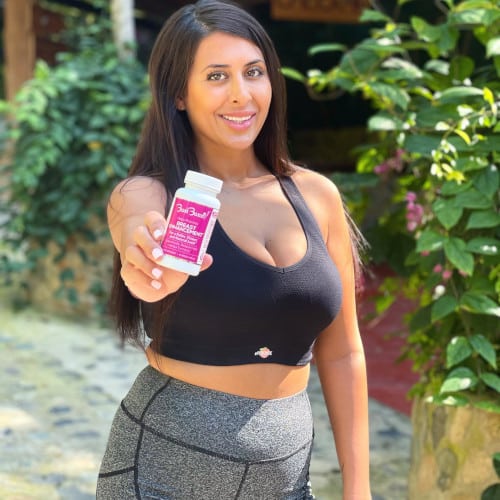 Granted, there are many breast enlargement pill manufacturers on the market, and just knowing they contain plant estrogens isn't enough to help you choose the right ones. Besides, some sellers add artificial fillers and additives to cut corners and give you faster, superficial results that disregard your health.
Here are some tips to consider when searching through the maze for breast pills that work.
Understand the Ingredients Used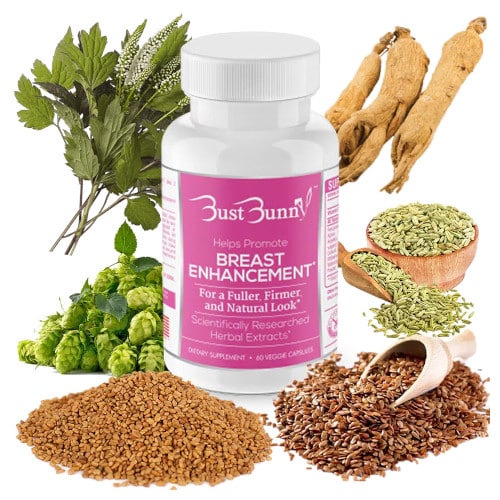 Before taking any supplements, make sure you look at the active ingredients used. This way, you can tell if the product contains any banned, harmful, or allergenic substances that may affect you. It's always advisable to consult your doctor if you have preexisting conditions before taking supplements.
Safety Tip: Beware of products that don't contain a list of constituents or are written in a foreign language.
Bust Bunny's Breast Enhancement pills contain 13 essential phytoestrogen-rich ingredients and nutrients, specially formulated and backed by scientific research, to give you fuller, perkier boobs.
Here's a breakdown of the ingredients and the role each plays in enhancing your breast size and building a healthy reproductive system:
Fenugreek: Contains high levels of diosgenin phytoestrogens that promote the growth of mammary glands and increase your bust size
Fennel Seed: Acts as a galactagogue (milk-stimulating agent) and contains antioxidant, anti-inflammatory, and anti-bacterial properties that protect you from diseases
Flaxseed: Rich in antioxidants and contains lignans, which balance estrogen levels in the body to prevent the growth of cancerous cells in the breast
Red Clover: Packed with isoflavones that relieve menopausal symptoms and promote breast tissue growth
Motherwort: Triggers your body to release prolactin hormones that promote the growth of mammary glands, making your boobs bigger and supple
Chasteberry: Activates the pituitary gland to stimulate your ovaries to release estradiol hormones that help develop breast tissue
Hops: Contains prenylflavonoids that encourage your body to release prolactin hormones that strengthen breast muscle and tissue, giving you firmer, rounder breasts
Wild Yam Root: Loaded with diosgenin plant estrogens, which help to balance hormones in your body, offer relief from menopausal symptoms and menstrual pain, and promote breast health
Dong Quai: Known as the "female ginseng", it helps to balance hormones by encouraging the production of estrogen hormones when low and blocking estrogen receptors when high
Black Cohosh: Packed with estrogenic properties that help to relieve premenstrual syndrome and menopause symptoms and encourage breast tissue formation
Blessed Thistle: Releases prolactin hormones that promote milk production in lactating mothers, and even if you aren't nursing, you'll get bigger boobs because of enlarged breast tissue
Watercress: Excellent source of vitamin E and packed with antioxidants to promote your general well-being and breast health
Vitamin C: Contains immune-boosting and antioxidant properties to repair damaged cells and keep your reproductive system healthy
Look at the Reputation and Customer Reviews
Telling you that breast enhancement pills work is one thing, but hearing from real customers and following their breast growth journey is another.
If your family or friends have used breast supplements, ask them to share their experiences with you. You can also search for online undoctored reviews from social media sites and marketplaces such as Amazon, Google, and the company's website.
Search for helpful information such as:
How long does it take to see the results?
Are the results temporary or permanent?
Do the breast supplements have any side effects, and are they manageable?
What's the overall rating of the breast enhancement pills?
While we understand that our bodies are all unique and breast enhancement pills may work differently for everyone, a product with too many negative reviews and a star rating lower than 3.5 raises a red flag.
At Bust Bunny, we've been in the business of producing high-quality and effective natural bust enlargement supplements since 1999. Over the years, we've refined our product to meet our customers' standards through:
Extensive research and reading hundreds of positive and negative reviews about breast enhancement pills to learn what works and what doesn't
Listening to feedback and improving the supplements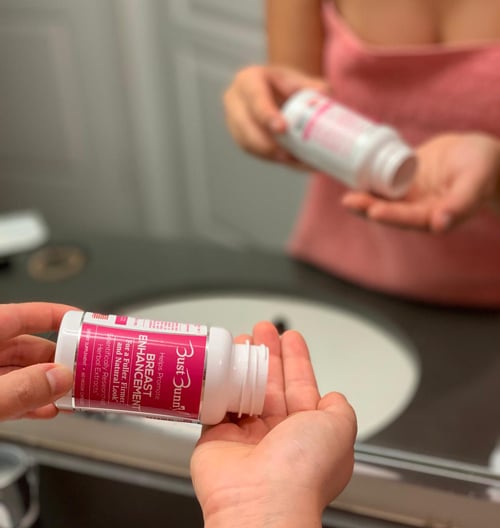 For example, when our loyal customer, Kathy, expressed allergic, religious, and ethical concerns over the use of gelatin as the capsule coating, we switched to all-vegetable capsules with non-GMO ingredients.
Enough talk. What do our customers think?
Bust Bunny's Breast Enhancement supplements reviews speak for themselves, with high ratings from happy customers on Amazon, Trust Pilot, Google, and our website:
"I really love this product. After more than 2 months, I can definitely say there's a difference… my boyfriend sees it too."
– Maria, United States
"Bust bunny works… before my breasts measured 34.5 inches over the nipple, now they measure 36.5 inches!"
– Heather, United States
3 – Is Taking Breast Enhancement Pills Better Than Breast Augmentation?
Breast augmentation involves inserting silicone or saline implants into your breast tissue to give you bigger boobs. Unlike breast enhancement capsules, you must go under the knife for a breast augmentation procedure.
Although getting a boob job gives you instant results, your new boobs come with an initial high price tag and more hidden costs such as post-operative care. Besides the costs, breast augmentation predisposes you to complicated health risks such as ruptured or deflated implants and scarring.
The table below summarizes the differences between Bust Bunny's Breast Enhancement pills and breast augmentation:
| | | |
| --- | --- | --- |
| Feature | Bust Bunny Breast Enhancement Supplements | Breast Augmentation |
| Complexity of the procedure | Simple; involves swallowing two capsules daily at any time | Complex; involves inserting breast implants, a long recovery process, frequent follow-up health checks, and a repeat of the procedure after some years |
| Visibility of increased breast size | Between 6–8 weeks; the breasts grow gradually and you may notice a bit of swelling and firmness within 4 weeks | Immediately after the procedure; however your boobs may look unnatural and take a few weeks to drop to a natural state |
| Safety | Safer with no known health risks because the supplements are made from natural, vegan-friendly herbal extracts that are on the FDA's GRAS (Generally Regarded As Safe) list | Riskier; the medical procedure is carried out under general anesthesia and a lot could go wrong if the surgeon is unqualified |
| Side effects | No known negative side effects, but you should always consult with your doctor if you have any preexisting conditions before taking our supplements | Complicated side effects that may require additional procedures or explants to remediate them |
| Cost | Cheaper than breast augmentation; includes a money-back return policy | Pricy with lots of hidden costs and possible irreversible effects |
Get the Breasts of Your Dreams With Bust Bunny Breast Enhancement Pills
Bust Bunny Breast Enhancement pills are perfect for women who:
Have always had small breasts and want to enlarge them naturally
Want to give life to their flattening boobs and regain the firm and supple feel of their youth painlessly
Are transitioning from male to female and want fuller and rounder breasts
Suffer from irregular periods, painful cramps, and terrible menopausal symptoms
Want to boost their reproductive system's health and general wellbeing
Our team of passionate, qualified professionals is led by Shawn, a BioChem graduate who successfully combined his scientific knowledge and love for health and beauty to make breast enlargement pills that have helped thousands of women get their sexy back.
Our Breast Enhancement supplements contain natural, non-GMO, gluten-free ingredients and are manufactured in the United States by an FDA-compliant facility, ensuring high-quality safety standards.
While we've gotten positive reviews from most customers, we understand that our bodies are all different, and you may feel that the breast supplements aren't working for you. In such a case, we offer a reasonable refund policy for all unsealed bottles returned within 90 days.
Ready to order? Head to our shop and start your natural breast growth journey with us.
Share on Instagram: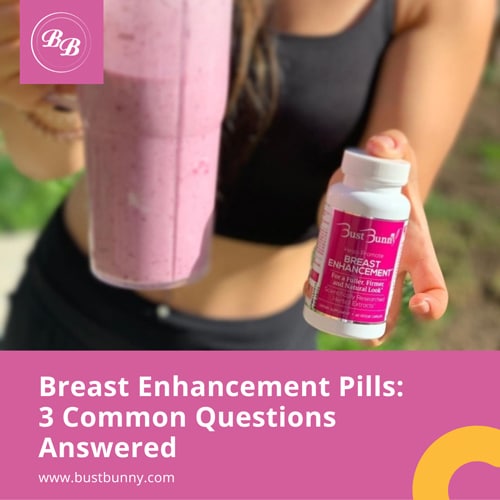 Share on Facebook: