All great journeys begin with a single step—emotional changes, decreased libido, thinner body hair. And then come the bigger changes like breast growth and body fat redistribution.
As your body starts to take on a more feminine appearance, it's normal to be excited for what comes next. But it's also normal to have questions. That's why we're here. We'll tell you all about:
The safest methods of breast enhancement when transitioning
The changes that happen in your body as you transition
How to speed up your MTF breast growth timeline
1 – How Large Will Your Breasts Grow?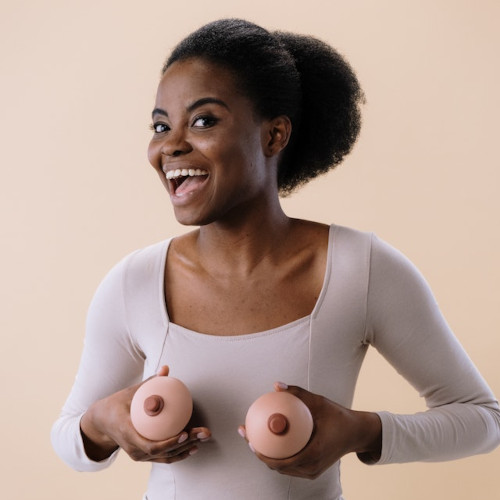 Transitioning from male to female (MTF), you can expect your boobs to be smaller than your closest female relatives by up to a cup size. However, this isn't an exact science.
Ultimately, three factors determine how large your boobs can grow:
Your body chemistry: Your hormone levels, metabolism, and diet all affect breast growth.
Your anatomy: Wide shoulders can stretch your boobs and make them appear smaller.
Your age: Estrogen levels in older women may be too low to support breast growth.
Low levels of estrogen can also cause the mammary glands to shrink, making your boobs appear saggy. If you start transitioning in your 40s, we recommend boosting your estrogen levels using Bust Bunny Breast Enhancement supplement.
Finally, if you have wide shoulders, you can draw attention away from them by:
Wearing clothes with thick shoulder straps or v-neck designs
Choosing clothes with a flare to take the attention below
Wearing breast forms to make your boobs appear larger
2 – How Long Will It Take To See Noticeable Changes?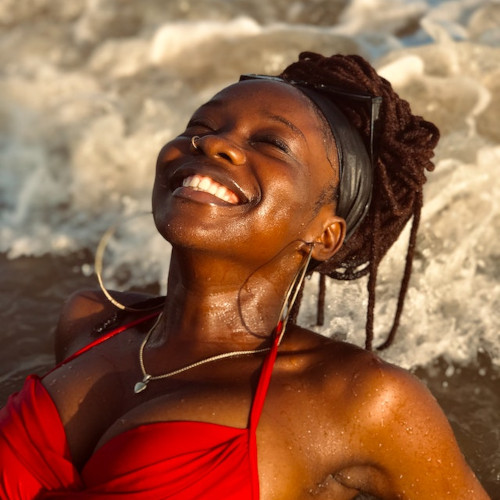 You'll start to see noticeable changes in your breasts within three to six months of taking hormone replacement therapy (HRT)—we'll discuss the safety of hormone therapy below.
Yet breast growth results vary from woman to woman depending on the type of hormones you're on as well as your individual body chemistry. It can take some women up to 5 years before they start seeing noticeable results.
As for the different types of HRT, you can choose to take both hormone blockers and hormones, or you can use the hormone-only approach.
Hormone blockers will suppress the effects of male hormones like testosterone and trigger feminization in your body. Using these blockers will result in a faster onset of physical changes, such as thinner body hair and breast growth.
You may start to notice signs of boob enlargement around the third month if you're using both hormone blockers and hormones. Going with the hormone-only approach, you may have to wait three to six months before your breasts begin to grow.
The HRT method you choose will depend on your transitioning goals. The table below gives you an idea of other body changes you may experience when using HRT for breast growth.
| | |
| --- | --- |
| Expected Changes | Onset |
| Decreased libido | 1–3 months |
| Emotional changes like moodiness | 1–3 months |
| Softer skin | 3–6 months |
| Breast growth | 3–6 months |
| Body fat redistribution | 3–6 months |
| Thinner body and facial hair | 6–12 months |
Keep in mind that taking more than the recommended dosage of HRT will not make your boobs grow faster (your doctor will recommend the right dose for you based on your hormone levels chart).
Too much estrogen can cause a hormonal imbalance and stunt the development of your breasts.
3 – Can You Use Natural Breast Growth Supplements in MTF Transition?
Yes, breast growth supplements, like Bust Bunny Breast Enhancement supplements, are a natural alternative to HRT and breast augmentation. Compared to other MTF transition methods, natural supplements are also safer for your health.
We came to this conclusion based on the pros and cons of each method of breast enlargement.
For instance, breast augmentation procedures can instantly enlarge your breasts to your desired cup size. However, implants can also have negative side effect, including:
Breast pain
Scar tissue
Infection
Implant rupture or leakage
When you use HRT, you can get bigger boobs within three to six months. But it can come with side effects such as blood clots and at worst, cancer. HRT may also make you gain weight and cause emotional changes like moodiness and anxiety.
Our Bust Bunny Breast Enhancement supplement is safer because it contains non-GMO ingredients like fenugreek and fennel. Additionally, our supplement can help you get bigger boobs within one month.

As much as natural boob enhancement supplements are safe when compared to HRT and breast augmentation, they can still have side effects if you take more than the recommended dosage.
We recommend taking two 600 mg Bust Bunny Breast Enhancement capsules per day, but you can take up to three. Since it contains fenugreek as an active ingredient, taking more than 1800 mg daily can lead to complications such as bloating, gas, and diarrhea.
Finally, remember to drink enough water with the pill (at least 8 ounces). Water helps fenugreek move through your system smoothly without affecting your digestive system. Drinking plenty of water also balances your hormones and helps the pills work faster.
"Within a few weeks, I felt more fullness and heaviness in my breasts … I've noticed when I don't drink water it doesn't work as quickly as when I drink water regularly."
– Lauren Voboril, United States
Expert Tip: Always consult your doctor before taking HRT or natural breast enhancement supplements.
4 – Can You Speed Up Your MTF Breast Growth Timeline?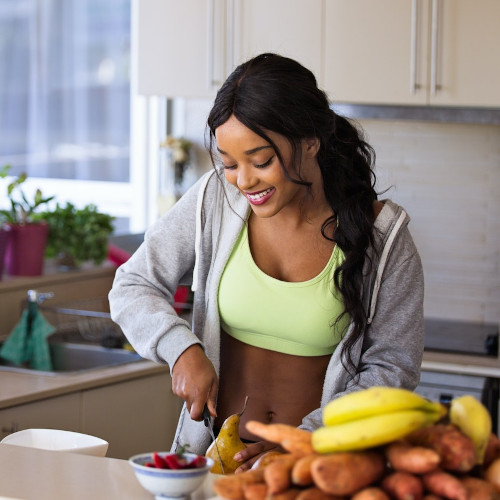 The safest way to speed up your MTF breast growth timeline is by using natural breast growth supplements.
Instead of waiting three to six months to get bigger boobs on HRT, you can shorten the timeline to as little as one month using the Bust Bunny Breast Enhancement supplement.
"I am a transgender & intersex woman … I've been taking this product for more than 30 days, but less than 60 … my breasts have increased from an A cup to a complete B."
– Ayael, United States
Two 600 mg Bust Bunny Breast Enhancement capsules per day are enough to give you bigger breasts, but some women find that they need to take three for the best results. Taking more than three capsules can lead to an estrogen overload which isn't good for growth.
High estrogen can cause complications such as weight gain, high blood sugar, and stunted breast growth.
Excess estrogen can also block thyroid hormones from being delivered to your cells. Since these hormones regulate your metabolic rate, you may experience symptoms such as cold intolerance and fatigue.
It's best to stick with the recommended dosage of two (or a maximum of three) capsules per day. If you're taking HRT as well as natural breast growth supplements, your doctor may recommend a lower dose of the latter to prevent an estrogen overload.
You can also speed up your MTF breast growth timeline by changing your diet and lifestyle. Here are some tips:
Eat protein-rich foods like nuts and milk for faster growth of your breast tissue.
Avoid caffeine, alcohol, and cigarettes as they can make your boobs saggy.
Exercise your upper body to make your boobs firm and perky.
Natural MTF Transition With Bust Bunny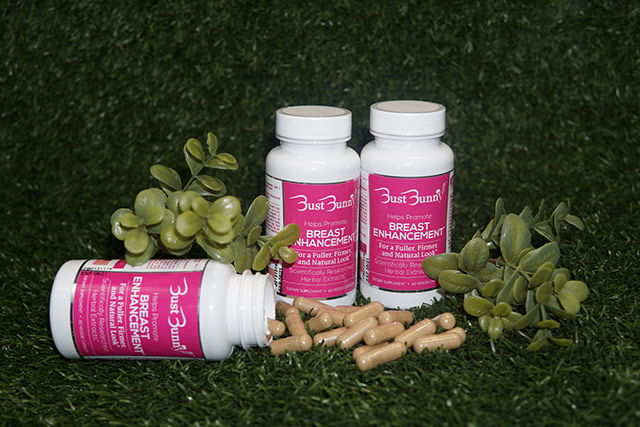 The MTF breast growth timeline is different for every woman. The size of your breasts will depend on your body chemistry, age, anatomy, and the type of breast enhancement products you're using.
With our Bust Bunny Breast Enhancement supplement, you can get your desired results within three months. We've helped many trans women feel more confident in their bodies with our all-vegetable capsules, and we can do the same for you.
Reach out to us for more tips on how to speed up your MTF breast growth timeline.
Share on Instagram: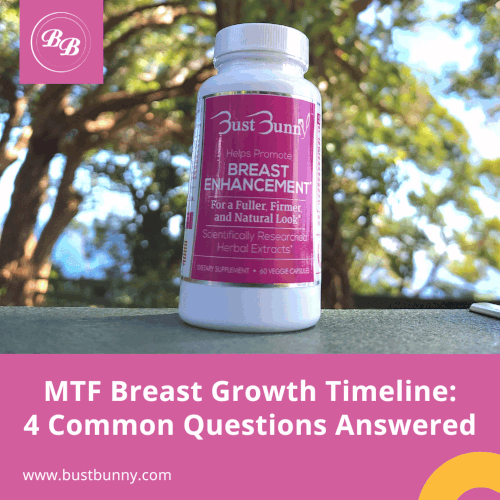 Share on Facebook: