They say that there's an element of the truth in every lie.
Yet when it comes to natural breast growth supplements—herbs that can directly impact your health—it's safer to know the full truth because:
You'll know what results to expect when you take the pills, and when to expect them.
If you experience side effects, you'll know the cause.
It will be easier for you to decide which supplement you want to use.
Natural breast enhancement supplements come in all shapes and sizes, and the misconceptions about them are in no short supply either.
Instead of filtering through pages of misinformation, we've made it easy for you to learn all you need to know about boob enhancement supplements.
1 – Supplements Can Increase Breast Size Within Days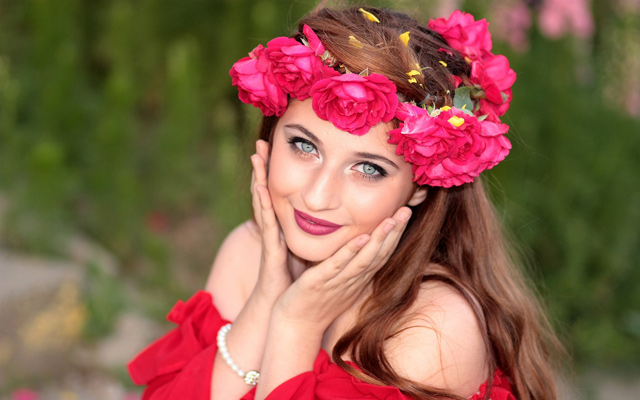 Most natural breast growth supplements will make your boobs bigger within 1–3 months of use.
Beware of supplements that promise quick results. Safe and healthy breast growth takes time. The table below provides more detail on the changes that happen in your breasts when you take boob enhancement pills.
| | |
| --- | --- |
| Timeline | Effect On Breasts |
| Week 1 | No noticeable changes |
| Week 2 | Slight tingling in the breast area and sensitivity in the nipples |
| Week 3 | Breasts feel fuller but no noticeable changes yet |
| Week 4 | You may feel hardish lumps in your breasts |
| Week 5 to 9 | Lumps disappear and you start to see noticeable changes in boob size |
| Week 10 | Fuller, firmer, and perkier breasts |
As you can see from the table above, changes are slow and slight. Because it's all happening in your body, you'll likely notice a difference in size long before anyone else. The most important thing is to keep at it.
Keep in mind that breast growth is different for everyone because of variations in body chemistry, diet, and anatomy. Don't give up, even if you don't seem to be keeping pace with the table above.
However, if you continue taking the pills for two to three months without experiencing any changes, here are some things you can try:
Eat protein-rich foods like nuts and milk.
Exercise your upper body.
Try yoga.
Try massaging your breasts for at least 30 minutes every day.
Drink plenty of water.
Reduce your caffeine intake.
These simple practices, along with natural breast growth supplements, can help speed up the development of your breasts. A nutrient-rich diet and regular massages will also ensure your chest remains perky once your boobs stop growing.
2 – All Natural Breast Enhancement Supplements Are the Same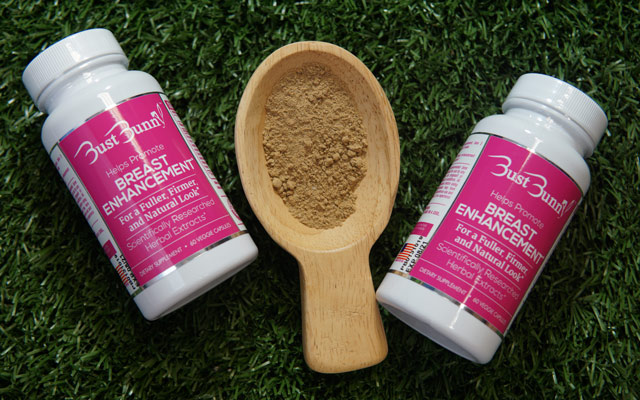 Not all breast growth supplements are the same.
For starters, different brands use different ingredients and varying formulas to combine said ingredients.
Bust Bunny Breast Enhancement supplements contain 13 non-GMO ingredients—motherwort, hops, black cohosh, flaxseed, wild yam root, chasteberry, blessed thistle, watercress, red clover, fenugreek, and Angelica Sinensis.
We also include vitamin C to help boost your immune system as well as improve your skin health.
"My wife's breasts feel fuller and firmer. I've noticed a difference in her skin too. A lot clearer, especially with the vitamin C."
–William Jensen, United States
Breast growth supplements also vary in terms of effectiveness.
While a superior supplement can increase your breast size within three months, it may take an inferior capsule as long as six months to achieve the same results. It all depends on the quality of the ingredients in the pills and how they've been combined.
At Bust Bunny, we have a patented ratio that we use to combine our non-GMO ingredients. We removed all additives and fillers to give you natural all-vegetable capsules that are healthy for you and the environment.
Our formula accelerates breast tissue formation so you can get bigger boobs within three months or less.
3 – Supplements Can't Help Transitioning Women Grow Bigger Boobs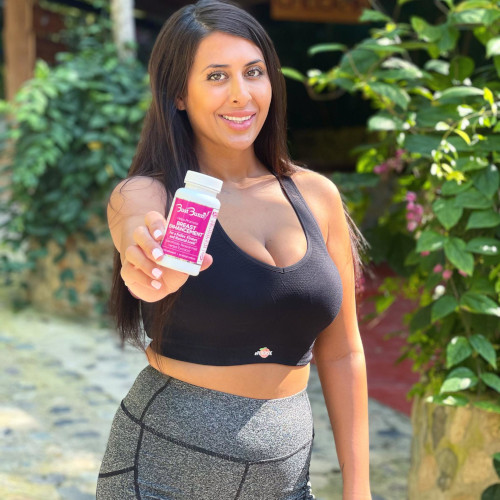 Breast growth supplements can help transgender women achieve a fuller look.
You may believe that the only way to get bigger boobs as a trans woman is through breast augmentation procedures. Yet a lot of trans women have grown bigger boobs using our Bust Bunny Breast Enhancement supplement.
"I am a transgender & intersex woman … I've been taking this product for more than 30 days, but less than 60 … my breasts have increased from an A cup to a complete B …"
– Ayael, United States
Note that the rate and extent of breast growth varies among trans women. Results will depend on your anatomy and the hormones that you're taking. For instance, broader shoulders and a wide rib cage stretch your boobs and make them appear smaller.
Even so, natural breast growth supplements, like Bust Bunny Breast Enhancement supplement, can help enhance your breasts as you transition.
Expert Tip: As you transition from male to female, you can expect your boobs to be a bit smaller than your closest female relatives by up to a cup size.
4 – Supplements Have Zero Side Effects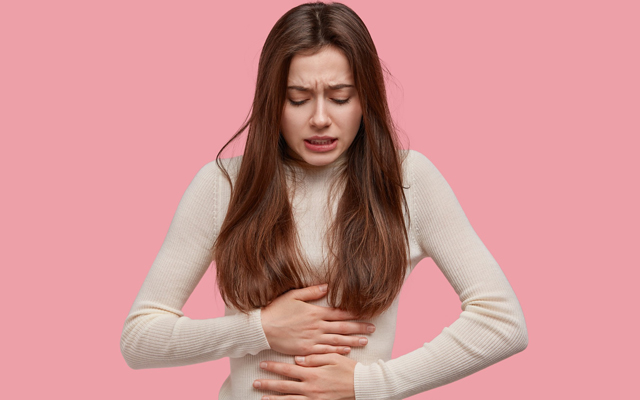 Natural breast growth supplements can have an effect on your health if:
You take more than the recommended dosage
You continuously take them for a long period of time (more than three years)
You take them while on some prescribed medications
You're allergic to some of the ingredients
For instance, a lot of natural breast growth supplements use fenugreek as a major ingredient. Although it's a natural herb, fenugreek can have side effects if you take more than 1800 mg per day.
Since fenugreek is hormonally active, taking more than the recommended dosage means your estrogen levels will spike. As a result, you'll experience symptoms of hormonal imbalance, such as irregular periods, fatigue, and stunted breast development.
Some women are even allergic to fenugreek. If you have a primary peanut allergy, you may also be allergic to this herb. When you consume it, you'll experience symptoms such as:
A maple syrup smell in your urine and sweat
Nausea and vomiting
Stomach upset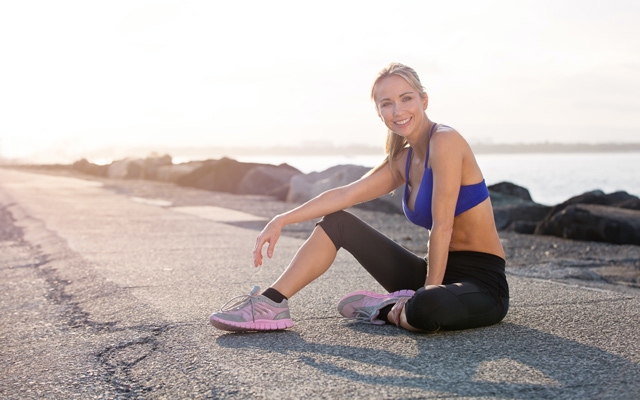 To be safe, always consult your doctor before taking breast growth supplements, especially if you're already on other breast enhancing medication. This is especially important for people on hormone replacement therapy (HRT).
Since both HRT and natural breast growth supplements increase the level of estrogen in your system, taking both at the same time can create a hormonal imbalance. When this happens, you'll experience symptoms like hot flashes, recurring night sweats, and moodiness.
To reiterate, consult your physician to find out whether natural breast growth supplements are safe for you.
Start Your Natural Breast Growth Journey
Many Bust Bunny customers have noticed that breast growth supplements work better when you drink water regularly, avoid caffeine, and get enough sleep.
We also recommend complementing breast growth supplements with other natural methods of breast enhancement such as breast massage and yoga.
Finally, always choose a brand that offers additional benefits to your health. Besides helping you grow your breasts, Bust Bunny Breast Enhancement supplements can also relieve menstrual cramps and hot flashes.
We put health first, and our customer service agents are always ready to offer tips on how you can develop your chest faster.
You can trust Bust Bunny to help you grow your breasts safely and naturally.
Share on Instagram: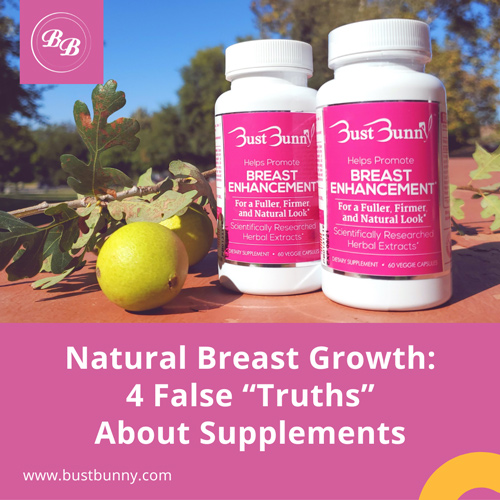 Share on Facebook: