Many women who want to boost their busts are leaning towards boob growth pills. These supplements are a more affordable, non-invasive method compared to getting implants, making them a favorite.
Luckily, there are hundreds of brands on the market for you to choose from. But they aren't all the same. So, how do you sift through this maze to find the best breast enhancement supplement to give your girls the lift you desire?
Today, we'll discuss what to look out for in order to buy genuine boob pills that will give you fuller, rounder, and perkier breasts, and whether:
The supplements work and are from a reputable brand.
The ingredients used are safe and natural.
You are eligible to take the pills.
1 – Stay Away From Boob Pills With Synthetic Ingredients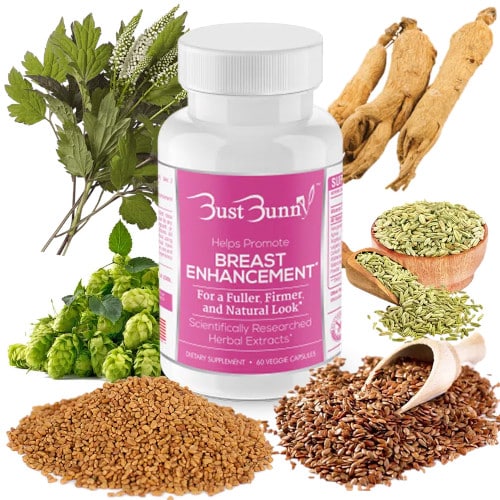 The first thing you should look at before choosing any breast growth pills is the ingredients used, which are usually listed on the supplement label on the packaging.
Go for breast supplements that contain only natural ingredients as opposed to those with harmful synthetic and artificial additives.
Most natural breast supplements are made by combining various herb extracts that contain beneficial plant chemicals called phytoestrogens. These chemicals imitate female estrogen hormones and increase your breast size naturally by stimulating breast tissue growth.
On the other hand, if the ingredient list contains complex chemical names, tread carefully. These ingredients may be toxic and harmful to your health or may include useless fillers and additives.
To be on the safe side, research any obscure ingredient on the list and find out its uses and whether it's banned or approved for consumption.
The table below compares supplements made from natural ingredients with synthetic ones to help you understand their differences:
| | | |
| --- | --- | --- |
| Characteristic | Natural Breast Pills | Synthetic Breast Pills |
| Preparation process | Raw materials are derived directly from natural herbs and combined to produce the supplements | Ingredients are chemically processed in labs to make the supplements |
| Ease of absorption | Easily absorbed by the body, making them more effective | May be difficult to absorb depending on the constituents, making them less effective |
| Health risks | Minimal negative reactions since they are made from natural herbal extracts | Can have negative reactions due to chemical substances |
If you're looking for a natural breast-increasing supplement, go for Bust Bunny's Breast Enhancement pills. They're made from 13 natural herbs that are specially formulated and scientifically backed to increase your breast size safely. These ingredients are:
Fenugreek
Fennel Seed
Flaxseed
Red Clover
Motherwort
Chasteberry
Hops
Wild Yam Root
Dong Quai
Black Cohosh
Blessed Thistle
Watercress
Vitamin C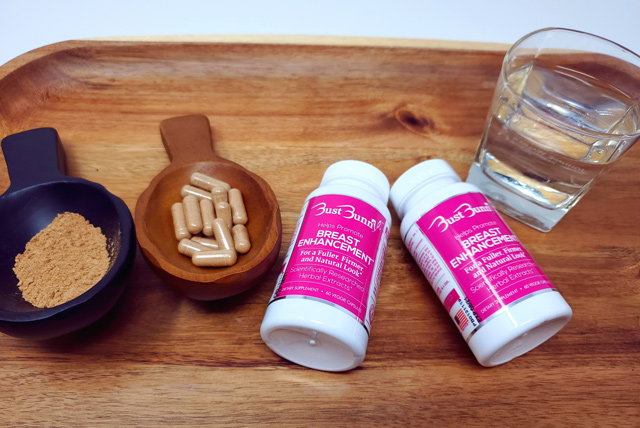 2 – Watch Out for Side Effects
Taking natural breast supplements greatly reduces the risk of negative side effects compared to synthetic boob pills or breast implants.
However, we acknowledge that our bodies are inherently different and that some people may experience negative reactions while others may have a smooth ride.
Besides, some sneaky manufacturers may fail to list any unnatural ingredients they've added to the breast supplements, putting you at risk.
It's therefore important to listen to your body and identify any negative side effects you experience once you start taking breast enhancement pills.
Some women may experience mild side effects as a result of introducing new supplements to the body. These symptoms are usually short-term (lasting a few hours to a couple of days) and subside once your body adjusts to the boob growth pills. They include:
Bloating and gas
Stomach upset
Nausea
Remember, if these symptoms persist, stop using the supplements and talk to your physician.
In addition, some pre-existing conditions or drug interactions may expose some women to adverse side effects. Consult your doctor before taking breast enlargement pills if you are:
Undergoing hormone replacement therapy
At risk for or have been diagnosed with breast cancer
Diabetic and suffer from high blood pressure
Taking blood thinners or have been scheduled for medical operations
Having doubts of whether you should take boob pills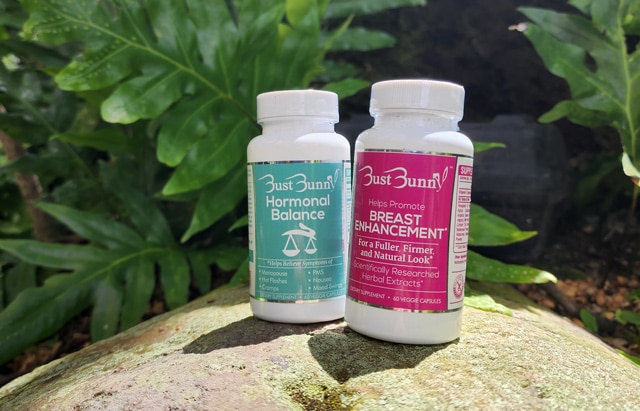 Furthermore, you can help reduce the probability of negative reactions to breast enhancement pills by:
Taking only the recommended dosage
Keeping track of any unusual symptoms you experience and stop taking the pills if negative reactions persist
Buying your supplements from reputable brands such as Bust Bunny
Our breast enlargement pills use healthy, approved, natural ingredients, combined in the right proportions, reducing the possibility of negative side effects. In addition, the supplements are gluten-free and non-GMO, making them perfect for those with allergies, vegans, and health enthusiasts.
Even better, you'll love that apart from increasing your breast size, our breast supplements are loaded with positive side effects. Thanks to a smart combination of herbal extracts, these supplements balance your hormones by encouraging the production of estrogen when levels are low and inhibiting estrogen receptors when levels are high.
As a result, our boob growth pills help to:
Reduce premenstrual syndrome (PMS) symptoms, such as mood swings, acne, and fatigue
Strengthen your hair and nails
Increase your sexual drive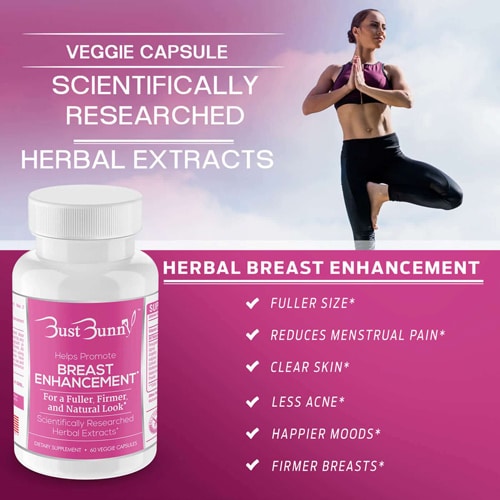 3 – Beware of Negative Customer Reviews
While you shouldn't expect everybody to love their experience with a certain breast supplement, if it has too many negative reviews, then it's probably a sham.
Begin by asking for reviews from your close circle, like family and friends, who've used the breast supplement. Did the pills work for them? Would they recommend it?
If the breast supplement is listed on online marketplaces such as Amazon or eBay, look at the overall star ratings. Unsatisfied customers will leave a low score, and if there are too many low ratings, it speaks volumes of the inefficacy of the breast supplement.
In addition, scrutinize the review section and carefully read the comments to spot whether:
The breast enlargement supplements work.
How long does the seller claim it takes the supplement to work? Are most of the complaints from customers who consistently took the required dosage with no results?
Customers have had negative reactions to the supplements.
If the side effects were mild, how did the customer manage them, and how long did they last? If they were adverse, was it an isolated case probably because of an underlying condition?
The seller has poor customer service.
Were customers able to contact the seller when they had issues and were they resolved? Does the seller honor warranties and refunds?
Bust Bunny's Breast Enhancement pills boast high ratings and hundreds of positive reviews not only on our website but also on Amazon, TrustPilot, eBay, Google, and Walmart.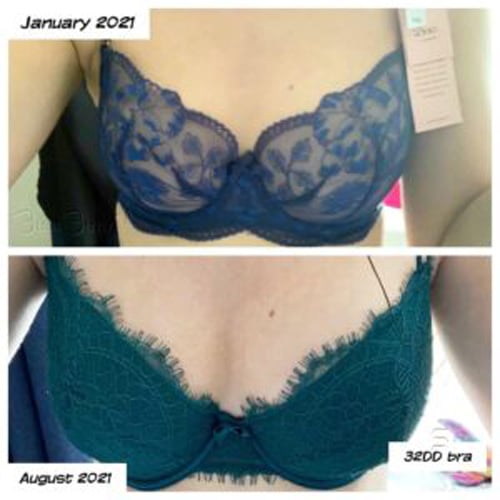 We have an impressive 4-star rating on Amazon with over 1,400 customer reviews.
Here is what some of our happy customers say:
"I'm in love with this product. I was barely an A cup… and I'm creeping into a B after 3 weeks. I'll definitely continue my 3-month supply…"
– Sharon James, United States
"I'm transgender; it works for us folks too… Within 3 weeks I started to show. Now I'm filling out my 36B bras great."
– Marissa H, United States
Get Your Breast Enhancement Pills From Bust Bunny
Bust Bunny has been in the business of producing high-quality, safe, and natural breast enhancement pills for over 20 years.
Our team is led by Shawn, who was a BioChem major and has a passion for helping women achieve their dream bodies using healthy and natural supplements. If there's one thing that has kept our business growing and our customers happy, it's listening to their feedback and constantly improving our boob pills.
For example, when Kathy, our long-term customer, approached Shawn with concerns over the use of gelatin to coat our capsules, we switched to non-GMO, all-vegetable capsules.
In addition, our boob pills are manufactured in an FDA-compliant facility, and we only use ingredients on the FDA's GRAS (Generally Regarded As Safe) list, ensuring safety and high standards.
The majority of our customers start noticing bigger, firmer, and more supple breasts after three to four weeks. However, we recommend that you take the supplements consistently for three to six months for more permanent and noticeable results.
Head over to our shop and place your order.
We use the utmost discretion every step of the way, from when you order to delivery, to protect your privacy. Plus, if you don't feel like the breast supplements are giving you the desired results, we'll offer a 90-day refund for all unopened bottles.
Share on Instagram: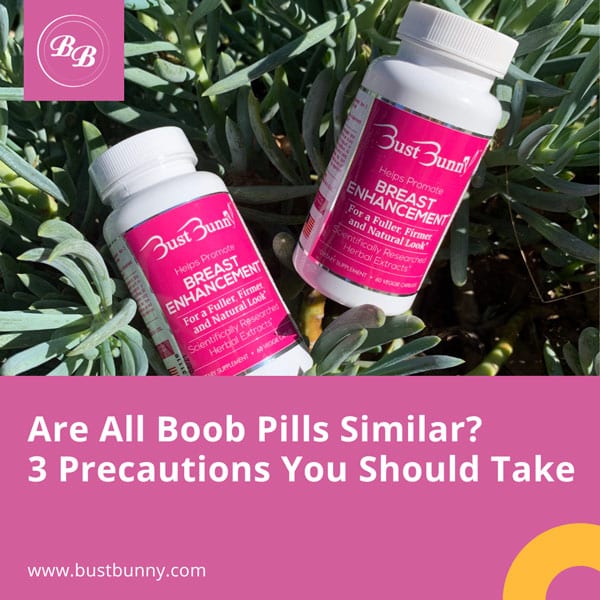 Share on Facebook: