Also called methi, fenugreek has become an increasingly popular method to manage lifestyle conditions like diabetes, skin issues, and even kidney disease.
Yet, most women use fenugreek to:
Achieve larger breasts naturally
Ease the transition to menopause
Restore perkiness after breastfeeding
Help with MTF transitioning
Fenugreek offers a healthy and natural way to enlarge your breasts by increasing the level of estrogen in your body. Unfortunately, most women struggle to find the sweet spot when using this herb.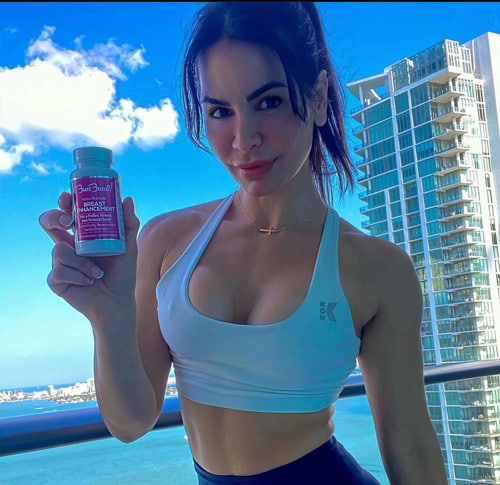 Ingesting too much estrogen is on the long list of things not to do if you want to grow your breasts naturally. So, it's essential that you take the right dosage of fenugreek to achieve desired results and avoid the negative side effects.
You can use fenugreek leaves or powder to make tea and drink it up to three times a day. Alternatively, you can take 600 milligrams of fenugreek seed extract (in the form of a capsule) a maximum of three times a day.
Fenugreek is also thought to work well in combination with other natural herbs such as flax seeds, black cohosh, and blessed thistle. We included these (and more) healthy ingredients in our Bust Bunny Breast Enhancement capsules to help you get firm breasts naturally in as little as 3 months.
1 – It's a Natural Alternative to Hormone Replacement Therapy (HRT)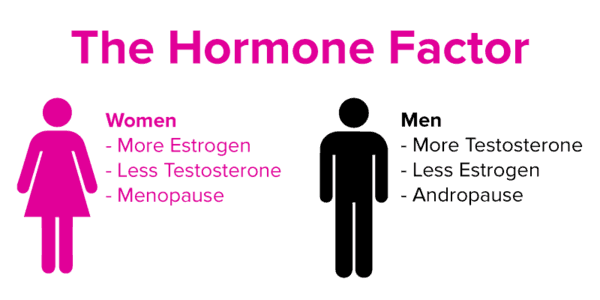 Male to female Hormone Replacement Therapy (HRT) has many benefits, including softer skin, thinner body hair, and redistribution of body fat. And while it does more than increase the size of your breasts, HRT still involves some risks such as:
Mood swings and depression
Increased risk of blood clots
Nausea and vomiting
Fenugreek is a great natural alternative to HRT if you're looking to speed up breast development naturally. Combined with other natural herbs like black cohosh, dong quai, and red clover, fenugreek can give you bigger breasts within 2–3 months.
"It helps me with my MtF transition. I can recommend it… Love the fact it's all natural. No side-effects."
– Piper
If you've already undergone HRT or want to take fenugreek as you continue with HRT, consult a doctor first to make sure you're not ingesting too much estrogen.
2 – Has Little to No Side Effects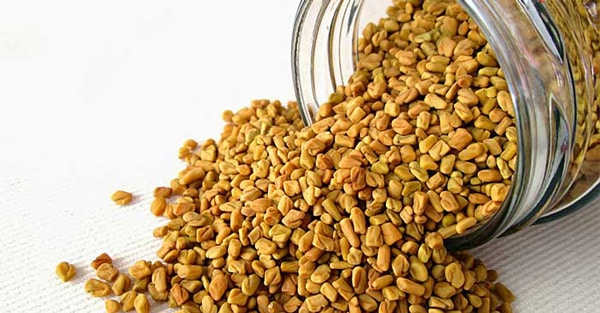 At Bust Bunny, we only promote natural and healthy methods of breast enlargement.
A lot of women who want a larger cup size are hesitant to go under the knife because of the complications associated. These may include:
Changes in nipple and breast sensation
Implant leakage or rupture
Infection and scarring
Hardening of the breast tissue
Creases or folds in the implants
Fenugreek, on the other hand, is very safe. You only experience side effects if you are hypersensitive or allergic to the herb. These reactions are mild and can include:
Coughing and nasal congestions
Slight discomfort in the stomach
Bloating and gas
"I've been taking it for almost three months now and my breasts have regained their fullness. There are no side effects."
– TJ, United States
Expert Tip: Since Fenugreek belongs to the pea family (Fabaceae), it's likely that you're allergic to it if you're allergic to peanuts, green peas, soybeans, and other legumes. If you have underlying conditions like diabetes, skin conditions, or low blood sugar, consult your physician before taking fenugreek.
Keep in mind that fenugreek might cause early contractions if you use it while pregnant. Taking fenugreek just before delivery might also cause your newborn baby to have an unusual body odor that can be mistaken for "maple syrup urine disease".
3 – Fenugreek Improves Estrogen Levels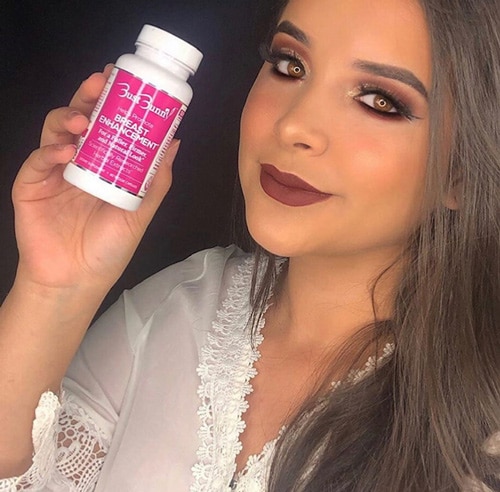 Fenugreek contains phytoestrogens (also called dietary estrogen), which are compounds that mimic the hormonal actions of estrogen in your body. This means adding fenugreek to your diet can have effects such as:
Increasing the size of your breasts
Relieving your menstrual cramps
Increasing your breast milk production
Other sources of phytoestrogens include veggies, legumes, milk, and some grains.
Fun fact: Fenugreek is popular because it's one of the oldest roots out there and has been used since 1500 B.C.
After you start using fenugreek to enlarge your breasts, you'll quickly find that it comes with other benefits in addition to the above. Since it increases your estrogen levels, it can help to preserve the strength of your bones, encourage healthy hair growth, and keep your skin looking supple and healthy. It can also relieve menopausal symptoms such as:
Vaginal dryness
Breast tenderness
Bloating
Fatigue
Night sweats
Insomnia
Lastly, to get the best results when using fenugreek, observe these two rules:
First, use the right dosage (1–3 600 milligram capsules every day). Taking too little or too much fenugreek will have the opposite effect on the development of your breasts.
Second, phytoestrogens like fenugreek work well when combined with other breast enlarging herbs such as fennel seeds, motherwort, and red clover. That's why we combine multiple non-GMO ingredients into our Bust Bunny Breast Enhancement Supplement. This allows you to get the most out of each herb.
Most of our clients get fuller and perkier boobs within 2-3 months of taking our supplement.
"I'm recently using Bustbunny, it's my first 3 weeks of consumption. I can already notice a couple of changes."
– Noor Maximus
We also incorporate other herbs ingredients such as black cohosh to balance your hormones and some minerals to boost your immune system.
The table below shows the different types of ingredients in our breast enhancement formula and how you can benefit from all of them.
| | |
| --- | --- |
| Ingredients | Benefits |
| Fenugreek, fennel seed extract, flax seeds, hops, red clover | Increase breast size |
| Vitamin C | Boost your immune system |
| Ashwagandha, dong quai, maca root | Support hormone balance |
| Blessed thistle, watercress | Blood purifier |
| Chamomile, ginger root, motherwort | Reduce menstrual pain |
| Shatavari | Treats menopausal symptoms |
4 – It Restores Breast Perkiness and Firmness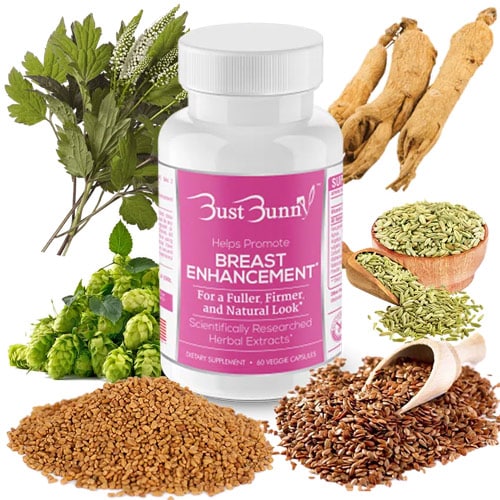 As you age, your hormone levels will fluctuate more, and this can cause your breast size to either increase or decrease.
Pre-menopausal women often use fenugreek to maintain the shape and size of their breasts, and they are not the only ones.
If you just had a breast explant, then chances are your breasts have lost their volume and are sagging. Fenugreek can help restore your breasts to their original perky shape, and it can do the same for new mothers who just finished breastfeeding.
"My girls are fuller for sure, which adds perkiness – that most of us lack after having children/breastfeeding."
– Allenna, United States
Before breastfeeding, your breast tissue becomes bigger to accommodate milk, resulting in larger breasts. After breastfeeding, the milk-producing glands and breast tissue both shrink down to their original size, but since the connective tissue in your breasts has been stretched out, you may notice that your boobs are softer, less full, and sagging.
The extent to which the shape and size of your breasts change depends on your age, weight, and genetics.
New mothers love fenugreek because it can help restore their sagging breasts and make them perkier, rounder, and fuller.
While there are other ways to restore the shape and size of your breasts after breastfeeding, using fenugreek alongside these methods will help accelerate the growth of your breast tissue.
Our FDA-compliant Bust Bunny Breast Enhancement supplement formula is loved by new mothers and women who just had an explant because it works side to side with other natural breast enhancement methods to restore your boobs.
We recommend taking our breast enhancement supplement along with:
Wearing supportive bras
Regular exercise
Drinking enough water
Eating nutrient-rich foods
Enlarge Your Breasts Naturally
You don't have to go through complicated, expensive, and risky treatments to enlarge your breasts. Fenugreek is an effective natural alternative to silicone implants.
At Bust Bunny, we incorporate fenugreek and other natural ingredients (leaving out additives and fillers) to create our natural Breast Enhancement Supplement.
Our formula combines 13 essential botanicals with vitamins and minerals to increase your breast size as well as boost your immune system and keep you healthy.
Get started with our vegan-friendly breast enlarging capsules today and enjoy fuller, rounder, and perkier boobs in as little as three months.
Share on Instagram: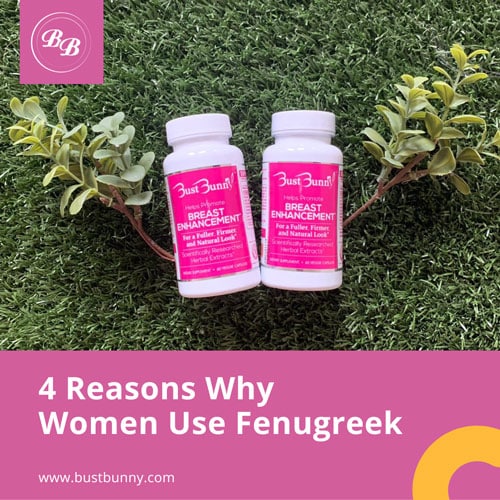 Share on Facebook: