We understand why you'd be skeptical of fenugreek. After all, not every woman who uses fenugreek for breast growth gets bigger boobs—but some do.
So does this mean that fenugreek works by luck alone? Fortunately, no.
First, the effectiveness of fenugreek depends on internal factors like your age and body chemistry. While you can't control your age, you have some say over your body chemistry. You can help fenugreek work faster by consuming nutrient-rich foods and living a healthy lifestyle.
Second, the effectiveness of fenugreek also depends on external factors like the type of capsule you consume. In this guide, we'll tell you how to choose the right fenugreek capsule for you as well as:
How your sleep pattern affects breast growth
What nutrients can help your boobs grow faster
How to tell real from fake fenugreek capsules
1 – Are You Taking the Right Dosage?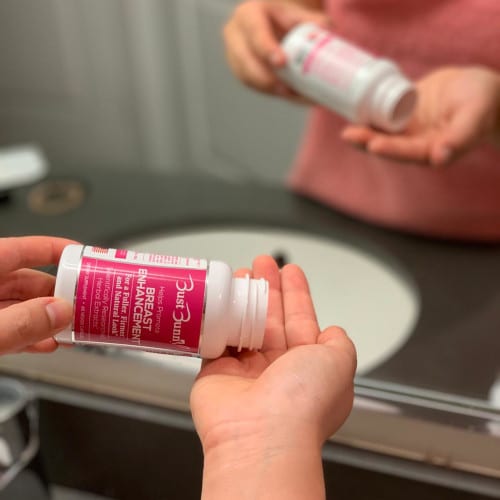 Fenugreek can naturally increase your breast size if you consistently take a dose of 1800 mg per day. For some, this dose can be lowered depending on factors such as:
Underlying conditions: Your physician may recommend a lower dosage if you have diabetes, a heart condition, or are at risk of some cancers.
Prescribed medication: If you're on hormone replacement therapy, your doctor may recommend a lower dose of fenugreek for breast enlargement.
Diet: Some foods like soy milk increase estrogen levels and can help with breast growth.
By contrast, can fenugreek still increase your breast size if you take more than 1800 mg per day? No.
Unfortunately, taking more than the recommended dosage of fenugreek can hinder breast development. Since it's a hormonally active herb, too much can increase your estrogen levels to the point of causing complications such as weight gain, high blood sugar, and fatigue.
To get bigger breasts using fenugreek, you need to find a sweet spot that works. Here are some tips:
Take a maximum of three 600 mg capsules per day (most women find that two capsules are enough)
Eat 100 g of soaked seeds per day
Drink a maximum of three cups of fenugreek tea daily
Use 2–3 ml of fenugreek tincture two or three times a day
2 – Are You Using the Right Fenugreek Supplement?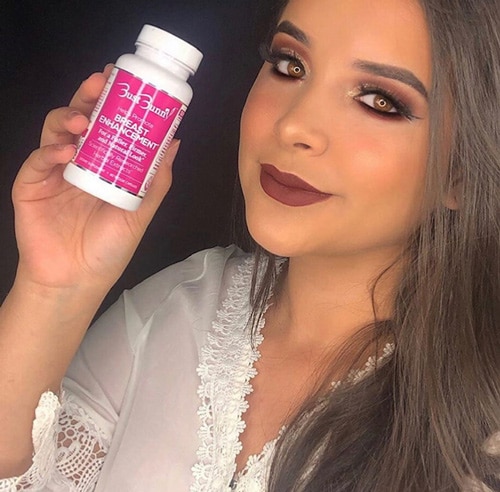 Can any type of fenugreek capsules increase your breast size? No.
Natural breast enhancement supplements differ in terms of ingredients and effectiveness. You need to use the right supplement if you want to grow bigger breasts naturally.
But how can you tell the fake pills from the real deal, and why is it important that you do?
Well, fenugreek is meant to be a safe, healthy, and natural alternative to procedures like breast augmentation, which may lead to health complications and, eventually, a breast explant.
To know the genuine from the fake products, you first need to read the product information on the package.
The U.S. Food and Drug Administration (FDA) requires manufacturers of natural breast enhancement supplements to display a fact label on every bottle. If the brand of fenugreek you're taking doesn't have this fact label, it may be fake. If it does, here's what to look for:
The name of the supplement: Is it a familiar name and can you find it online?
The ingredients in the capsules: Are there fillers, additives, or banned and toxic substances in the capsules?
Directions of use: Every bottle needs to have direct and clear instructions for use.
The name and location of the manufacturer: Are the pills manufactured in an FDA-compliant facility in the United States?
A fake fenugreek supplement will have little to no information about its origin and ingredients.
You'll also want to look at the printing quality on the label. A genuine supplement will have well-spaced and legible text while a fake one may be ineligible and contain distinct typos.
Finally, you need to look for social proof before taking any fenugreek supplement. A brand with no reviews or too many negative reviews may be fake.
At Bust Bunny, we provide all the information our customers need on the package. You can see a list of our ingredients, directions for use, and other facts about our supplement.
We also make it clear that we use non-GMO ingredients, and that we use all-vegetable capsules.
"They now come in VEGGIE capsules! I noticed that my boobs are definitely fuller and it's been helping a lot with keeping my skin clear"
– Holly White, United States
When you use Bust Bunny Breast Enhancement supplement, you have nothing to lose and so much to gain. Apart from helping to grow your breasts, our capsules can also relieve menstrual cramps and help treat symptoms of indigestion, like bloating.
"My digestive system has also benefited from the regular use of Bust Bunny. I have also felt a difference in the lessening of the severity of my cramps …"
– Shari, United States
3 – Does Your Diet Support Breast Growth?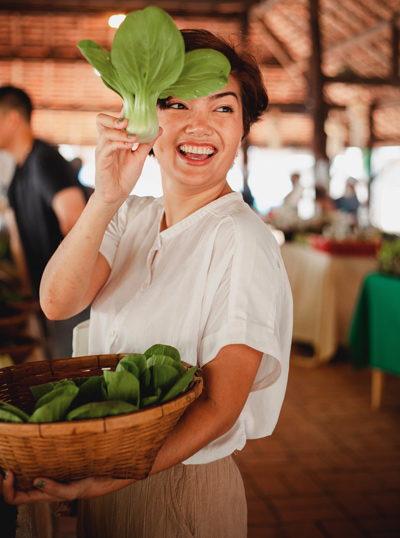 Can fenugreek increase your breast size if your diet also supports breast growth? Absolutely.
To explain, breasts need nutrients as well as hormones to grow. Protein and omega-3 fatty acids are especially important for breast growth.
Protein triggers your body to produce more estrogen while omega-3 fatty acids contain phytoestrogens (compounds that work similarly to estrogen). With these two nutrients in your diet, you can expect your boobs to grow bigger within three months of using fenugreek.
Foods that contain healthy breast-enhancing nutrients include:
Milk
Soybeans
Salmon
Nuts
Green leafy vegetables
By contrast, foods like sugar, alcohol, and caffeine can hinder your breast development.
Including too many of these bad substances in your diet inhibits the production of estrogen. Without sufficient estrogen in the system, your breast growth will be slow or non-existent, even with fenugreek supplements.
4 – Is Your Lifestyle Hindering Your Boob Growth?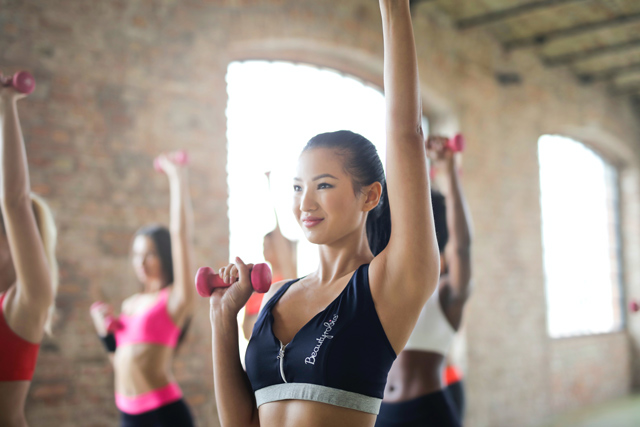 Fenugreek can increase your breast size if you exercise regularly and get enough sleep.
To be specific, you need to exercise your upper body at least three times a week. Working out the chest also strengthens the muscles that support your breasts (pectoral muscles). As a result, your boobs will appear bigger and firmer.
You can learn more about how exercise can help your breast growth in the table below.
| | |
| --- | --- |
| Exercise | Benefit |
| Push-ups | Improve blood flow to your breasts and strengthen the pectoral muscles |
| Handstands | Improve posture and strengthen the upper body |
| Arm circles | Improves your posture and strengthen the pectoral muscles so your boobs appear perky |
| Chair dips | Reinforce the muscles under your bust which makes your boobs appear fuller |
If you hit the gym at least three days a week, you may find your breasts growing faster compared to a woman who doesn't work out at all. This tells you that while fenugreek can increase your breast size, it needs a little help.
Finally, getting 7 to 8 hours of sleep is also vital for breast growth. As we mentioned above, fenugreek is a hormonally active herb, and hormones work best when the body is resting.
With the right lifestyle choices, fenugreek can increase your breast size within 3 months of use.
Expert Tip: Smoking cigarettes or being exposed to second-hand smoke for long can cause your skin to lose its elasticity and your boobs to sag.
A Natural Way to Enhance Your Breast Size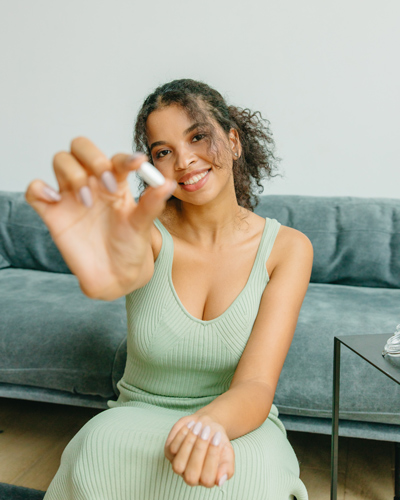 Can fenugreek increase your breast size if you eat a balanced diet, exercise regularly, and use a healthy breast-enhancing supplement? The answer is yes.
So many of Bust Bunny's customers have testified to this.
You may not believe that diet and lifestyle have anything to do with breast growth, but they matter more than you realize. You also need to get enough sleep and drink plenty of water.
First, water washes out the toxins in your system so your body can support healthy breast development. Second, since fenugreek contains dietary fiber, water helps to move it through your system to prevent side effects such as bloating, gas, and constipation.
Yet, for the best results, the most important thing is to take the right fenugreek supplement. 
Bust Bunny Breast Enhancement supplement contains 13 plant-derived ingredients (including fenugreek, fennel seed extract, and flax seed extract) to help you get bigger boobs within months. You only need to take two capsules daily and wait for the results.
Remember to consult your doctor before you try any breast growth pills.
Share on Instagram: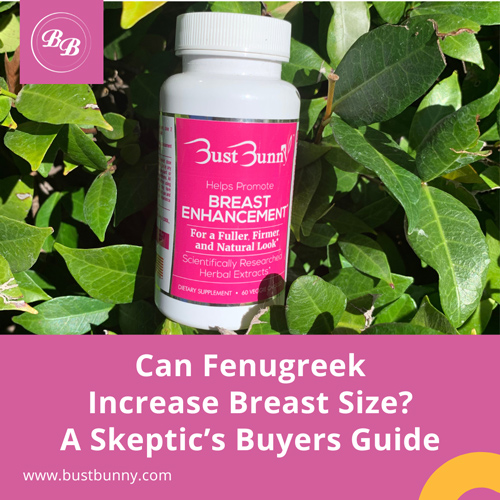 Share on Facebook: