Yes, your breasts can grow bigger if you massage them.
Having said that, we can see why you'd be skeptical. After all, if boobs grew bigger just by massaging them, no one would ever need breast enhancement supplements or complain about having small boobs.
But there's more to massaging your breasts than you may realize. If you've tried massaging your breasts without any results, it's possible that you're doing something wrong:
You're expecting an unrealistic rate of growth.
You're using the wrong techniques.
You're not consistent with your routine.
1 – Your Technique Matters
Massaging is a deliberate process.
It's not just about mindlessly rubbing your hands on your chest. While you can still massage your breasts as you watch TV, make sure you pay attention to the amount of pressure and movement you use.
Too much pressure and movement of the breast tissue can make you sore. You can find some general dos and don'ts about how to massage your breasts from the table below:
| | |
| --- | --- |
| Do | Do Not |
| Use small, shallow, circular motions when massaging to avoid damaging the breast tissue | Massage your boobs if your skin is too sensitive as it can cause your boobs to be sore |
| Be gentle to avoid hurting your breast tissue | Massage your nipples as they can quickly become sore |
| Use the flats of your palms and fingertips | Massage your breasts if you're pregnant as it can release the hormone oxytocin, which may stimulate early labor |
| Use a heating pad or warm cloth to warm your hands and boobs before the massage to promote blood flow | Skip your daily breast massage sessions |
Today we'll cover three techniques you can use to massage your breasts to make them bigger. These techniques work by:
Promoting estrogen activity
Clearing toxins from your breasts
Improving blood flow and circulation
Estrogen is the hormone that makes your boobs grow—improved blood flow will ensure your breasts get all the estrogen they need. Improved blood circulation will also remove toxins and waste which may interfere with the development of your breast tissue.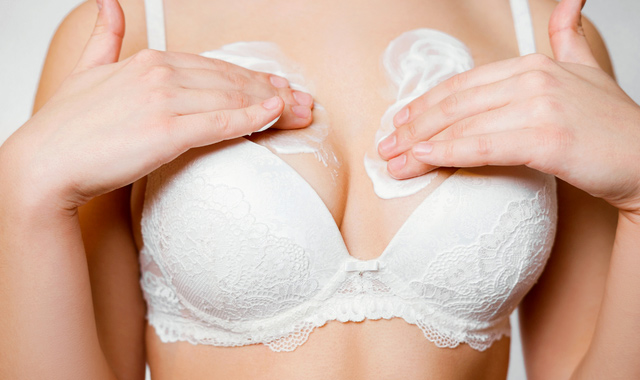 Finally, our massage techniques will increase the levels of collagen in your system, a compound that controls the elasticity of your skin. Your breasts will start to feel perkier and firmer after a few weeks of regular massage.
You can learn more about our suggested breast massage methods in the table below:
Breast Massage Technique
Description
Technique #1

Cup your left hand over your left breast and your right hand over your right breast
Using your fingertips, massage your boobs in an inward circular motion

Technique #2

Make outward strokes from the nipple towards the outsides of your breasts
Massage just below your armpits to increase blood flow to your breasts

Technique #3

Starting with the lower parts of your breasts, make small, circular motions towards the nipples and back
Focus on the lower halves to create the necessary boob stimulation needed for breast growth
Remember to always set aside a specific time to massage your breasts. You're more likely to stick with it if you make it a habit.
It's best to massage your breasts after taking a shower or a bath. Showering will rinse off any perspiration or environmental pollutants and prevent them from being rubbed into your skin. It will also loosen up your muscles and increase blood flow to the breasts.
Finally, use a massage oil, such as flaxseed oil, olive oil, or cocoa butter, to relax your muscles and increase blood circulation in the breasts. Oil also lubricates your breasts and makes them easier to massage.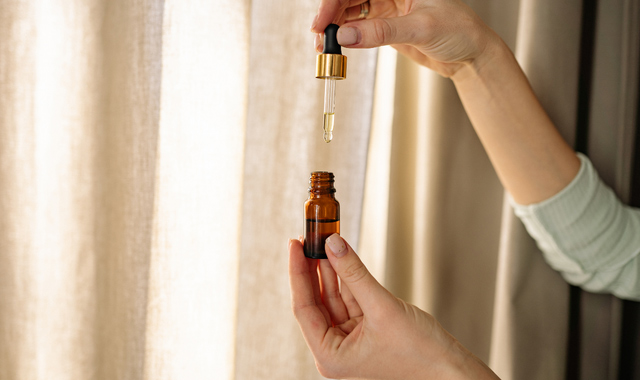 However, don't use too much oil either; you also want to maintain a good amount of resistance so you can apply pressure as you massage. One or two drops of oil in each hand will make your boobs just slippery enough for you to massage them well.
2 – Breast Massage Plus Breast Supplements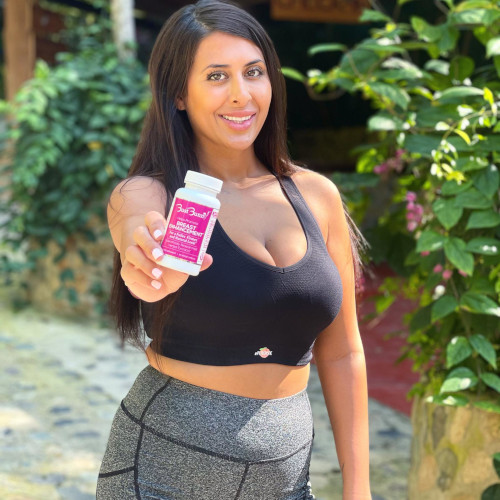 Were you hoping for breast massages to help you move from A cup to C cup breasts within one month? Unfortunately, massaging your breasts alone can't give you these dramatic results in such a short time.
This is true for any natural, healthy, and safe method of breast enhancement, including Bust Bunny Breast Enhancement supplements. Although you'll start to feel some tenderness in your breasts within that first month of use, it will take time for significant changes in size to occur (about 3–6 months).
However, combining these two natural methods of breast enhancement can give you results faster than either one alone would.
If you think about it, this makes sense since the supplements work inside your body while the breast massage stimulates blood flow at the surface level. It's the perfect partnership for enlarging your breasts.
Bust Bunny Breast Enhancement supplements contain 13 essential botanical ingredients including fenugreek, flax seeds, fennel seeds, black cohosh, motherwort, and more. Most of the ingredients, like fenugreek and fennel seeds, contain phytoestrogens, plant compounds that work similarly to estrogen in your body.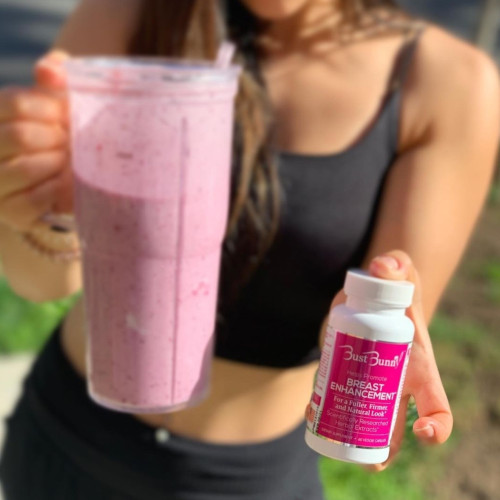 Since estrogen helps to promote breast growth, taking these supplements can increase your bust size as well. All of our ingredients are non-GMO, vegan friendly, and can complement your breast massage method to give you noticeable growth within 1–3 months.
"I have been taking the supplements for 2 1/2 months (in conjunction with doing breast massages everyday) and already there is a significant difference"
Since Bust Bunny Breast Enhancement supplements contain estrogen, you'll also notice additional benefits such as clearer skin, improved moods, and relief from menstrual cramps.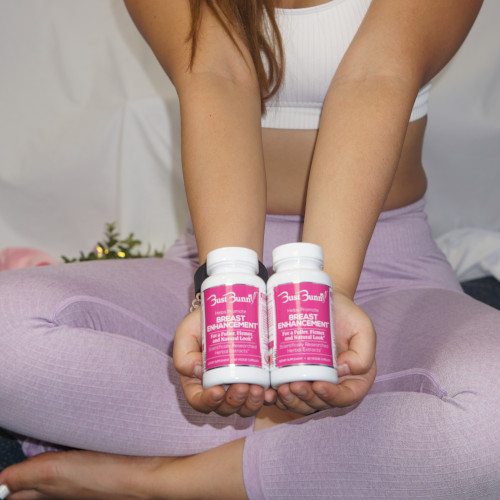 Apart from helping your breasts grow, supplements and massage can also help perk up saggy boobs. This can be especially useful if you've had a breast explant and are looking for ways to restore the fullness of your breasts.
"Before her boobs would not hold their shape well but now after taking these and boob massages, they are firm, hold their shape and more full."
Expert Tip: Massaging your breasts can feel great if you do it right. It can be a fun activity for you and your partner.
3 – Massage Improves Blood Circulation
Did you know: Your boobs won't grow if they're not getting sufficient blood flow?
Breasts require hormones (like estrogen) and nutrients (like vitamin C) to grow. These essential compounds are transported throughout your body by your blood. This is why blood circulation is considered one of the four major factors for natural breast development. The other three are:
Hormonal balance
Diet
Lifestyle factors like exercise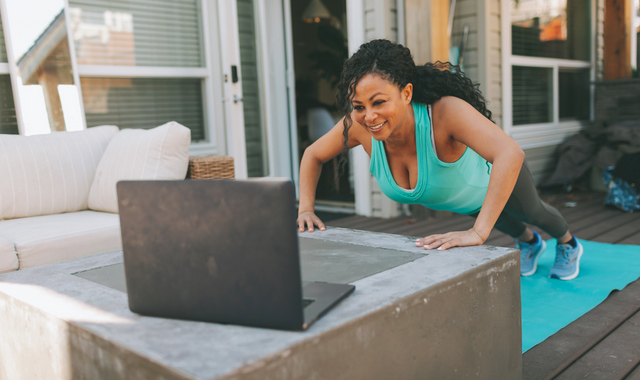 While the body naturally carries blood to your breasts, there are no major arteries running through them. Only branches of major arteries are available, which limits the amount of blood that can go to your breasts—in fact, less than 8% of all blood flows to the breasts.
What breast massage does is increase blood flow to the bust area so that your boobs have what they need in order to grow. But massaging once is not enough. At the very least, you need to massage your breasts for five minutes, once every day.
However, massaging them for at least 15 minutes twice a day will give your breasts constant access to the hormones and nutrients mentioned above, allowing them to grow larger within only six months.
Ultimately, what matters is that you're consistent with your routine.
Expert Tip: Remove your bra as soon as you get home. Wearing your bra all day long can restrict blood flow to your breasts even more. Avoid wearing a bra when you sleep to give your breasts sufficient blood flow.
Get Bigger Breasts Naturally
There are a lot of breast enhancement products on the market today, including capsules, massages, creams, implants, and more. We found that the best results come to women who use a combination of breast massage and breast enhancement supplements.
After about one month of massaging and taking Bust Bunny Breast Enhancement supplements, your breasts will start to feel tender, a sign that they're growing.
Get started with our Bust Bunny Breast Enhancement supplement today and enjoy significant results in the shortest time possible.
Share on Instagram: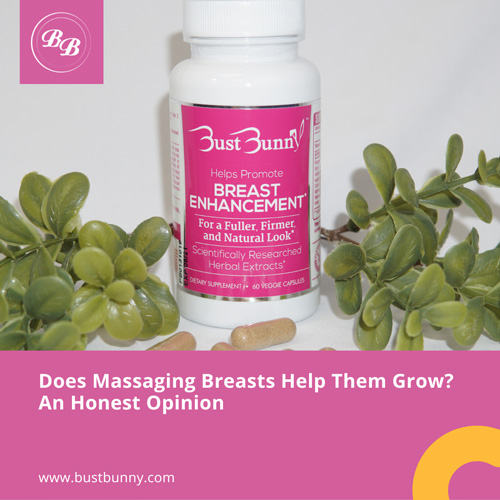 Share on Facebook: