Compared to other methods of breast enlargement, like implants, fenugreek offers a healthier and safer way of enlarging your breasts. It does so by increasing the level of estrogen in your body.
Still, is it possible to get your desired bust size within one month of consuming this natural herb?
Well, it's typical to start seeing noticeable changes in your breast size after 2 or 3 months of using fenugreek regularly—although there have been cases where women experienced growth after 1 month or less.
So how can you expedite your breast enlargement results?
The answer is not to consume more than the recommended dosage (500–600 mg, three times a day) of fenugreek because that will only stunt the development of your breasts. Here's what you need to do instead:
Stick to a regular schedule when consuming fenugreek.
Take fenugreek in a form where you can control the dosage (such as capsules).
Complement fenugreek with other breast enlargement herbs or exercises.
1 – You Need to Get the Dosage Just Right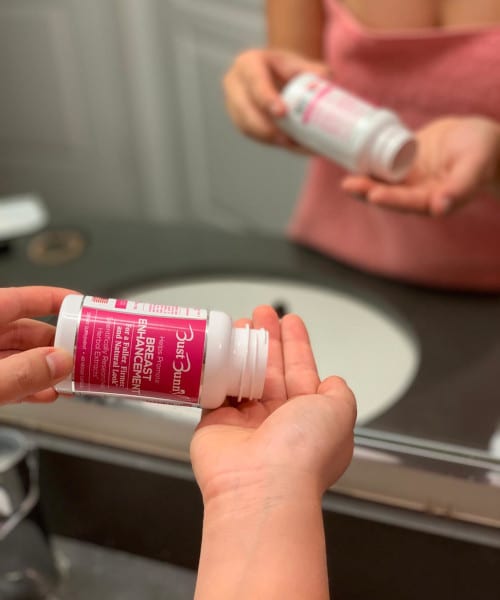 One of the best things about fenugreek is that it can be used in so many different ways. Apart from helping you increase your breast size without gaining weight, this herb can also help you increase breast milk production and regulate your blood sugar levels.
However, this means that the recommended fenugreek dosage varies depending on why you're taking it.
To increase your bust size, take 500–600 mg of fenugreek in capsule form a maximum of three times a day (or three cups of fenugreek tea daily).
To increase your breast milk supply, we recommend a dosage of 1725 mg of fenugreek three times a day for 21 days. Dosages of less than 3500 mg per day will have no effect on breast milk production.
Finally, to relieve menstrual cramps, take 1800–2700 mg of fenugreek seed powder three times a day for the first three days of your period, then 900 mg three times a day for the remaining two days of your cycle.
Additionally, this herb is available in so many different forms: seeds, leaves, sprouts, capsules, oils, powders, and so on. How do you know you're getting the right dose?
First, let's discuss why it's important that you get your fenugreek dosage right.
Fenugreek contains phytoestrogens, compounds that have a similar effect to estrogen. Consuming too much will cause a hormonal imbalance in your body and prevent your breasts from growing larger.
The best way to know if you're taking too much or too little fenugreek for breast enlargement is to consult your doctor. The next best way is to stick to the doses recommended by dietary supplement experts.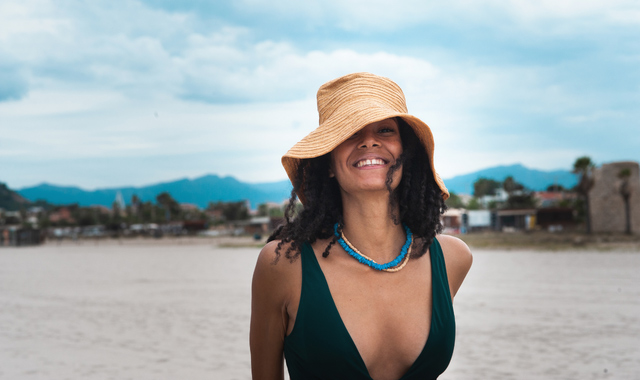 The table below gives you an idea of the dose amount often suggested for breast enlargement, depending on how you choose to consume the herb.
| | | |
| --- | --- | --- |
| Forms Of Fenugreek | Suggested Dosage | Number Of Times To Consume |
| Capsules (500–600 mg) | 1 capsule | 2–3 times per day |
| Seeds/ Powder | ½–1 teaspoon | 3 times a day mixed with 250 ml of water |
| Tincture | 1–2 ml | 3 times a day |
| Tea | 1 cup (250 ml) | 2–3 times a day |
Finally, you can slowly increase the amount of fenugreek you consume until your urine and sweat begin to smell like maple syrup. This is when you know you're taking enough.
2 – Fenugreek Works Best When Paired With Other Natural Herbs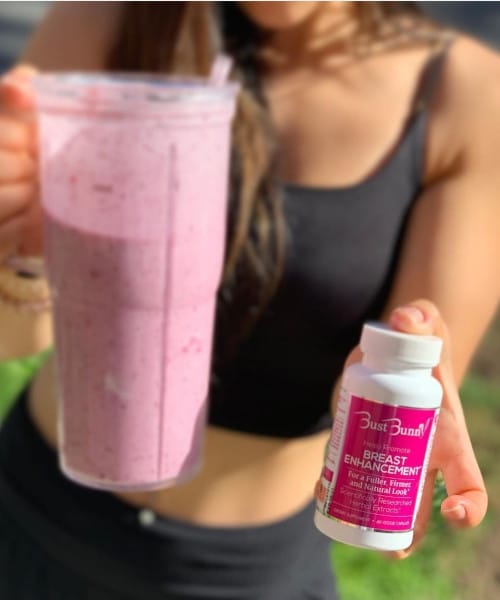 For fenugreek to increase your bust size on its own, this one condition needs to be fulfilled: time. It takes a minimum of 3 months for fenugreek seeds to work in their raw form. You'll also need to pre-treat the seeds (by soaking them in water overnight or roasting them in a pan) prior to consumption.
But we have a better way, a faster way—simply combine fenugreek with other breast enlarging herbs, such as blessed thistle, black cohosh, and fennel seeds.
Because they have similar functions, combining these ingredients will help them work more efficiently in your system.
However, this also puts you at risk of consuming too many phytoestrogens which will trigger a hormonal imbalance in your body, preventing your boobs from growing further.
As a solution, we suggest using pre-made and FDA-approved capsules instead of buying the herbs in bulk form and trying to combine them yourself. Formulating a fenugreek mixture yourself is not recommended since:
You can't vouch for the purity of the herbs.
You may not like the taste of the resulting mixture.
You can't control the dosage of the herbs.
It takes time to prepare a bulk mixture.
Capsules have a greater potency (4 times stronger than fenugreek tea).
Capsules can last for more than a year.
Our vegan-friendly Bust Bunny Breast Enhancement supplement combines 13 essential herbs, including flax seed, hops, wild yam root, and black cohosh, to help give you fuller, perkier, and rounder breasts within 1–3 months.
Bust Bunny Breast Enhancement capsules are also packed with vital nutrients and vitamins (especially vitamin C) to help boost your immune system as your boobs grow.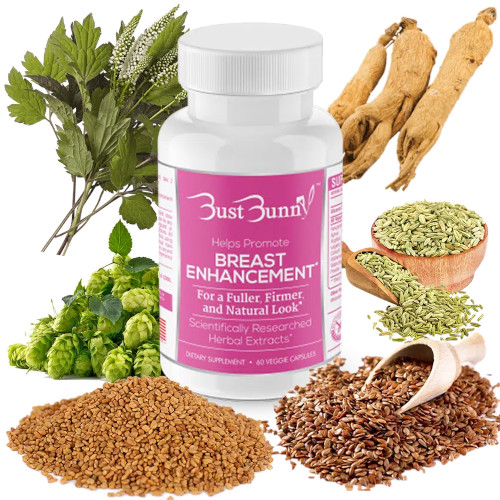 3 – You'll Start to Notice Changes Within Two Weeks
At first, the changes you experience in your breasts might not be noticeable to the naked eye, but you'll feel them. Some signs that indicate your breasts are growing include:
Your chest will feel tighter and fuller.
You may even experience a sore feeling in your breasts.
You'll feel a tingling sensation in your breast area.
Your nipples will start to feel sensitive.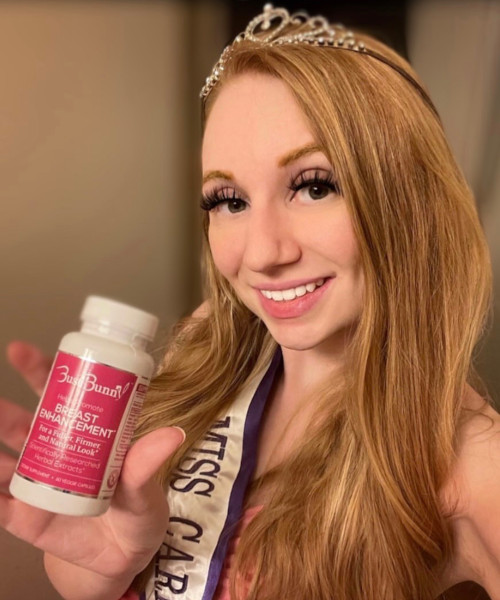 In one case, a client reported feeling hardish lumps in her breasts, but they were indicative of breast growth and disappeared soon after.
"I felt hardish lump in my breasts… By the time my appointment came around, those lumps were gone, and I had grown about 1/2 an inch around."
It's normal to experience all of these changes, and more, within the first week or two of taking fenugreek—it works that fast. Fenugreek will also help relieve period cramps, give you clearer skin, and increase your energy levels.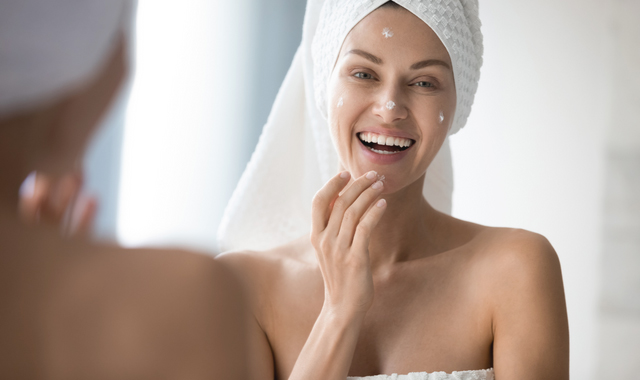 A noticeable change in breast size will usually begin after six weeks of consuming our fenugreek capsules.
"I have used it over the past year and my cup size increased from a B to a C in just six weeks."
Our fenugreek capsules have a 97% success rate, with customers reporting noticeable changes in breast size, perkiness, and firmness within 3 to 8 weeks. For optimum and more permanent results, we suggest taking Bust Bunny Breast Enhancement capsules for 3–6 months.
Expert Tip: Fenugreek acts as a natural antacid and aids in digestion.
This means that consuming fenugreek on an empty stomach will help relieve excess acidity in your digestive system. However, some of our customers report experiencing a slight stomach ache after consuming fenugreek on an empty stomach or failing to drink enough water with the capsule.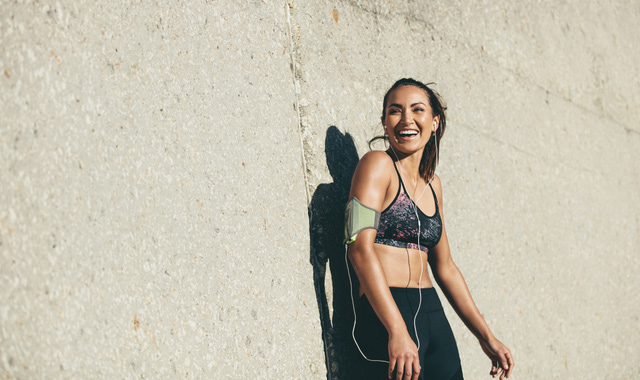 We suggest doing what works for you.
If you have issues with stomach acidity, take fenugreek on an empty stomach. If not, take it however you want, before or after a meal—but always drink at least 8 ounces of water (a full glass) with the capsule.
Over to You Now
Fenugreek is a natural and healthy alternative to HRT and breast augmentation procedures. When you take it consistently, at the correct dose, and combine it with other breast-enhancing herbs, fenugreek can increase your bust size in under a month.Try our Bust Bunny Breast Enhancement supplement for yourself and experience the results.
Share on Instagram: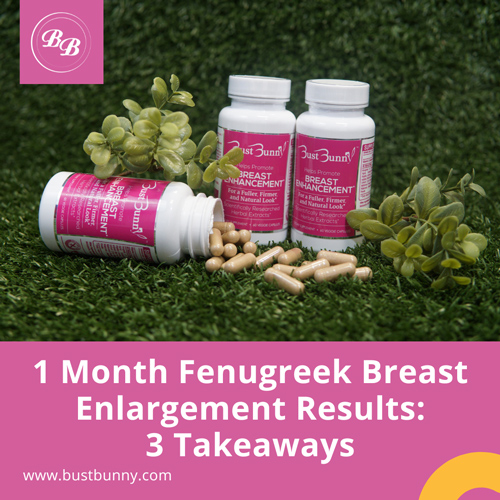 Share on Facebook: