It can take you three weeks, a month, or even up to eight weeks to start seeing change when you take black cohosh.
Why such a discrepancy?
Unfortunately, there's conflicting information on how long it takes for black cohosh to work.
One user said, "I've been taking black cohosh supplements for almost 3 weeks and I already feel a little more volume in my breasts."
Another user said, "I've been taking black cohosh for about a month and just started seeing results. My period feels more regular and my mood and sleep are getting better"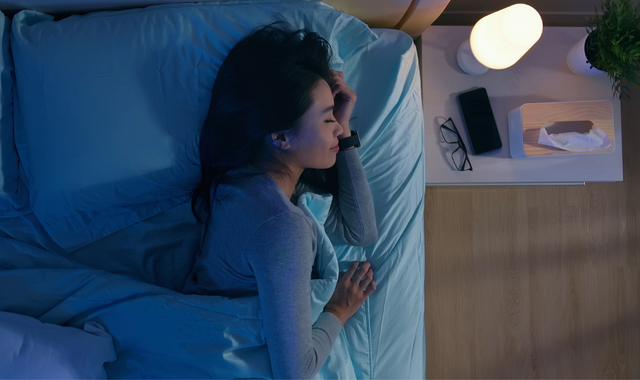 The reason this discrepancy and conflicting information exists is that the amount of time black cohosh takes to kick in depends on:
Your age
Genetics
What you're taking it for
We're going to explore different studies and testimonials to determine how long it should take for you to start seeing change when taking black cohosh.
We'll also look in detail at a few of the benefits of black cohosh. However, before we do, the first step in knowing how long it takes for black cohosh to work is to fully understand the supplement.
Understanding Black Cohosh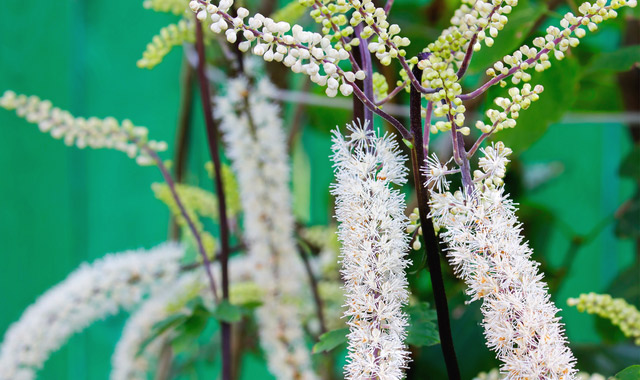 Black cohosh is a popular supplement in wellness circles for its ability to:
Make your breasts fuller and firmer
Relieve the harsh effects of menopause
Provide relief from symptoms of hormonal imbalance
Black cohosh is also known by the scientific name Actaea racemosa or Cimicifuga racemosa. It's a perennial herb native to North America.
Though it's recently been widely promoted as a supplement, black cohosh isn't a new trend in wellness circles. In fact, it's been used for centuries by healers and medical practitioners worldwide.
Historically, Native Americans used the roots and flowers as medicine to treat:
Fever
Period pain
Pneumonia
Sluggishness
Irregular periods
Today, black cohosh is marketed as a supplement for women, as it relieves menopausal symptoms and other estrogen-related issues, such as breast pain and heavy periods.
So how does it work?
The roots and flowers of black cohosh are dried and ground into a fine powder and packaged in the form of pills.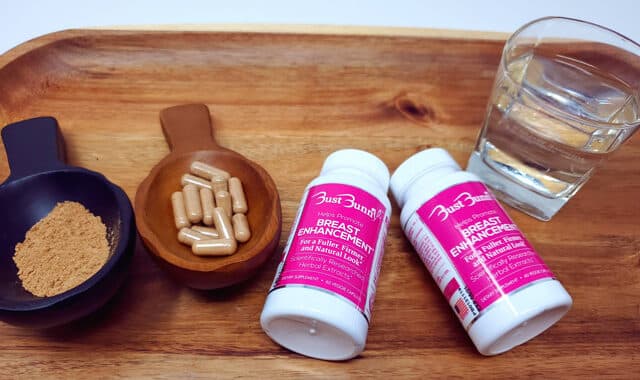 Important Features of Black Cohosh
Reduces hot flashes. Taking products with black cohosh helps to reduce hot flashes, which are one of the major symptoms during menopause.
Helps enlarge breasts. Black cohosh naturally increases breast tissue, which makes your breasts bigger even when you're not lactating.
Balances hormones. Black cohosh helps reduce symptoms of hormonal imbalance such as breast and period pain.
Why Should You Buy Black Cohosh?
It's natural. Black cohosh is a naturally occurring plant that grows ecologically, so it's better for the environment.
It's safe. The FDA classifies black cohosh as safe.
To enjoy the above features, you must purchase black cohosh supplements from a facility that's deeply rooted in science and values good health above everything. If you want to learn more, you can read more reviews and check the latest price of black cohosh supplements on the Bust Bunny website.
Advantages and Benefits of Black Cohosh
1 – Helps Ease the Effects Of Hormonal Imbalance
Hormones help regulate the various functions in your body. When they rise or fall below normal levels in the bloodstream they result in hormonal imbalance.
Hormonal imbalance can occur naturally during menstruation, pregnancy, or menopause. It can also be precipitated by certain medications. For example, many women experience hormonal imbalances when on birth control.
When hormones fluctuate, the following functions in your body may be affected.
Moods. Mood swings can influence the way a woman interacts with others, which affect both her personal life and career.
Metabolism. Slowed metabolism can lead to chronic fatigue and weight gain.
Reproductive cycle. When hormonal imbalance interferes with the reproductive cycle, your periods may be more painful and irregular.
Sleep. Hormonal imbalance is a major cause of insomnia in women, which, over time, can lead to diabetes, weight gain, and high blood pressure.
Anxiety. Hormonal imbalance may cause constant nervousness, which could lead to poor concentration and quality of life.
Black cohosh supports estrogen balance in your body, which helps alleviate all symptoms associated with hormonal imbalance.
Take note that different bodies show different responses at varied times. Some women start experiencing relief after two weeks, others after three months, and so on.
For instance, AshleeW started seeing results after only a month.
"I've been taking this for a month and just started seeing results. I was experiencing irregular periods, heavy bleeding, and hair loss"
– AshleeW
2 – Promotes Breast Enlargement
Breasts are prone to change in shape and size depending on weight fluctuations, age, and important life stages such as pregnancy and breastfeeding.
A major effect of black cohosh is the ability to enlarge breasts.
Did you know? Even those taking black cohosh to treat hormonal imbalance end up with rounder, firmer breasts.
Women looking to have fuller breasts start to see improvement as early as two months.
"After more than 2 months I can definitely say there's a difference. Great boobs filling my bra much better."
– Mariahhh
For those transitioning from male to female, black cohosh promotes estrogen production, which helps in forming breast tissue, giving them bigger, rounder breasts.
3 – Supports Women Experiencing Menopausal Symptoms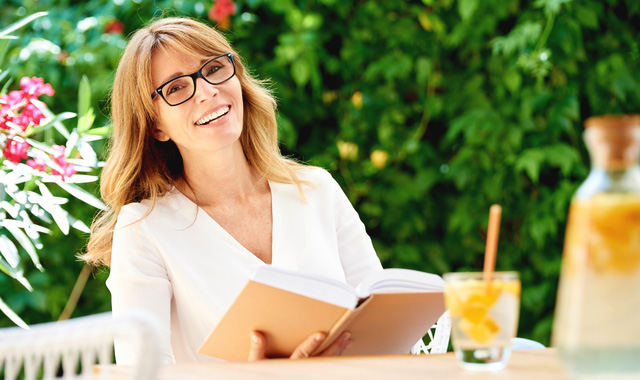 Menopause is one of the most challenging times in a woman's life. It comes with many unpleasant symptoms, such as:
Hot flashes and night sweats
Vaginal dryness
Breast tenderness
Fatigue
Insomnia
Anxiety
These symptoms can cause distress and lower the quality of life for anyone. To ease them, many women turn to hormone replacement therapy. This is where hormonal medications are administered to restore the natural balance of hormones in the body.
Hormone replacement therapy comes with adverse risks including blood clots, weight gain, and increased risk of cardiovascular diseases.
Phytoestrogenic herbs, such as black cohosh, are a safer and more natural alternative to hormone replacement therapy. Black cohosh works the same as estrogen, hence inhibiting the effects of menopause.
Studies show that it takes women suffering from menopause symptoms up to four weeks to experience relief. At eight weeks, even more noticeable benefits were noted.
3 Common Features of Black Cohosh
We're now going to look at the unique features of black cohosh that make it a powerhouse for women seeking bigger breasts or to deal with gynecological health issues.
1 – Mimics Estrogen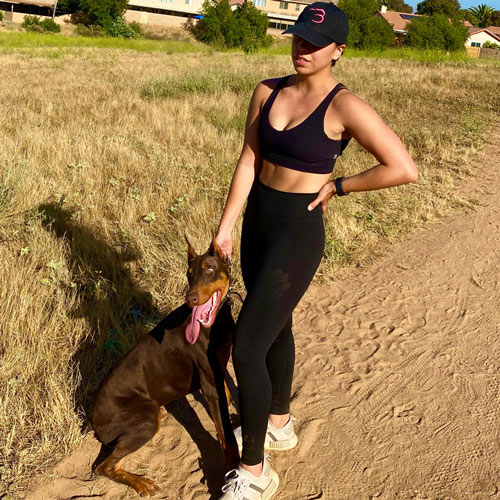 Estrogen is the hormone responsible for maintaining reproductive functions and female characteristics. When the hormone falls due to menopause or hormonal imbalance, the reproductive cycle becomes irregular and there is a decline in sexual health.
Black cohosh contains phytoestrogens. These are plant compounds that can mimic estrogen, making them effective at treating estrogen-related health problems.
2 – Mimics Serotonin
Serotonin is the chemical that helps regulate body temperature. It also promotes feelings of wellbeing and happiness.
When estrogen falls, serotonin also falls, hence the reason for night sweats and increased anxiety.
Black cohosh contains chemical compounds that are able to influence your body's receptors the same as serotonin relieving night sweats and hot flashes, as well as getting rid of anxiety.
3 – Painkilling Effects
You may have heard that black cohosh helps relieve breast pain and other PMS problems. It also helps relieve period pain and muscle pain that's common during menopause.
Black cohosh binds the brain's pain receptors the same as pain relievers. It has been used historically by Native Americans to treat muscle and period pain.
Price Range
We have two Bust Bunny supplements that contain black cohosh as a major ingredient:
Breast Enhancement supplement
Hormonal Balance supplement
The table below shows the price ranges of the two supplements.
| | | |
| --- | --- | --- |
| Price Range | Breast Enhancement Supplement | Hormonal Balance Supplement |
| Low Price | $39.95 | $24.00 |
| High Price | $179.95 | $119.00 |
| Average Price | $50.00 | $40.00 |
What Others Said About Black Cohosh
At Bust Bunny, our supplements all contain black cohosh as the main ingredient.
The Breast Enlargement supplement and Hormonal Balance supplement have been used by our customers from all over the world.
Many of our customers loved our smooth and efficient shipping process after placing their orders.
Other things they liked about the supplements include:
The breasts got fuller, perkier, and rounder.
PMS symptoms were less severe and acne was eliminated.
The pills are odorless and easy to swallow.
The supplements don't hurt the stomach.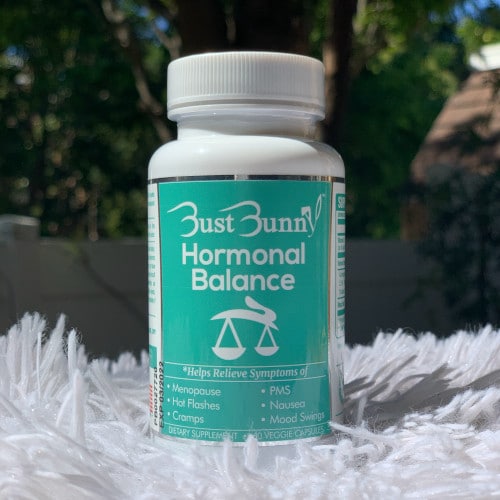 "Love how my breasts feel firmer and don't have the deflated appearance. Excited to see and feel the effects as time goes on."
– ElektricLadyLand, Amazon
"I'm recently using Bustbunny, it's my first 3 weeks of consumption. My breasts are starting to get firm a bit."
– Noor Maximus, NZ
Start Your Journey Today With Quality Products Offering Results
At Bust Bunny, we're dedicated to offering less invasive breast enhancement options, and are more efficient in curbing hormonal imbalance and the effects of menopause.
All our products are deeply rooted in science. As research suggests, black cohosh is effective in balancing hormones and alleviating the symptoms of menopause. We, therefore, have black cohosh as a primary ingredient in our supplements.
Our patented formula has been perfected to ensure women achieve their desired results within 1–3 months.
All of our products are natural, gluten-free, and non-GMO. They're also manufactured right here in the US.
We ship all around the world. Head over to our website to place your order, and start your journey now.
Frequently Asked Questions
What are the side effects of black cohosh?
There are potential side effects associated with taking black cohosh. However, they're typically mild symptoms, such as:
Skin rashes
Indigestion
Nausea
When taking Bust Bunny supplements that contain black cohosh, you're unlikely to experience these symptoms. The ingredients are balanced and combined with other healthy, natural ingredients that improve the absorption of black cohosh into your body.
What foods contain black cohosh?
There are no foods that contain black cohosh. Black cohosh can only be derived from the root or flower of the black cohosh herb. It can be taken as a single supplement or as a part of different ingredients in a supplement.
Should I take black cohosh supplements in the morning or at night?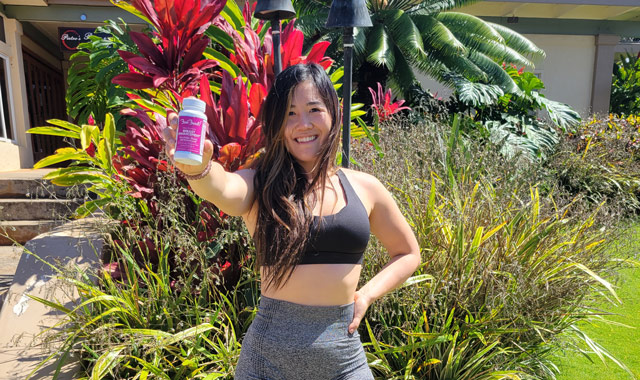 You can take the black cohosh supplement at any time of the day or night. Always ensure you take two pills daily with water to start seeing results fast.
Expert Tip: To minimize the risk of liver damage and the above-listed side effects, always take only the recommended dose. Taking more than the recommended dose won't yield faster results.
What are the benefits of black cohosh for males transitioning to females?
For males transitioning to females, black cohosh helps with the production of estrogen. This promotes breast growth, which is a major part of transitioning. It also helps balance hormones, which helps in managing anxiety.
Share on Instagram: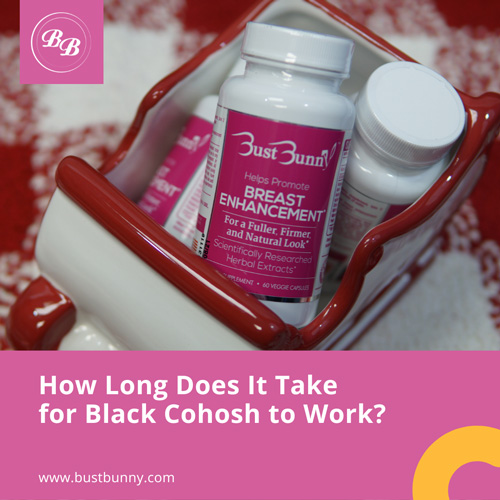 Share on Facebook: