Almost every woman needs a little boost, especially after childbirth, weight loss, the removal of breast implants, or during menopause.
Breast growth supplements offer a safe, effective, and natural alternative to getting a breast augmentation during these times. They help you achieve fuller, firmer, and perkier breasts naturally, conveniently, and affordably.
However, a lot goes unsaid about breast growth pills—how they make you happier by giving you a bigger bust line and improving your overall health.
Here are a few things, good and bad, that you need to know before picking up your first supply of breast growth pills:
Don't reach for anything that's not made with natural ingredients.
They'll help you gain more than just breast tissue.
They'll save you money and help you avoid the risks of breast augmentation.
You can use them alongside other methods of natural breast growth.
If you're allergic to some ingredients, you may experience some negative side effects.
1 – They Should Use Natural Ingredients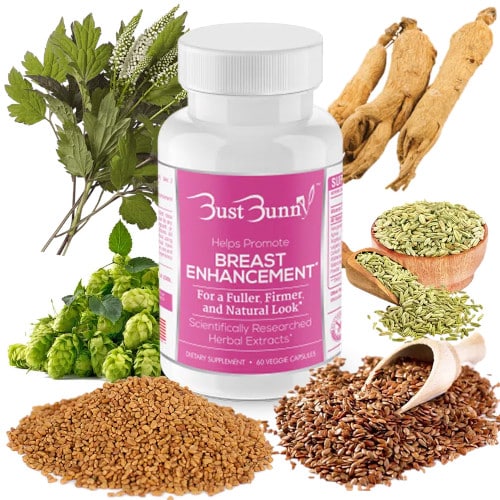 They say you are what you eat, and this also applies to the supplements you take.
So before you buy breast growth pills, make sure they're using naturally occurring herbs and botanicals that are good for your body and the earth.
For example, check the product description or label and make sure they include motherwort, fenugreek, fennel seeds, and blessed thistle. These are some of the natural ingredients that need to be present in breast enhancement pills. If the pills you're looking for lack these, they're probably not a good choice.
The above ingredients are categorized as galactagogues, which are herbs that stimulate mammary glands, offer hormonal support, and enhance milk supply.
Phytoestrogens are another category of herbs you'll find in breast growth pills. These herbs are also known as "dietary estrogens" and mimic the role of estrogen in your body. Some popular phytoestrogens include red clover, wild yam, dong quai, and black cohosh.
All of these natural ingredients work together to give you perkier and fuller breasts by:
Nourishing your breast tissues with nutrients
Accelerating breast tissue formation
Encouraging fluid retention in the breasts to increase breast size
Bust Bunny Breast Enhancement supplements combine the various herb classes to create a synergetic and effective product that accelerates breast tissue formation.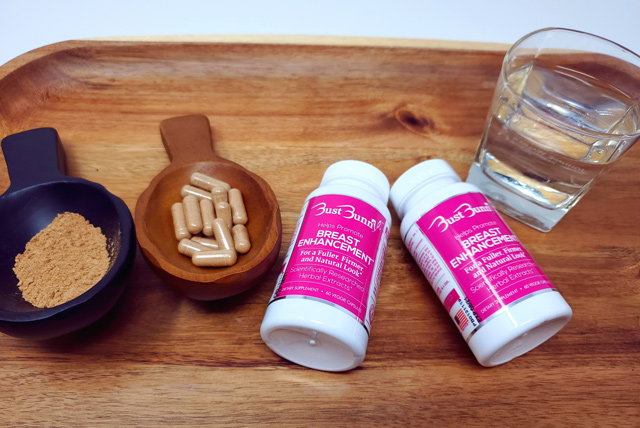 Each Bust Bunny pill contains 13 of the best and most recommended breast tissue growth-promoting botanicals, namely:
Fenugreek
Red clover
Angelica sinensis
Flaxseed
Motherwort
Hops
Black cohosh
Fennel seed extract
Vitamin C
Wild yam root
Chasteberry
Blessed thistle
Watercress
These ingredients have been combined perfectly to create a breast growth pill that's effective, vegan-friendly, gluten-free, non-GMO, and doesn't contain any fillers or additives.
2 – Make Sure They Provide Wholesome Benefits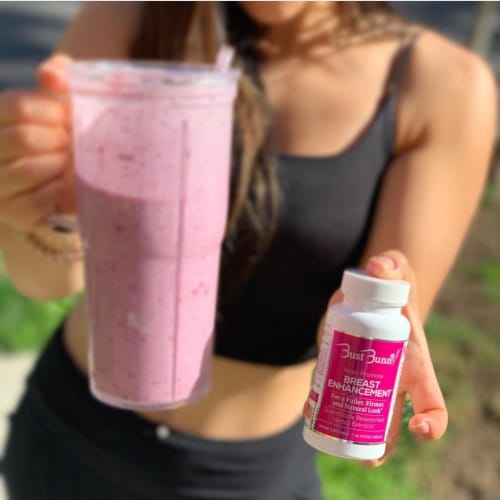 Unlike breast enhancement creams, which are highly targeted to giving you bigger boobs, breast growth pills should provide you with more wholesome benefits for your reproductive and overall health.
The best pills provide herbs and botanicals that have hormonal balancing effects that provide relief from common PMS and menopausal symptoms. These include:
Mood swings
Nausea
Cramps
Insomnia
Night sweats
Body inflammation
Make sure they contain notable ingredients (like those in Bust Bunny's breast growth pills) that provide you with wholesome benefits, including:
Vitamin C: Helps to nourish your skin and boost your overall health by protecting your body against free radicals
Watercress: A rich source of vitamin K, which strengthens your bones and limits brain damage. It also contains vitamin E, which is an essential fertility vitamin
Chasteberry: Helps to regulate your menstrual cycle, reduce and ease menstrual cramps, and clear up acne
Motherwort: Helps to prevent uterine infections and other childbirth-related conditions as well as prevent anxiety and postpartum depression
Fenugreek: Eases digestive issues and promotes clear skin and healthy hair
Pro Tip: Taking breast enhancement pills will provide you with greater satisfaction than any other breast enlargement method. Its effects are skin-deep and meant to help you enjoy better health and a higher level of confidence and self-esteem.
"I enjoy this product for giving me a healthier, larger cup size, and also for balancing my hormones. I had adult cystic acne and dizzy spells from hormone issues, and taking this product has helped improve my health greatly."

– Hannah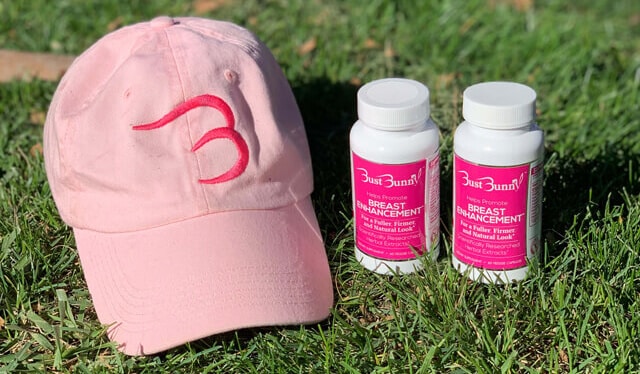 3 – Ensure They Supplement Other Natural Breast Enlargement Methods
Natural breast growth pills need to enhance the effects of other natural breast enlargement methods like exercise, yoga, and breast massage.
"My breasts are naturally saggy and this along with weightlifting has made them look perkier. I've also been staying away from caffeine and alcohol like the card suggests and been switching to a high protein diet."
The table below shows you how your breast growth pills work alongside other natural methods of breast enlargement.
Breast Growth Method
How It Helps
Why Combine With Breast Growth Pills
Breast massage therapy

Massaging your breasts relaxes tense muscles
Promotes blood circulation in your bosom
Ensures your breasts get all the nourishment they need to grow

Increase the nutrient supply to your breasts, thereby accelerating your breast growth journey
Chest building exercises

Tone and firm your pectoral muscles
Increase breast tissue size and density

Help to boost breast tissue development and fluid retention to cause increase in breast size, volume, and density
Healthy diet

Increases the intake of breast development hormones
Some foods like fenugreek and chia seeds stimulate breast milk production

The supplements promote and regulate the absorption of hormones obtained from the foods
Yoga

Stretches your breasts to build new tissue and create muscle
Creates or increases the elasticity in your breasts

Bust Bunny supplements contain vitamin C, which also increases your skin elasticity

 

Other vitamins and minerals help to repair damaged breast tissue to encourage growth
4 – They May Have Some Negative Side Effects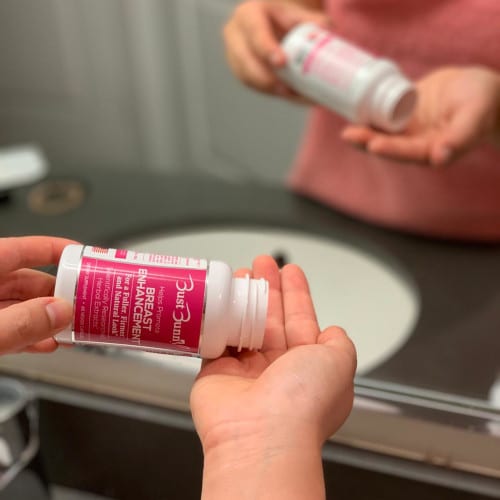 There are two sides to every story, just like there are two sides to every coin.
That's why we find it important to highlight the few negative side effects of organic breast enhancement pills that may affect some people.
Women allergic to phytoestrogens may experience some bloating when they start taking the pills. However, this is a short-term effect that goes away after a couple of weeks when their bodies have adjusted to the pills.
Additionally, it's important to consult a doctor before taking any breast growth pills. That's because phytoestrogens interact with the hormone signals in your body to cause hormonal imbalances and negative health effects.
Consulting your doctor also helps to clear up any concerns that may arise due to allergies, adverse reactions, or risks associated with your medical history or some medications you are currently taking.
Fortunately, the risk of negative interactions when using Bust Bunny supplements is greatly reduced because it's an organic product composed of natural ingredients only.
Which Are Best Breast Growth Pills on the Market?
Bust Bunny Breast Enhancement supplements are the best breast growth pills you'll find on the market.
Bust Bunny is a family-owned company that aims to provide a natural alternative to women who value their health and want to avoid going under the knife.
The business is deeply rooted in science and customer satisfaction, as proven by the thousands of reviews that Shawn, our founder, considered when looking to improve the product.
Shawn used the feedback from clients during his first years of business to create:
A website that provides the best buying experience for his customers
A fun brand and better business name that resonates with his customers
All-vegetable capsules that are gelatin free
A pure and clean product devoid of GMOs, fillers, and additives
Our pills are easy to use, as you simply need to take 2 capsules daily, at any time, with a glass of water. When you're consistent, you'll start to enjoy the results within 1–3 months.
Start your breast enlargement journey today with a one-month supply of our breast growth supplements.
Share on Instagram: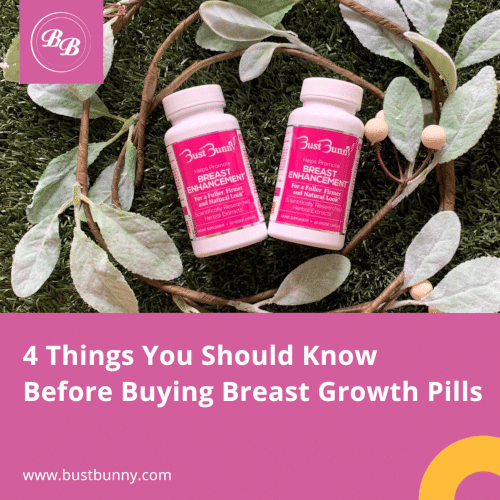 Share on Facebook: