Different women feel differently about their breasts.
One might be stressing about her cup size in a bathroom mirror or trying to squeeze into a push-up bra. Another might be wondering how to keep her 'girls' from bouncing when exercising.
Whatever the case, we're always thinking about our breasts.
That's because boobs are not only interesting in themselves, but are constantly in flux—not to say that breasts are completely unpredictable.
Most changes your breasts undergo are normal. They are usually driven by factors such as hormones, fertility, or even diet.
Still, as one of the most significant external markers of femininity, breasts can have a massive psychological effect on a woman. They influence how women view aging, body image, and relationships.
Thankfully, it's entirely possible to take charge of how your breasts look and feel.
For instance, if you're particularly interested in breast enlargement, take two Bust Bunny Breast Enhancement capsules daily.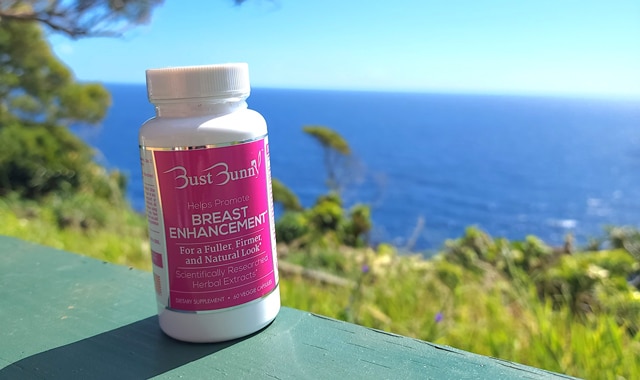 These natural breast enhancement supplements help to increase the size and firmness of your breasts while eliminating the risks associated with breast augmentation operations.
Indeed, a breast size that makes a woman feel uncomfortable or unhappy can also make her feel:
Insecure
Self-conscious
Inferior to other women
Undesirable to partners of her choice
Body image concerns aside, it can be disconcerting to notice your boobs periodically getting bigger only to go back to their normal size—especially if you've come across some myths about breasts.
These myths include that boobs are supposed to stay the same size forever or that the girls' get bigger after pregnancy.
Understanding how your period or pregnancy can affect breast size is an important first step in keeping your wits about you.
How Your Breasts Change During Your Menstrual Cycle
There are certain stages in a woman's life where breast development typically takes place.
It begins before birth, then at puberty, and during a woman's childbearing years. Breasts also undergo changes during your menstrual cycle and when you reach menopause.
In the course of your menstrual cycle, your body goes through various hormonal changes that can affect your breasts' size, feel, and look.
Women's ovaries will produce the hormone estrogen in the first half of the menstrual cycle.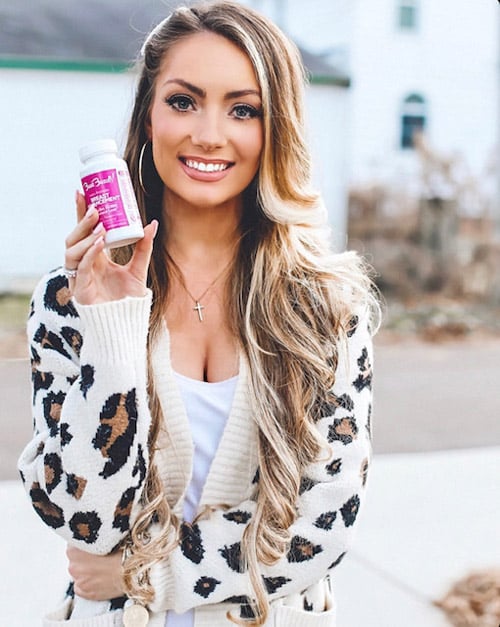 Estrogen stimulates the growth of milk ducts in the breasts. The increase in the level of estrogen triggers ovulation halfway through the menstrual cycle.
The hormone progesterone then takes over in the second half of your cycle. It's responsible for stimulating the formation of your milk glands and preparing your uterus for pregnancy.
The cyclical changes many women feel in their breasts just before menstruation can be attributed to the hormones estrogen and progesterone. These changes include swelling, pain, and soreness.
Premenstrual swelling and tenderness of both breasts take place in the second half of the menstrual cycle. It's at this point that you'll notice your breasts have blossomed to their fullest. Symptoms of premenstrual breast tenderness typically:
Are the most severe just before your period
Improve during or right after your period
Women experience changes in breast texture during their period. As the glands in the breasts enlarge to get ready for a possible pregnancy, they can feel quite lumpy.
Therefore, don't panic if you notice a bumpy, dense, or 'cobblestone' feel when you touch your boobs. That's especially if this feeling is more in the outer areas, close to your armpit.
You might also get either an off-and-on or ongoing sense of breast fullness accompanied by tenderness and a dull, heavy pain.
If pregnancy doesn't happen, your breasts will return to their normal size. You'll usually notice a reduction in size starting from the third day of your period.
I'm on my second bottle and I have to say I am noticing a difference. My breasts are naturally saggy and this along with weightlifting has made them look perkier. I've also been staying away from caffeine and alcohol like the card suggests and been switching to a high protein diet. My breasts also feel firmer, especially right before my period, so I like that they're "filling out". I'm very pleased with this product and looking to order another supply very soon! Thanks Bust Bunny!
– Heather, USA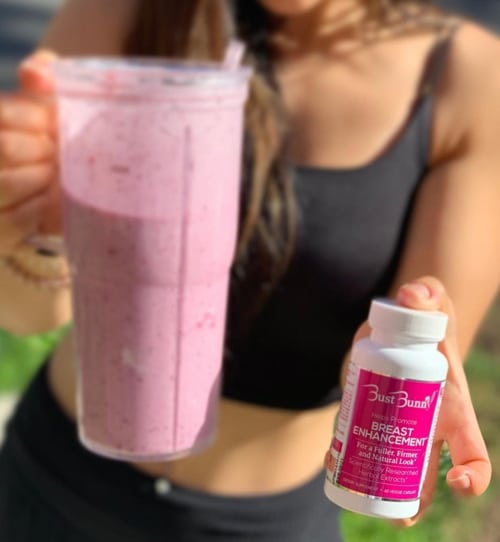 How Your Breasts Change During Pregnancy
Many women notice their breasts go through various changes as pregnancy progresses.
These changes are driven mainly by the hormones estrogen and progesterone, which play a vital role in preparing breasts for lactation. The table below shows the various functions these hormones have:
Hormone
Function

Estrogen

Stimulates growth of breast duct cells
Stimulates the secretion of the hormone prolactin

Prolactin

Stimulates breast enlargement
Stimulates milk production

Progesterone

Supports the formation and growth of milk glands (breast lobules)
During your first trimester, your breasts will swell and grow heavier. You'll also experience a feeling of fullness. These early pregnancy symptoms are similar to those associated with premenstrual syndrome (PMS).
As your body strives to meet the developmental needs of a growing fetus, its blood volume starts to rise. This can cause the veins in your breasts to become larger and more visible.
Your breasts continue to grow in the second trimester with your increasing estrogen levels. Some women go up one cup size, and others might go up several. That's because milk ducts are developing during this second trimester.
The breasts also start producing colostrum, the first form of breast milk. Your increasingly heavier boobs may leak some breast milk from the second trimester.
Breasts become a lot heavier and denser during the third trimester. At this stage, the nipples can become larger and more pronounced.
Your nipples and areola also become darker thanks to hormones that affect your skin's pigmentation. The resulting sharper contrast makes it easier for a newborn to latch on to your breasts when it's feeding time.
Since the skin on your breasts will stretch to accommodate their growing size, you may develop stretch marks and experience itching or dryness.
To avoid or eliminate the chances of getting stretch marks on your breasts, keep your skin as supple as you can. Use a good moisturizing cream combined with Bust Bunny Breast Enhancement supplements.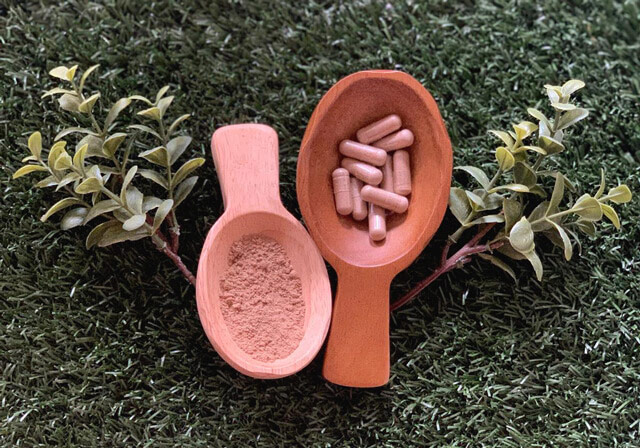 These supplements have active ingredients and vitamins that promote healthy breasts for pregnant women.
Consider taking these supplements if you happen to love your increased breast size during pregnancy especially. They can help you maintain the breast growth benefits a pregnancy often delivers.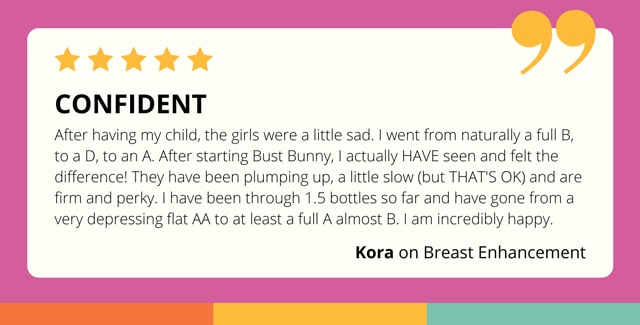 About Bust Bunny
Bust Bunny is a family-owned business.
It all began when Shawn, a BioChem major, combined his love of science with an entrepreneurial spirit.
With the advice and support of his family—his brother, in particular—Shawn was able to get the funding he needed to buy an established business that sold a breast enhancement supplement.
Bust Bunny highly values customer satisfaction. After reading hundreds of good and bad reviews, the company has managed to create wonderful products that really work.
Bust Bunny's products continue to generate tons of positive feedback because they:
Are clean and pure
Have no additives and fillers
Have all-vegetable capsules
Are made using non-GMO ingredients
Are manufactured in the United States
Are produced in an FDA-compliant facility
You can trust that Bust Bunny values its customers because we're always questioning what works and why and figuring out how to make it better.
Here's what an impressed customer had to say about Bust Bunny:
Wow what a difference in 1 month

Wow what a difference in 1 month! All my bras were lose. Now I'm filling them and really don't need a padded bra! Nice and firm! I feel so pretty now. My spirit lifted too! Hahaha! Had to buy new bras to celebrate.
Frequently Asked Questions
How do breasts change after pregnancy?
You can count on your boobs to remain large after delivery, especially as they produce breast milk. In fact, they might even become engorged if they become overly full or produce more milk than you can express.
Once you stop producing breast milk, your breasts may 'snap back' to their original size and shape. Still, they might remain larger in some women or even lose some of their elasticity. Some of the factors that influence these changes include:
Genetics
How long you breastfeed
How your weight fluctuates during and after pregnancy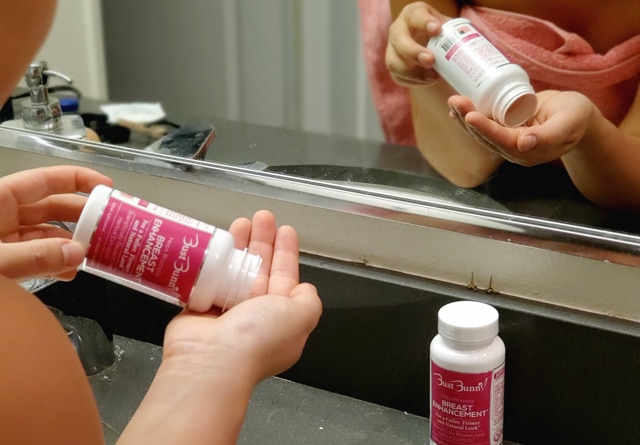 Are Bust Bunny pills really necessary if pregnancy or my cycle gives me bigger boobs?
It depends on the outcome you want. If you'd like to get bigger breasts naturally, Bust Bunny Breast Enhancement supplements are a great tool for your arsenal.
That's because you don't have to suffer the tenderness and hypersensitivity that often comes with the naturally increasing boob size during pregnancy or your monthly cycle.
Additionally, 'pregnancy breasts' usually come with more visible veins and darkened areolas. There's also the risk your breasts will lose their size and become saggy after breastfeeding.
If this isn't how you fancy your bigger boobs looking, then using Bust Bunny breast pills will help you maintain your breasts during and after pregnancy.
If you'd also like to achieve and maintain the fuller and firmer breast size you experience just before your period, Bust Bunny supplements are your go-to solution.
Will Bust Bunny supplements affect my period?
Yes, in a good way. Bust Bunny supplements are made using some of nature's most effective botanicals in promoting breast tissue growth.
These ingredients combine to help you achieve fuller, rounder, and perkier boobs. They also help dramatically reduce premenstrual discomfort.You're likely to experience reduced hormonal swings as a result and enjoy increased sexual desire, among other benefits.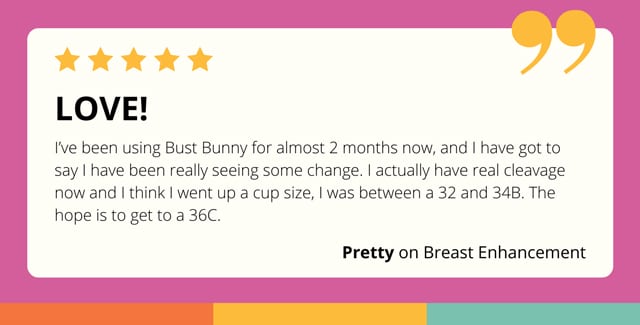 Share on Instagram: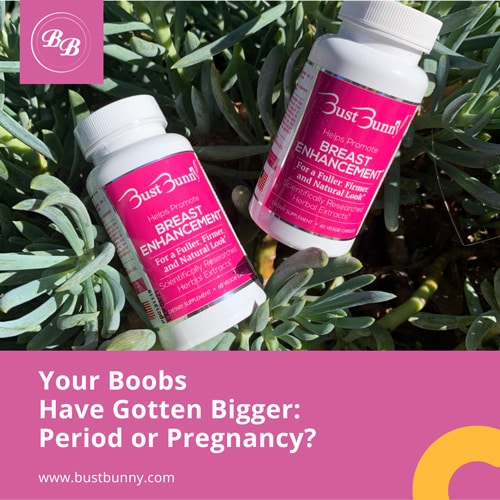 Share on Facebook: