Let's get one thing straight: Women with big breasts can wear bralettes.
If you're unfamiliar with bralettes, think of them as bras without underwires or molded cups.
For many years, people have assumed that a wireless bra is designed only for small-busted women leaving women with bigger boobs to admire bralettes from afar.
But thanks to changing trends in the lingerie industry, new bralettes are being designed specifically for busty women.
Unfortunately, bigger boobs are more prone to losing suppleness and sagging over time, regardless of what you wear. But there's a solution, natural breast enhancement supplements, exercising, a healthy diet, and maintaining good posture can all help to minimize or prevent sagging.
You've probably heard of breast enhancement supplements, but aren't sure if they'll work for you. So, here's a testimonial from a customer who has had a first-hand experience with Bust Bunny Breast Enhancement supplements:
Read on to learn more about:
Tips for choosing the correct bralette for bigger busts
Our 4 best picks for bralettes for big boobs
The natural way to increase your breast size
How to Choose the Right Bralette for Bigger Boobs
Do you ever find yourself in a situation where you don't want to wear underwire bras but also don't want to go braless? In such scenarios, bralettes are an ideal choice for you.
However, finding the right bralette for bigger boobs is no easy task. So, we've come up with some tips to help you pick the perfect one.
Choose a Wide Band
A bralette's band is the part that wraps around your torso and provides support and comfort to your bosoms.
Most bralettes come with an elasticated underband that can stretch over time. Therefore, when fitting a new bralette, make sure the band is skin-tight but still comfortable.
Some bralettes are fitted with hook-and-eye closures for easy wearability. If you opt for this style, you can fasten the loosest hook and eye so that the bralette fits perfectly.
When you try on a new busty bralette, the band should lie flat on your ribcage with no gaps. To find out if it's your size, raise your arms, and if you notice that it's riding up, then you might want to try a smaller size.
Look Out for Wider Shoulder Straps
Straps play an important role in lifting, positioning, and keeping bra cups in place.
Thin bra straps may appear sexier and are easier to hide, but they can dig into your shoulders, causing pain. For this reason, you should consider a scoop neck bralette with wider straps because they help in distributing the weight of your boobs over a large area for maximum support and comfort. It's also important to pick bralettes with adjustable straps so that you can easily adjust them to your fit.
Consider Full-Coverage
Choose a bralette that offers good coverage for complete support and comfort, as they are designed to prevent your breasts from spilling out while shaping your big busts.
If you're among those struggling not to show cleavage, full-coverage bralettes will keep everything covered up.
Let's now check out our top 4 picks for the best bralettes for big boobs.
1 – Racerback Bralette
The racerback bralette provides incredible support for women with bigger boobs. Its straps cross and meet at the center of your back, giving you an extra lift.
The unique formation of these straps also helps to distribute the weight of your breasts across your back, relieving the strain that they may put on your upper back, shoulders, and neck.
They're also a solution to the irritating tendency of bra straps falling off your shoulders and prevent the sagging of the bustline by keeping your boobs in place.
Typically, straps are the main source of discomfort during physical activities, especially for well-endowed women.
But with the back cinching in racerback bralettes, your breasts are well-secured and comfortable. They also center your boobs and help them sit upright, giving them a flattering appearance.
Racerback bralettes are available in many styles that you can wear on formal or casual occasions.
Extra Tip: To get the most wear out of racerback bralettes, choose those with many straps so you can easily adjust them to suit your outfit.
2 – Sporty Bralette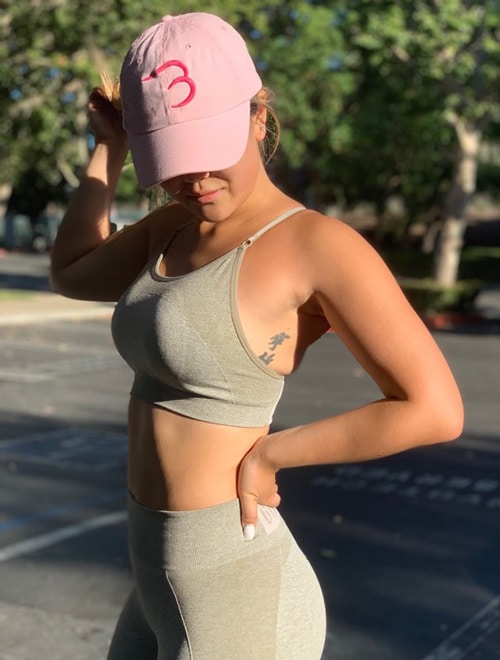 Most sporty bralettes are crafted with high-quality elastic fabric. They provide adequate coverage and support for your boobs when indulging in physical activity and go well with any training outfit due to their quality stretch.
Even though sporty bralettes have similar features, some have additional straps, cut-out details at the back, and come in a variety of colors.
Other benefits of sporty bralettes include:
Maintaining the shape of breasts
Providing comfort by minimizing breast movement during activities
Reducing breast pain and soreness by keeping boobs in place
Moisture-wicking
Here's a table to help you find your perfect sports bra:
Characteristic
| | | | | | |
| --- | --- | --- | --- | --- | --- |
| Small | Medium | Large | XL | XXL | XXXL |
| 30B | 32C | 34D | 34E | 38E | 40DD |
| 30C | 32D | 34DD | 36DD | 40C | 42D |
| 30D | 32DD | 36C | 36E | 40D | |
| 32B | 34B | 36D | 38D | 42C | |
| | 34C | 38C | 38DD | | |
| | 36B | 38B | | | |
3 – Seamless Bralette
Seamless bralettes are designed with materials that make them breathable and flexible (four-way stretch) enough to adapt to your body's movements, giving you the freedom to move about without constriction.
The bralette embraces your body, giving you a streamlined look while providing your breasts with adequate support.
Seamless bralettes are manufactured by different companies and are available in many sizes, shapes, and colors, with most of them made of high-quality fabrics that are soft and feel luxurious on your skin.
Most seamless bralettes are made up of two layers of fabric for extra support, giving your boobs a rounded and natural shape.
Moreover, seamless bralettes can make a great addition to any outfit, be it a sporty jumpsuit, an oversized cardigan, a denim jacket, or more.
If you're a lover of tight fittings, this bralette can be a great investment because its smooth profile makes it invisible underneath clothing.
Note that a bralette will only change the look of your breasts under clothing. To naturally improve the appearance of your breasts and prevent sagging, include breast enhancement supplements in your diet.
Here is what one customer had to say about our breast enhancement supplements:
★★★★★ it really works this product!!

" Hi, my name is Maria, and this is my second time buying this product. I love it. I have tried other products, and I haven't seen them work like this product. very happy with the results and encourage others looking for real results to try it."

— Ramirez, USA
4 – Overlay Bralette
This bralette has a plunge bra shape with a piece of stretch lace connecting the breast cups while providing a transparent cover over your bosoms.
Due to the double-layer support on overlay bralettes, it provides full breast coverage and gives additional support to the bust. The bralette's fine stretch also allows you to display a portion of your boobs while supporting them and preventing overspills.
Some fuller bust bralettes also have thick straps that provide secondary support for the breasts and comfort for the back, neck, and shoulders.
Furthermore, these supportive bralettes can be worn everyday whether you're going to the gym, office, or at home.
About Bust Bunny
Bust Bunny is a family-owned business that prioritizes the interests and well-being of women. Since its inception in 1999, the company has been successfully achieving its mission to improve women's health and boost confidence.
Shawn, our founder, began selling health and beauty products online, which is where he discovered women's interest in natural breast enlargement products.
His discovery prompted him to combine his business acumen and scientific knowledge to create a product that would guarantee customer satisfaction. After researching and knowing what works and what doesn't, his family helped him establish Bust Bunny.
He used hundreds and hundreds of online reviews to learn and improve Bust Bunny's products, particularly by getting better and better ingredients. That's why we continue to offer unique breast enhancement and hormonal balance supplements for women looking to enhance their appearance and overall health.
★★★★★ 5 stars seller for a 5 star product

Fantastic product, the results are clearly visible!
Got this for my fiancée as following the birth of our daughter, she lost breast volume and was affected by it.
This has put a smile on her face back again and given her the extra energy needed!
Also, on a second note, the seller is very easy to get on with and provided extra bottles when one of the bottles came defective, as he provided an extra bottle as a solution.
All in all, 5 stars seller for a 5 star product

— Raúl González, USA
Lift Your Breasts Naturally
Are you tired of seeing your two girls sagging even after tightening up those straps? Breast enhancement supplements combined with exercise are an ideal solution to sagging breasts and other issues related to breast health.
Bust Bunny uses scientifically researched, all-natural, FDA-approved ingredients that promote breast tissue growth to make breasts rounder, fuller, and perkier.
These ingredients include:
Flaxseed
Fennel seed
Fenugreek
Watercress
Red clover
Since our ingredients are all-natural, they don't have any adverse side effects even when combined with most medications.
Best of all, Bust Bunny is suitable for women of all ages.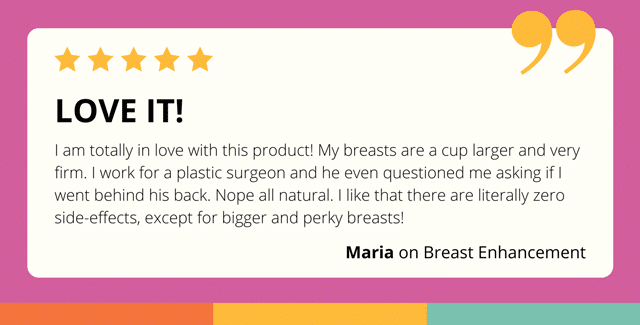 Share on Instagram:
Share on Facebook: