Many women have lots of bras in their closets but often find themselves wearing the same two bras over and over again.
The main reason for this kind of repetition is the comfort offered by the bra and how it completes the look with most outfits.
Whether you wear your bra often or only prefer to wear it occasionally, it's important to know how to measure bra size to find the right fit for you.
In this guide, you'll learn:
Why to measure your breast size
Steps to measure bra size
The significance of breast enhancement supplements like Bust Bunny
Why You Need to Know Your Accurate Breast Size
Breast size is normally calculated as bra size. Different brands and stores have different formulas for calculating breast size.
Knowing your accurate breast size helps you find perfectly fitting bras that:
Boost your confidence because of how good you feel when wearing them
Make your outfits look better
Keep you feeling comfortable all day
Knowing your breast size also helps you track changes in your breasts due to hormones and weight gain. You can then use this information to determine the breast enhancement supplements you can use to alter the size and shape.
How to Measure Your Bra Size in 4 Easy Steps
We've broken down everything you need to do to measure your breast size in four simple steps. This will help you know your accurate bra size and pick the perfectly fitting bra.
Step 1 – Measure Around Your Ribcage
When trying to determine your breast size, you'll start by first determining your band size. The band size is going to give us the number part of your breast size.
For example, if your breast size is 38 D, the number 38 is your band size while the D is your cup size.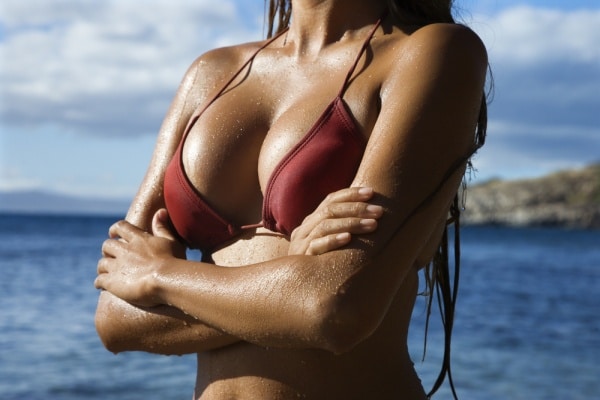 Here are ways to determine the band size:
Take a tape measure and pull it around your ribcage where the bra band sits.
Ensure it's snug and not tight. Doing this while wearing a non-padded bra will help in making sure the tape is not hanging in the back.
Make sure you're using inches on the tape measure.
When you get an even number, that's your bra band measurement. If it's an odd number, round it off to the next even figure and write it on a piece of paper to ensure you don't forget.
Step 2 – Measure Over Around Your Cups
After you've noted the size of your bra band, it's time to move to the next step, which is determining your cup size.
Your cup size is a letter. For example, if your bra size is 38 D, the letter D is your cup size.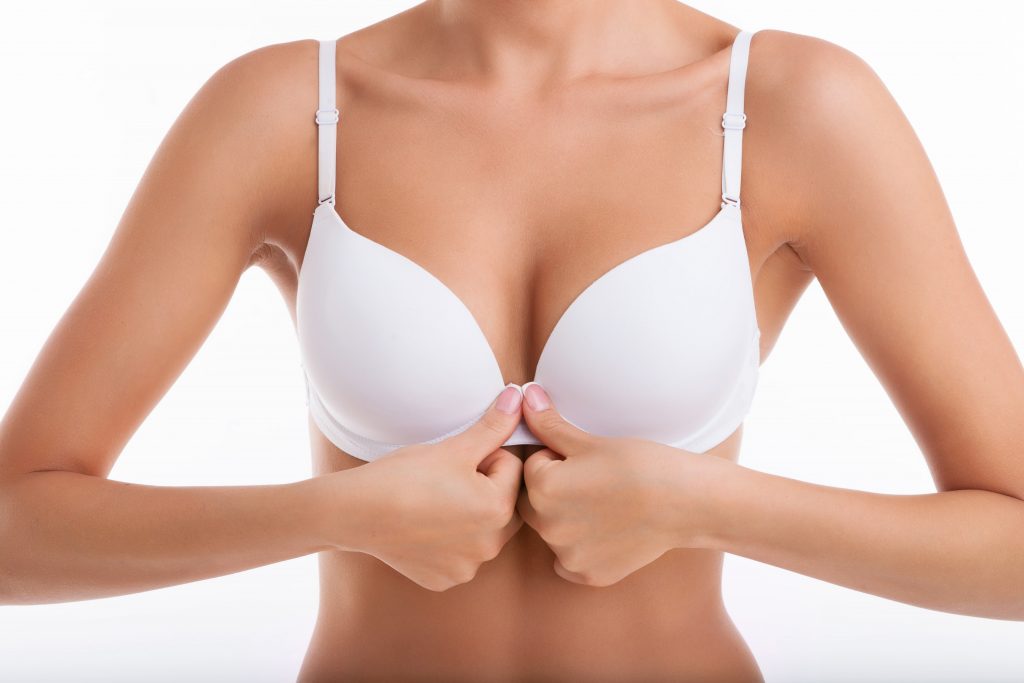 To determine your cup size, you need to:
Pull the tape measure around the fullest part of your breasts. This is the area around your chest just below the swell of your breasts, also known as the bustline. Remember, this will be more accurate if you have a non-padded bra on.
Do this in front of a mirror to ensure the measuring tape doesn't drop in the back or is too tight to make your skin bulge.
Keep it snug and horizontal all the way.
Write the number you get on a piece of paper.
Step 3 – Calculate Your Breast Cup Size
By now, you already have your bra band (underbust) size and your bust size measurement written down on a piece of paper. Using these two numbers, you're going to calculate your cup size through some simple mathematical calculations.
Subtract your bra band measurement from your bust measurement to get your cup size. For example, let's say your bra band measurement is 31 inches, and the cup measurement is 37 inches.
37(bust) – 31(band)=6
Remember, the cup measurement is supposed to be a letter. Use the breast size chart below to convert the measurements into a letter to get your cup size.
| | |
| --- | --- |
| Difference In Inches | Your Cup Size |
| 1 | A cup |
| 2 | B cup |
| 3 | C cup |
| 4 | D cup |
| 5 | DD cup or E cup |
| 6 | DDD cup or F cup |
In our case above, the cup size is a DDD because the difference between the band and cup measurement we got was 6.
Step 4 – Find Your Bra Size
You now have your cup size and band measurements, so determining the breast size should be easy. Again, we'll use our example from above.
We found the bra band (underbust) size to be 31 inches.
31 inches rounded off to the next even number is 32 inches.
Our cup size is DDD. Therefore, our breast size measurement is 32DDD.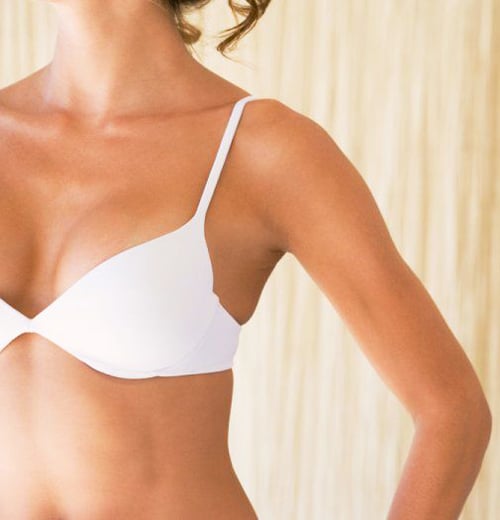 Expert Tip: Adding several inches to your bust measurement, as advised by some high-end stores, is outdated. The tip was invented when bras were not stretchy or flexible as they are now, and it's no longer necessary. Doing this will leave you with a bra that rides up your back or one with bra straps that keep falling down.
Which Is the Ideal Breast Size?
Breast size is usually determined by calculating the correct bra size. Breasts are also prone to change with time. There is, therefore, no way of saying that one size is the best or ideal for everyone.
Whether your breast size is the "right one" or not, it all depends on how you feel about your boobs. Your comfort and confidence are all that matter when it comes to size.
There are several interventions and procedures that can be used to increase the size or alter the shape of your breasts. Most procedures are invasive, and women are afraid of the side effects and pain associated with them.
Luckily, there is an alternative for people who want to achieve bigger, rounder, and perkier breasts without having to undergo invasive and painful processes.
With Bust Bunny Breast Enhancement supplements, you can gradually achieve your desired cup size just by swallowing a pill every day and beginning to experience changes in the shortest time.
For example, Owen from New Zealand started loving the results after only ordering one bottle. Carissa V, who bought Bust Bunny Breast Enhancement supplements from Walmart, also started to see results after a week.
Bust Bunny Breast Enhancement Supplements
According to a survey, both men and women tend to spend more time looking at the breasts to determine the attractiveness of a woman. This means that breast size impacts the confidence of women and explains why many women care a lot about their breast appearance.
Breast shape and size change with age, genetics, and weight fluctuations. However, breast size and shape can also be enhanced safely with the use of breast enhancement supplements.
Bust Bunny Breast Enhancement supplements are the ideal alternative to scar-related and painful breast enhancement procedures. The formula works with the natural hormones in your body to promote breast tissue growth and give you a rounder, perkier breasts without any harmful substances.
Take Note: Women who have used Bust Bunny started seeing results within the first three months.
Frequently Asked Questions
How do I know if my bra fits perfectly?
A bra fits properly if:
It doesn't feel like you're wearing anything when it's properly adjusted.
The straps do not dig into your shoulders.
Your breasts sit midway between your shoulders and elbows.
How can I increase my breast size?
Breast size increases naturally after weight gain or during pregnancy. Some women also experience breast increases after using birth control pills.
If you'd like to increase your breasts in a natural and safe manner, use Bust Bunny Breast Enhancement supplement formula.
It's a scientifically researched formula that has helped many women achieve rounder and fuller breasts without major invasive procedures.
What should I look out for when buying breast enhancement supplements?
Before you set out to buy breast enhancement pills, be careful not to buy knock-offs or products with harmful ingredients. Make sure the product is scientifically researched and has positive results to show after being in the market for some time.
Share on Instagram:
Share on Facebook: