When it comes to wanting a bigger bust size but not wanting to go under the knife, no one understands you better than us! We are here to inform you that there are several options to making your breasts look bigger.  Whether you want to look more filled out in your favorite dress or you want to confidently wear a bikini, whatever your reason may be we have solutions on how to make your boobs look bigger.  Aside from eating all the right foods, doing proper exercises and taking the correct supplements, you may need a quick fix.  Luckily, these brilliant ideas won't cost you more than a few bucks!  
The great part about all of the techniques that we have listed is that this works for not only flat chested women, but women with larger breasts too. When it comes to a special occasion we understand that women want to look their best.  If you don't have the time and need some quick remedies to faking bigger breasts, you will love the options we have came up with for you.
1. Wearing a Padded Bra
The first and most common strategy is wearing a push up bra or also known as a padded breast enhancing bra.  This is the most known way that women do to make their breasts appear bigger.  There are some really excellent push-up bras out on the market that almost work so good they can make you look two cup sizes larger.  When searching for bras that make your breasts look bigger, be sure to find the right bra size.  Follow the rules in measuring your proper cup and band size to be definite that everything looks proportioned.  Once you follow that you will notice that you are able to go up or down a size from your traditional bra size.  After trying on a few of your options you will see which push up bra gives your boobs the best lift.
2. Contouring Your Chest
Contouring isn't just for your face, in fact this is one of the most popular tricks for your boobs!  Sometimes women want to add an illusion of a cup size without having to wear pad bras, embellished shirts or inserting cutlets.  This one is simple because more than likely you already have bronzer, highlight and make-up brushes to do this.  If not, you can find everything at your local drug store.  For this technique you will need to take your make-up brush and brush along your natural breast curves with your bronzer.  This will help create an illusion of having cleavage and bigger boobs.  Make sure to use a few shades darker than your natural skin tone in order for it to have a 3D effect.
3. Good Posture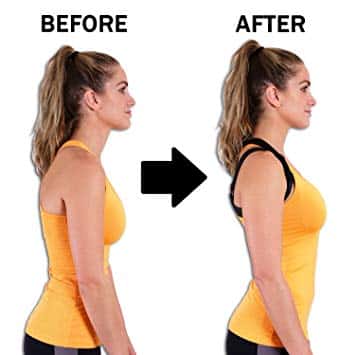 Were not done with more ways on how to make your boobs look bigger.  This is one that most women forget about and should start as young as possible, good posture! When it comes to your breasts, perky boobs overpower large boobs.  No one wants to have large breasts at the expensive of them sagging.  With good posture you will be sure to avoid that.  If you're looking for a natural route, standing up straight with your shoulders back is the best way to make your breasts look bigger.
4. Exercise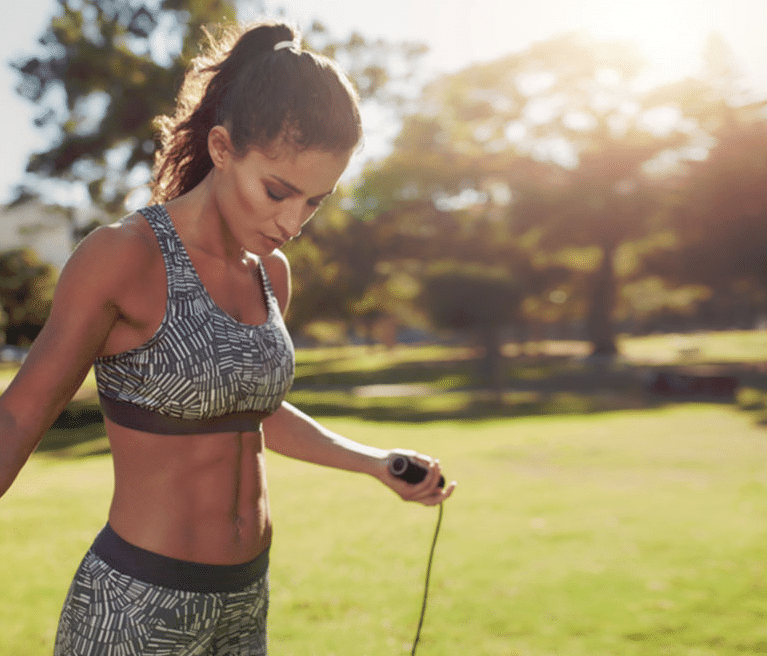 Exercise is one of our highly recommended ways for enhancing breast size and shape.  There are plenty of exercises out there that contribute to making your bust look larger.  Just as having good posture doesn't actually increase your breast size, exercise won't either.  This strategy is more for giving your breasts a renewed perky look.  When strengthening your pectoral muscles you are giving the deception of bigger boobs.  Also, the smaller your waist is, the larger your breasts look.  Exercising helps your body image and health all around.  Make sure to keep a sports bra on to support your boobs during your workout!
5. Wearing Shirts With Designs
Wearing shirts with more designs, embellishments and stripes is a great way to make your boobs appear bigger!  Just how it is known that wearing all black gives an illusion of looking smaller, wearing shirts with more going on makes your bust look larger.  Wearing horizontal stripes automatically gives an aspect of largest breasts.  The object is to stay far away from untextured simple tops which will make your boobs look smaller!
6. Finding The Right Size Bra
You would be surprised how many women are actually wearing the wrong size bra.  Getting a bra fitting once every 6 months is an important part of your overall breast health.  Wearing a bra that is too small and or too big can ruin the purpose of trying to make your breasts look bigger.  We also understand that some women don't want to physically go into the lingerie shop to get fitted, luckily true & co. has a bra fit quiz that you can do in the comfort of your own home.  We guarantee with a little help from a bra expert your breasts will feel perkier and fuller from choosing the proper bra.
7. Insert Cutlets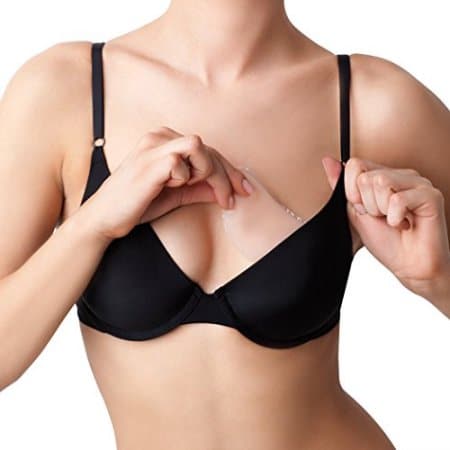 Another great option similar to the push up bra is buying cutlets.  Victoria's Secret made some called shaping inserts.  These instantly add up to one cup size.  So, it is a little less than the push up bra but if you want something that is less padded and more natural these are the way to go.  There are plenty of brands that offer this same product such as hollywoodfashionsecrets if you wanted to save money but still find a way to make your breasts look bigger without a bra.
8. Bust Bunny Supplements
Lastly, taking a supplement to help boost the time in between all of these tricks is suggested for more long term goals.  Bust Bunny is known to improve breast size, fullness, and roundness.*  It also includes your daily dose of vitamin C which helps collagen boosting and skin firming.  It is safe and should be used as a part of your daily regimen for your breast growth journey.  You can only find so many ways of how to fake bigger boobs until you just want your breasts to do the job on its own.  We never want women to feel like they need to have surgery to have bigger boobs so we have created a natural solution to this! Bust Bunny caters to women who are looking to give their bust a boost or maintain perky breasts. Use this coupon code "topeight" for 10% off or CLICK HERE to have your coupon instantly applied.