When you begin to get to the point of choosing clothes, the expectant mother is faced with some difficulties. Manufacturers offer a vast number of styles of maternity bras for new and expectant mothers to choose from. Unfortunately, not all of them comply with quality standards that are suiting for the mother. It is essential to know the features of a good pregnancy bra so that after childbirth, there are no problems with breast health, and or feeding your newborn.
Which breastfeeding bra should I choose?
The main task of a nursing bra is to maintain healthy breasts at the same time keeping a beautiful shape during lactation. Properly selected underwear will help to avoid inflammation, allergic reactions, sagging breasts, and stretch marks. You can buy a quality bra for a reasonable price so therefore, the main thing is to know what to look for when choosing your maternity bra. 

Material:
For nursing mothers, underwire nursing bras and other products made from natural fabrics (cotton, fleece) with a small addition of synthetic fibers (microfiber, polyamide) are suitable. Natural materials are hypoallergenic, tolerate washing, and dry quickly. They are comfortably breathable and moisture, preventing the growth of bacteria. This is important when nursing because you want to be sure that your breasts have the proper breathable room for both you and your child.
The design of the shoulder straps:
The quality of breast support highly depends on this detail. Be mindful that the comfort of your bra is the most important factor. Shoulder straps should be comprehensive, not subject to stretching, elastic, with a natural length adjustment system. They must not rub or crash into the body causing any pain or discomfort. After removing your bra, there shouldn't be any indentation in the skin. If there is, this is a clear sign that the straps are too tight and need to be adjusted or replaced.
Cup Size:
It should be easy and convenient to open with one hand, without seams on the inside. The cup size is chosen slightly larger than the breast itself so that lactation inserts are placed inside without squeezing the nipple. In most cases when shopping for a bra, you want to avoid extra space, but in this case, since you are nursing, a little space is important.
The width of the straps:
The number of buckles on your nursing bra is an important factor to look into. A proper maternity bra has a broad base under the chest and at least three rows of fasteners on the back. The hooks for fixing do not fit on the body so it will not irritate you and your skin.
How is a bra supposed to fit?
To determine the size of the bra, you need to take two measurements: underbust circumference and chest. To measure the underbust circumference, they stand up straight, wrap a measuring tape around the body under the breast, pressing it with one hand, and take a second measurement. To measure the chest, you need to lean slightly forward and measure in the middle of the chest at the level of the nipples. A number and a letter indicate bra size. The figure corresponds to underbust circumference – 70, 75, 80, 85, etc. The letter denotes the volume of the cup, or the fullness of the chest – A, B, C, D.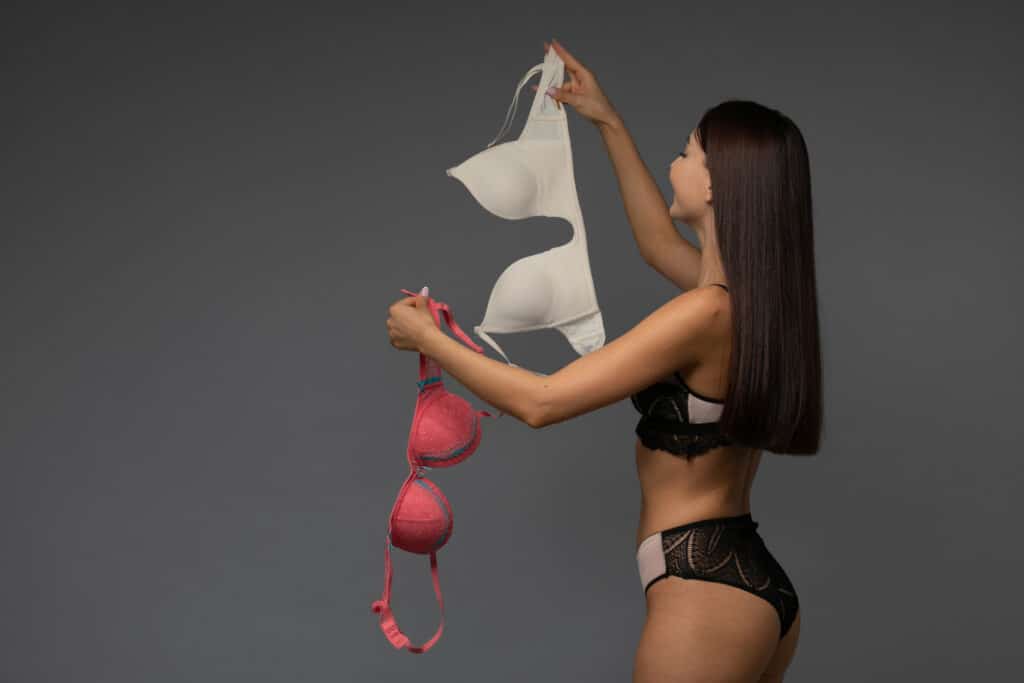 If undergarments are bought during pregnancy, it is important to consider your bodies changes after childbirth. The magnitude of the underbust circumference will decrease by a couple of centimeters, and the fullness of the chest will typically become a size larger. Therefore, getting resized and fitted is a must! Your skin is changing during this time, so don't be surprised at the many changes your breasts will go through during this period.
When to buy nursing bras
It is best to buy a nursing bra at 36–38 weeks of pregnancy and after giving birth, you can purchase several more bras. At this time, the woman already knows her size, and she has preferences regarding the style of clothes for nursing mothers. During lactation, at least three bras are needed. After all, a woman should wear them almost always, and they can quickly get dirty. It is very convenient for a nursing mother to shop online once learning your proper size. The online store provides the exact characteristics of bras, dimensional nets, photos of goods from different angles. If you don't prefer online shopping, you can go into your local mall and get help from a specialist but it is good to change your bras frequently during this time.
What should a nursing bra consist of?
Lingerie for nursing mothers should be safe, comfortable, and beautiful. It is essential that the chest is well fixed, slightly raised, but not squeezed. The main difference between the different options of bras is the options for exposing the breast for feeding in the comfort of your home, public or sleeping.

Button closure on the straps:
In this model, the cup consists of two layers. The upper layer comes unfastened and exposes the breast entirely or only in the nipple. The clasp is attached to the straps and opens with a light push. Such a bra is convenient for feeding a child at home or outdoors. This is typically a nursing mothers favorite option.
Zipper:
These are maternity bras with one zipper between the cups and they bare both breasts at once. It is convenient for feeding two children at the same time for new mothers of more than one child. In some bras, a separate zipper is sewn under each cup, which allows only one breast to be exposed. These fasteners are safe, do not cling to the skin, and are easy to open. These bras are not typically convenient for feeding outside of the home or in public places, although the option is yours.
Without buckles:
There are bras where the cup moves back and releases the chest. They are perfect for those who do not like to deal with buckles at all. This bra resembles a top with a V-neck where one cup overlaps another. This one is great for indoors or outdoors.
It is best to have different options for nursing bras: for home, sleep, and the public.
Can I sleep in a feeding bra
Many mothers prefer to sleep in a bra for an extensive amount of reasons, to each is there own. It is entirely safe if it is explicitly designed for feeding and sized properly, then it will be safe to sleep in your maternity bra. In the afternoon, you need to remove your bra for a while so that your chest can have a break. The most comfortable style for sleeping is the "top". This style has buckles only in front and a smooth back for the comfort of your sleep.

Pros of sleeping in a nursing bra:
prevention of stretch marks
protection of the breast and nipples from rubbing on bedding or night attire
the ability to put a lactation liner so you will not stain yourself and or the bed by spontaneous milk production
convenient feeding of the child at night
Comfortable and beautiful motherhood bras can be bought inexpensively. Becoming a new mom can be confusing and the last thing you should have to worry about is what bra you will be feeding your newborn in. There are a few tips that you should take from this and follow to have the best nursing experience possible. Therefore if you need to find a supportive nursing bra or pregnancy sleep bra, you can easily find it being armed with useful tips above.