Finding the right bra size is no walk in the park. Luckily, with the help of using a bra size calculator and or a bra size chart, this can be easier for you. Bra shopping may seem like a fun adventure until you end up with a bra that pokes you, emphasizes your back fat, and/or doesn't hold your breasts into place.  The good news is all you need is a measuring tape to be sure of finding the perfect bra suited for you.
First, knowing that it is completely normal to wear a range of different bra sizes depending on the brand is important. Bra sizes change depending on a multitude of reasons. For some brands, you may find yourself as a c cup, and for others, possibly a d cup, this is no shock. 
Some women may be confused by the idea that they are not the same size in every brand they shop, know that you are not alone!  Each brand has its own sizing system, which makes bra shopping, not a "one size fits all" experience. Naturally, every woman has two bra sizes. In other words, it's considered your "sister size." We have the bra sizes explained later in this article.
Read below to find out more about:
○ What sister size is
○ How to find the right bra size
○ How to use a bra size chart/calculator to accurately measure your bra size
INDEX
Understanding Sister Size
How to Calculate Your Bra Size
Finding The Right Bra Size
Sister Boob Sizes
What Bra Should I Be Wearing?
Final Thoughts
Understanding Sister Size
Understanding your sister size typically means that you will be one cup size larger and one bra band size smaller than your true size.  If your cup size is feeling too tight, then you would do the opposite of that, one cup size smaller and one band size larger. So if you're wondering, "Do sister sizes really work?" yes, they do. So if you don't know where to get measured for a bra, you can do it in the comfort of your own home. If you already know your correct bra size, then you can scroll down to find your sister bra size. 
How to Calculate Your Bra Size
Here's how to use our bra size chart/bra size calculator to measure your bra size with the best accuracy. Take a look at these bra sizes in order:
Bra Size Calculator
Step 1. Wrap a measuring tape around your back, encircling the area just above your breasts.  Make sure it is snug but not too tight. Then round off to the closest even number. This is your band size.
Step 2. Measure around your back over the fullest part of your breasts.  Then subtract your band size above from this number.
For example, 36-35=1.
1=A cup 2= B cup 3= C cup 4= D cup 5=DD/E Cup 6= DDD/F
Step 3. After you measure your band size and breast size, combine your band size and correspond it with the letter of your bust size.
For the example above your correct bra size would be a 36A.
Try Bust Bunny Health Supplements
Finding The Right Bra Size
When bra shopping, remember that every bra designer has a slightly different pattern which may affect the fit.  When trying on your bra, the most important part is the comfort and fit. You should begin by using the loosest hook, and as time passes, your bra will age, and you will use tighter hooks.  
By choosing the correct bra size that is comfortable in all angles, your bust will appear fuller, and your waist will look thinner.  For guidance, you can use the cup size chart or bra calculator on this page. It can be difficult to know how to measure for a bra, but once you find the proper bust measurement, the rest is easy. Even if your bust size slightly changes, it will be similar to your original size. This is why it's important to be sure you find the correct bra size to monitor any changes over time.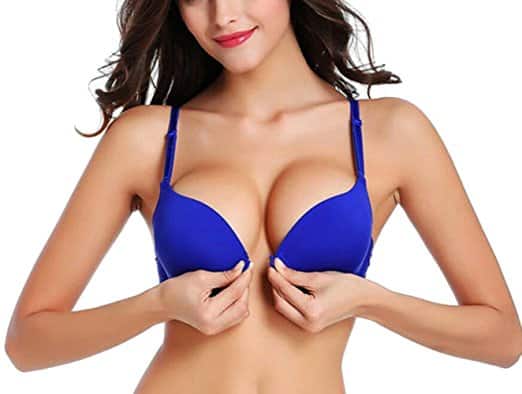 To ensure that you get a perfect-fitting bra, you must check four specific areas:
Band –

The band is the most significant part of the bra.  This is the area that holds everything together which is why it is key to find a perfectly fitting band.  As I mentioned, your

bra

band should remain on the loosest hook for accurate fitting. In due time your band will get worn out

,

and it will be necessary to place it on the tightest hook.  This usually happens between 3-5 months.

Straps –

We recommend not going for a strapless bra when trying to find a well-fitted bra.  Finding adjustable straps is the safest bet

to avoid buying an ill-fitting bra

!  Your straps should be in the same place without digging into your skin. Depending on your bust size, this can be more difficult for someone with larger breasts.

 

Cups –

It's crucial to avoid spillage!  Your cups should look even and full, if they look empty or have excessive room

,

you may need to go down in cup size. This is where our cup size chart will come in handy!

Center Gore

– This area should remain flat against your chest, there shouldn't be any room!
There are multiple considerations to be made when you feel your bra is no longer the same size it was in the previous years.  Your cup size can fluctuate for reasons such as;
Gaining or losing weight 

Age

Excessive exercise 

Pregnancy
It is suggested to get a bra fitting and or use a bra calculator minimum of once yearly to check for any changes within your cup size. Also, if you want to find out the average boob size around the world, see our blog about the average breast size by country. 
Sister Boob Sizes
We understand that all this information can be confusing, which is why we included a picture of different breast sizes below.  This chart of different boob sizes will help make it visually easier to compare the wide range of what we call "sister sizes".
As you can see how women of different cup sizes can have breasts that look the same size.  That is why you cannot do a cup size comparison, as there are a few other factors to consider.  The size is not as much of the main factor as the band size. This is what makes the appearance of your boobs either smaller or larger. You can see below the breast cup size comparison to see clearly the different bra sizes explained to understand sister boob sizes more clearly.
When it comes to wanting to know what the average boob size for a woman is, it is narrowed down by country.
According to a study done in 2013, it was showing the average size was 34DD.  Although, 20 years prior to this, the average size was 34B.  There are many factors that go into this, including breast augmentation, breast enhancement supplements, obesity, etc. This study was done based on a women's bust size without any other factors. 
That's why when you're doing a breast size comparison, it can be difficult to get any accuracy as you don't know what exactly you're comparing to. Possibly the woman had a breast augmentation, and therefore you wouldn't be getting proper accuracy when doing a breast size comparison side by side. 
Get Breast Enhancement Supplements

What Bra Should I Be Wearing?
If you're a man, you may identify boobs as either simply big or small.  But us women understand that it is far more complex than that. 
When it comes to breasts, there are diverse shapes, types, sizes, and colors.  A few lingerie experts help break down the nine different breasts shapes to make it easier for us to figure out which is which. We have broken down and explained the breast sizes along with which type of bra we recommend for you. 
There are many different breast sizes, and each woman's needs are different when it comes to finding out how to find the right bra size. The first step is to measure your bra size. Then, you can look through the chart to find your needs when searching for a bra. As mentioned, there are many different breast sizes, which means that what may work for one woman won't work for the next. If you know your cup size, this is a good start. If you don't – no need to worry; use our bra size calculator above.
| Breast Shape | Description | What to Wear |
| --- | --- | --- |
| Asymmetrical | One breast is larger than the other | a T-shirt, Push Up, or Full Coverage bra |
| Side Set | Large space between the breasts | a T-shirt, Push Up, or Front Closure bra |
| Slender | Hang downwards and narrow | a Wireless, Push Up or Front Closure bra |
| Round | Breasts are equally full at the top and bottom | a Strapless, T-shirt or Balconette bra |
| Teardrop | Round but slightly less full at the top | Any style is fine |
| Athletic | Wider, more muscular breasts with less tissue | a Wireless, Push Up or Front Closure bra |
| Bell shape | Smaller on the top, rounder at the bottom | a T-shirt, Full Coverage, or Balconette bra |
| Relaxed | Loose tissue with nipples pointing downwards | a T-shirt, Push Up, or Racerback bra |
| East-west | Nipples point outwards | a Strapless, Push Up, or Front Closure bra |
Final Thoughts
How to measure your bra size is a common question that seems a lot harder than it actually is.  If you are not able to go in for a bra fitting and or you are looking to purchase a bra from an online shop, don't worry, you can do this at home! 
The good news is once you find your true bust size, it is unlikely that this will change often. You can check your bust size every few years. Next time you want to get it accurately, you will know how to measure bra size the correct way.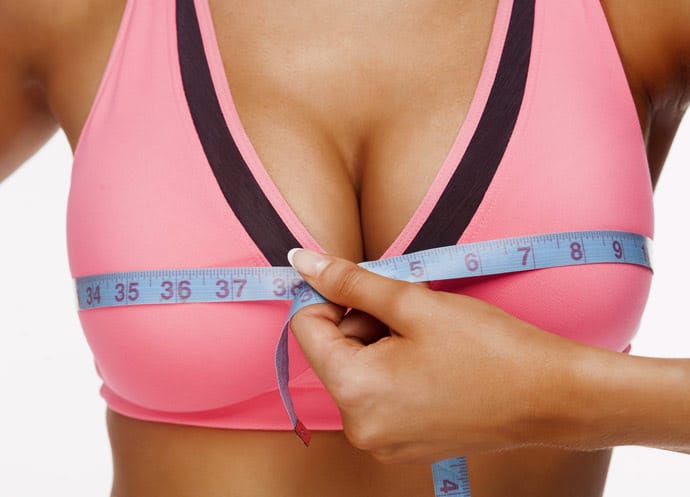 Finding the correct bra size can be a tricky moment in a woman's life. But once you do, you will be happy you took the time to do so!  
Luckily for women, there are many ways to make our busts appear larger, and now that you know about sister sizes, you'll never be without the wrong bra size again.  Bust Bunny supplements help women obtain a larger breast size naturally.  There are multiple at-home remedies, but having a daily supplement gives you the boost you may have been needing to fill out your favorite bra! 
Start your breast enhancement journey today with 10% off using coupon code "brasizechart" or CLICK HERE to have it instantly applied.