The TLDR is that fenugreek does indeed increase breast size.
But, wait, there's more.
No two women's bodies are the same. The fenugreek supplement they choose, their consistency in taking the fenugreek, and their supporting lifestyle habits all play a role in the level of breast enhancement they will experience.
Today, we won't be exploring whether fenugreek can make your boobs bigger. We know it does.
We're going a step further and asking how fenugreek increases breast size.
Let's explore the answer through the experiences of women who've used fenugreek:
What body changes to expect from supplementing with fenugreek
Which complementary lifestyle habits have the most impact on breast growth
How fenugreek can benefit women transitioning from male to female
Let's jump right into Christin's story, a fitness enthusiast whose passion was undermining her breast size.
1 – After a Few Weeks My Breasts Looked and Felt Fuller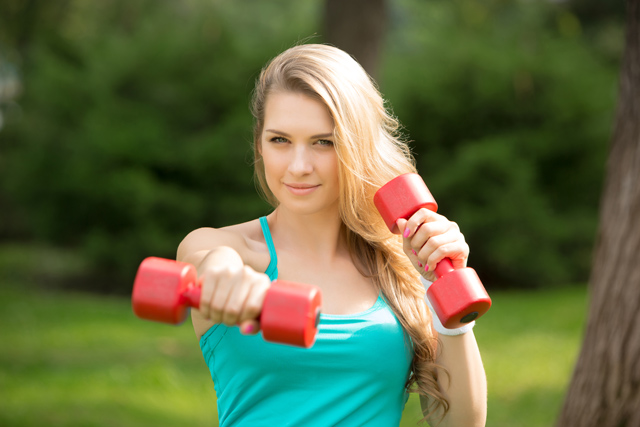 Christin had always been a gym nut and worked out frequently. The more she worked out, the more her breast size decreased.
After a few weeks of cautiously trying Bust Bunny Breast Enhancement supplement, which contains fenugreek, she was happy to see that her breasts looked and felt fuller.
At first, her breasts felt extra sensitive, and she chalked it up to the supplement working.
Isn't it interesting that breast sensitivity was one of the first clear signs of breast growth?
"I'm so glad I stuck it out because just after a few weeks my breasts were no longer so sensitive and they looked and felt so much fuller. My husband has definitely noticed!"
– Christin Shumway, United States
Keeping Abreast of the Facts
Does breast sensitivity truly point to breast growth? What does this have to do with fenugreek?
Fenugreek contains phytoestrogen, a plant-derived form of estrogen.
Phytoestrogen plugs into select estrogen receptors and mimics the effect of the female estrogen hormone on breast growth.
Think back to the phases of your life when your breasts grew, such as adolescence or pregnancy. One of the most universal experiences during this period is breast tenderness.
That's mostly due to estrogen.
Estrogen, and the phytoestrogen found in fenugreek, increase breast size because they cause:

An increase in the fat deposits in connective breast tissue
More extensive growth of the duct system in the breast
Besides mimicking estrogen, fenugreek also increases the production of luteinizing hormone (LH).
LH, in turn, increases the levels of estrogen, boosting the effect of the phytoestrogens.
2 – Fuller Breasts, Better Mood, Healthier Body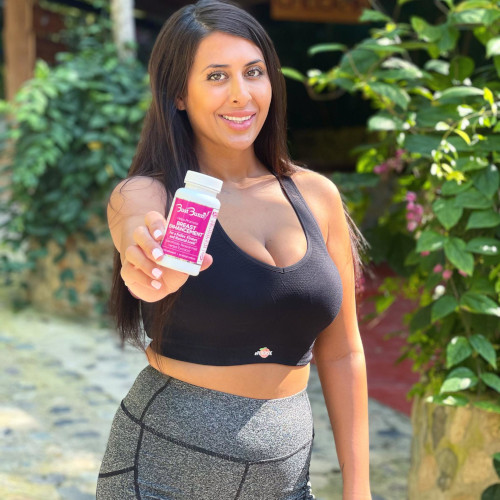 To hear Angela tell it, a couple of months of taking fenugreek in the form of Bust Bunny's Breast Enhancement supplement resulted in a full body overhaul.
Not only did her breasts become noticeably fuller, her mood greatly improved as well. As someone who had struggled with mood swings as a result of hormonal imbalance, this was a game changer.
She also experienced less severe, almost non-existent period cramps while taking the herbal supplements.
Validating the Benefits of Fenugreek
At Bust Bunny, we love that plant-derived hormones like fenugreek help to support overall body health.
Fenugreek goes beyond increasing breast size and helps to regulate other systems in your body.

Besides enhanced breast size, women taking fenugreek, have also experienced:
Improved digestion with reduced bloating and constipation
Better menstrual cycles accompanied by less severe cramps and hormonal acne
Stronger and healthier hair
Higher libido
"I noticed a slightly fuller look to my breasts and my mood seemed more regulated … but I only took them for a couple of months so I'm continuing to try."
– Angela, United States
The beauty of natural ingredients is that they work with your body's natural systems.
Fenugreek, for example, restores hormonal balance, contributing to better boobs and overall health.
We love that the effect of overall health can be seen with both of our herbal hormonal supplements.
Bust Bunny Product Line Of Herbal Supplement
That said, these results take time—hence Angela's continued usage of the herbal supplements. It also leads us to the next woman's story.
3 – Fenugreek Works, but Be Patient!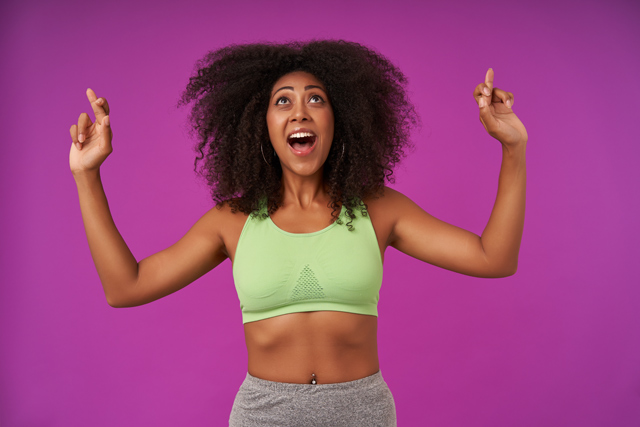 Every woman's body is different. While some report breast growth from fenugreek within a week, others may need several months. That was Rosa's experience.
"It took about 1.5 months before I started seeing results … follow the tips and tricks, it will work! You won't miraculously grow two cup sizes but you will see a fuller look …"
– Rosa Z., United States
Herbal extracts, such as fenugreek and wild yam, aren't invasive. Instead, they build up slowly and boost the existing pathways your body already uses to increase breast size.

It makes sense that you won't double in cup size in just a few days. However, with consistency and patience, you will see your desired results; even if they come several weeks later.
Rosa also mentions using tips and tricks to improve the effectiveness of herbal supplements, and that's what we want to give you the rundown on next.
Lifestyle Habits That Support the Effect of Fenugreek on Breast Size
We can't say it enough. Your lifestyle definitely affects how effective breast enhancement supplements are in increasing your breast size.
After all, these herbal extracts can only plug into your body's existing mechanisms.
So, what are the tips and tricks Rosa mentioned that can help you maximize the effectiveness of fenugreek?
Drink plenty of water: It acts as a nutrient carrier ferrying active ingredients from your stomach to the breasts, where significant growth will occur.
Up your protein intake: Proteins are the building blocks for your body. Any new increase in breast tissue will require a healthy supply of protein. Think lean meats, eggs, milk or complete plant proteins like soy. Be sure not to skip meals!
Get 6–8 hours of sleep: Sleep is your body's growth and repair window. At night, your body produces a growth hormone closely linked to estrogen.
Exercise moderately: High intensity workouts will deplete the fat in your body and reduce breast volume. Aim for moderate exercises that'll help strengthen your chest muscles and ligaments without burning all the fat. For example, heavy house cleaning, brisk walks with hand-held weights, badminton, and tennis doubles.
4 – It's Not Just for Those Born Female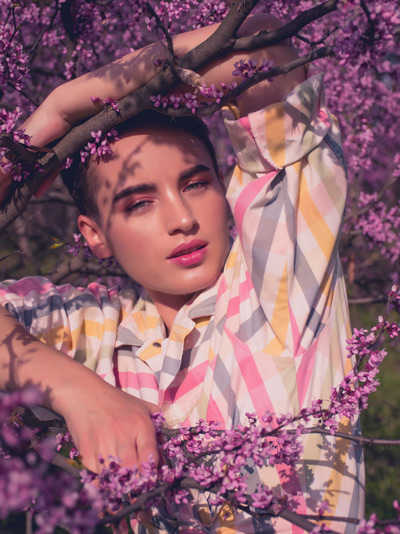 Experiences, such as Ayael's, are inspiring for transitioning women. They show that fenugreek increases breast size for transgender women as well.
"I am a transgender and intersex woman … I've been taking this product for less than 60 days, and my breasts have increased from an A cup to a complete B in that time frame …"
– Ayael, United States
Male to female transition (MTF) presents its own set of challenges because you're trying to grow breasts in a body that has undergone male puberty.
Sometimes breast tissue doesn't grow as expected or it doesn't respond to the hormone replacement therapy as it should.
Moreover, anatomically broad shoulders and wider rib cage may 'stretch' out the breasts, making them appear smaller.
With hormone replacement therapy (HRT), fat redistribution occurs in the first 3–6 months. It's at this time that the breasts also enlarge. Herbal supplements containing fenugreek tip the hormonal balance toward female hormones, thus boosting breast growth.
Fenugreek extract is a healthy way for a transgender woman to get the body they desire without the inherent dangers of breast implants.
In the table below, we compare the pros and cons of increasing breast size using fenugreek versus hormone replacement therapy and breast implants.
Breast Enhancement Method
Advantages
Disadvantages
Breast Enhancement Herbal Supplement

Natural and plant-derived
No side effects
Gradual increase in breast size
Reduced hormonal acne and mood swings
Healthy hair and skin

It takes time and consistency to see breast growth results

Hormone Replacement Therapy

Softer skin
Thinner body hair
Thicker head of hair
Improved body odor
Gradual increase in breast size

Mood swings
Depression
Nausea
Risk of blood clots
Increased potential of gallbladder disease, liver, and breast cancers

Breast Implants

Immediate increase in breast size

High cost of procedure
Changes in breast and nipple sensation
Breast pain
Excessive scarring and wrinkling
Infection
It's clear that for MTFs looking to grow their breasts, it's safer and healthier to lean into the benefits of fenugreek, a key ingredient in the Bust Bunny Breast Enhancement supplement.
Increase Your Breast Size Naturally With Bust Bunny
Fenugreek has impressive benefits for women who want to increase their breast size. While it's not a miracle pill that leads to overnight success, it can significantly enhance the size of your boobs if taken consistently alongside healthy lifestyle habits.
Last but not least, the fenugreek you're taking needs to be non-GMO with no additives or fillers. That's why Bust Bunny's Breast Enhancement supplement is a fantastic source of fenugreek.

Made in the United States in an FDA-approved facility, our herbal supplement combines 13 essential herbs to promote fuller, rounder, and perkier breasts. These herbs include fenugreek, wild yam root, hops, and flax seed.
Join thousands of women—young, mature, and transitioning—who're creating the bust they want with Bust Bunny's Breast Enhancement supplement.
Share on Instagram:
Share on Facebook: