Pregnancy, for all its blessings, can wreak havoc on all areas of your body—and your breasts are no different.
Since Bust Bunny is all about naturally getting you the breasts you want, we understand that the changes your breasts experience during pregnancy might not be the breasts you really want, despite whether or not they've grown.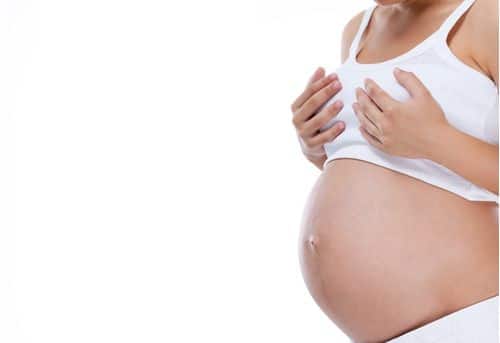 So, how can you experience the blessings of pregnancy while maintaining or getting back your awesome breasts? Well, we're here to help! But first, let's talk about some of the changes your breasts may go through during pregnancy.
What Does Pregnancy Do to Your Breasts?
One of the first things women notice when they start to suspect they're pregnant is an increase in breast size. But why?
Lactation consultant, Maureen Fjeld, of the Calgary Breastfeeding Center in Alberta explains that hormones of early pregnancy cause changes within the breast tissue when your body pumps an excess amount of estrogen to your breasts in preparation of producing milk.
This may seem great if you're trying to get larger breasts naturally (I mean, how much more natural could it get?), but typically this increase in size comes with tenderness and hypersensitivity.
Some women might not envision darkened areolas and more visible veins when dreaming about how they want their breasts to look. And this is where "pregnancy breasts" differ from the larger breasts you experience when using supplements like Bust Bunny.
Unfortunately, your body changes post-pregnancy as well and your breasts lose their size and typically become saggy. This is due to the rapidness of weight gain and loss during your pregnancy. Too much weight causes elasticity in your breasts, which don't "snap" all the way back when the weight is lost.  Bust Bunny breast pills help maintain your breasts during and after pregnancy. Use coupon code "restoremybreasts" for 10% off or CLICK HERE to have your coupon instantly applied. 
So, here's the problem: most women either want their breasts back to normal or want to keep the size their breasts were during pregnancy afterwards. Here's how to do that.
How Can You Prevent the Undesired Effects of Pregnancy to Your Breasts?
Saturated Fats
This might sound nuts, but the best way to keep your breasts perky and large during and directly after pregnancy is to maintain a diet that's rich (but healthy!) in saturated fats. This paired with the all natural and healthy ingredients in Bust Bunny (which is totally safe to use during pregnancy) make your skin cells more elastic and stronger.
Foods that include healthy amounts of saturated fats include:
Consistent Breastfeeding
It seems logical that breastfeeding would make your breasts saggy or droopy right? Yes, it does. But that doesn't mean you should try and wean your child from breastfeeding as soon as possible to try and avoid it.
In fact, when you abruptly stop breastfeeding (especially between four-to-six months when the baby's demand for milk is highest) you'll end up with pounds of excess skin that would have normally shrunk. It's just how your body is wired. Unfair, but it is what it is.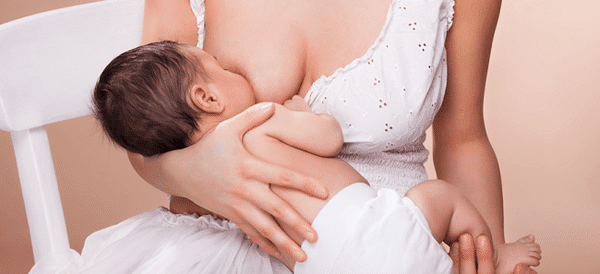 Keeping a normal, doctor recommended breastfeeding schedule actually helps prevent sagging even if it seemingly defies logic.
Now that you know how to keep your breasts healthy during pregnancy, let's talk a little more about the sagging issue, since it's the thing women complain most about their breasts after pregnancy.
How to Prevent Breast Sagging after Pregnancy?
Wear a supportive bra
It seems so simple, but some women feel that supportive bras are just too annoying during pregnancy. But once you get used to them and your new breasts, it gets better—and it helps your immensely afterwards.
Go for wider straps and a firm support band for underneath. Make sure you get refitted as your breasts will change dramatically (even more than you think!) during the different stages of pregnancy.
Light Exercise
This one is the most difficult for pregnant women with hormones all over the place. But maintaining your weight outside of pregnancy weight is key to preventing sagging breasts after pregnancy.
Most women gain around 25-35 pounds while their pregnant. Try to stay within those bounds. Talk to your doctor who will have a better estimate of how much weight you should gain. If you don't gain much excess weight, then the post-pregnancy weight loss will have less of an effect on your breasts and naturally help to prevent sagging.
Here are some healthy exercises that will not only help you maintain your weight, but will be healthy for your breasts as well! Start now! Even if you're not pregnant!
Speaking of losing your pregnancy weight—do it slowly! It's a fair price to pay to help stop your breasts from sagging. Trust us.
Moisturize
Sensitivity in the nipple during pregnancy and while breastfeeding is a common complaint of most pregnant women. Therefore moisturizing will have multiple positive effects on your breasts beyond helping the skin cells maintain their strength to help prevent sagging.
How to Have the Best of Both Worlds
The question at the back of your mind is probably "is there a way to maintain the increase in breast size during pregnancy afterwards?" And the answer is a resound YES.
As mentioned, the main reason your breasts grow larger when your pregnant is that your body naturally increases estrogen production to your breast tissues in preparation for lactation.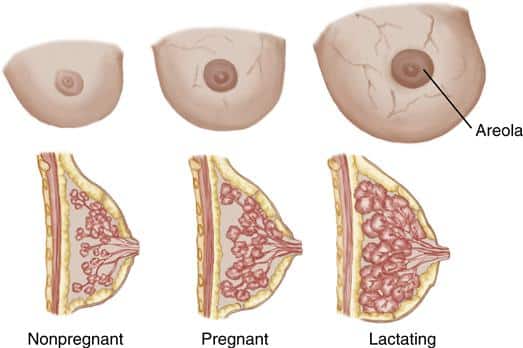 That's all it is. Nothing special or unique.
If you're a regular reader, or are familiar with how natural breast enhancing supplements like Bust Bunny work, then you might have already recognized that the natural ingredients in Bust Bunny (like chasteberry or fenugreek) facilitate just that—natural estrogen to your breast tissues.
Therefore, there's really no better time to take a natural breast enhancement supplement. Not only will you have healthy, larger breasts during your pregnancy, but you will be the envy of your peers when your breasts come out the other side naturally maintaining their size.  Get started today using coupon code "restoremybreasts" for 10% off or CLICK HERE to have your coupon instantly applied.
As always, please consult your doctor before continuing or starting Bust Bunny (or any natural breast enhancement product) during pregnancy. It's ultimately up to them to decide what's best for your body during this wonderful time.
Don't be afraid of the campfire-tales of post-pregnancy breasts you may have heard. They don't have to be a lost cause just because you brought a beautiful new human into this world. In fact, they can come out even better than they went in!